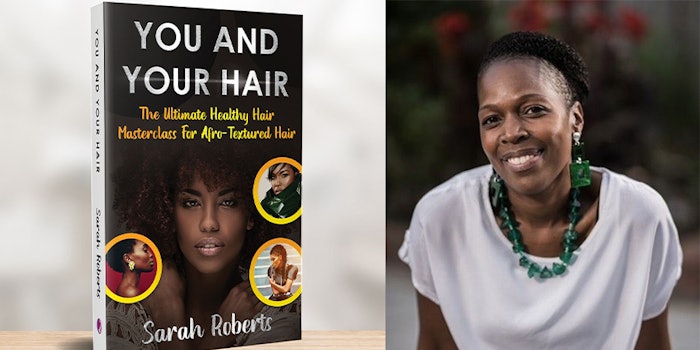 You and Your Hair: The Ultimate Healthy Hair Masterclass for Afro Textured Hair is a comprehensive blueprint to managing and nurturing Afro-textured hair. The book explores the concept of healthy Afro-textured hair from a holistic approach of mind, body and spirit, celebrating the hair as unique and beautiful.
Related: CantuElevate Launches to Support Black Female Entrepreneurs
Moving away from the notion of "good" and "bad" hair, this book allows those with Afro-textured hair to begin a journey of understanding their hair's unique characteristics and the care it needs for it to be truly healthy.
The author, Sarah Roberts, is a healthy hair consultant, educator and advocate for the overall health and well-being of Afro-textured hair. She has educated women, men and children about the science and needs of Afro-textured hair as well as supported them to develop an individual healthy hair care regimen.
Roberts said, "This book goes beyond hair itself to reconnect readers with their culture, heritage and history. By taking a truly holistic approach that embraces the mind, body and spirit, we can start to see our hair for the symbol is really is, and use it as a focal point of our entire well-being."
Roberts added, "Our hair is as strong as our physical and mental resilience, and has embodied that strength as those of African descent have faced many injustices over the last few centuries. I want people to now move to a place of positive self-identity, emotional well-being and productive interpersonal relationships. This book will form a vital part of your personal growth."
Author Sarah Roberts addresses some questions about her book, the inspiration behind it and tips on hair health.
Q: How did you become a hair consultant?
I started researching about the science and care of Afro-textured hair in 2008 as I wanted to learn and understand more about my own hair, after I stopped perming my hair in approximately 2006. I was curious about what information was available. As I started reading, I was faced with information that was totally opposite to what most of the Black community was doing to our hair.
This was new information to me, regarding the science of Afro-textured hair. However, I decided to have an open mind and I began to adopt the new information for myself and my daughter and saw amazing changes in our hair, in regard to the look and feel, such as the texture, new discovered curl pattern and length.
By 2012, I was receiving a lot of attention, comments, praise, admiration, questions about my hair. I started to share this information with other women and held monthly lunch groups at work to share this information, with anyone who wanted to listen and learn. The groups grew larger each month, as more women heard about the healthy hair lunch forums.
The changes to my hair and what I saw from speaking to other women, had an impact on our self-esteem, new found love, and respect for our hair and for me a spiritual connection to my hair. I could see the positive impact on women's self-esteem and feeling of self-worth. Women began to experience seeing the best version of their hair, discovering their natural curl pattern and learning that taking care of Afro-textured hair once you understood the science and care that it needed was not difficult as previously thought.
I continued to learn as much information as I could, and I am still on this journey of learning. I studied an introduction to Trichology, which allows me to provide advice and guidance on hair and scalp, which further enhance the knowledge that I had already required which was directly related to Afro-textured hair.
I started providing free healthy hair parties/consultations to people at work and anyone that wanted to learn about the unique care and science of Afro-textured hair. I developed my own Brand and product to support moisture retention for Afro-textured hair and officially launched my Saffron Jade Brand in 2019, as a healthy hair consultant and advocate for Afro-textured, providing consultations for a fee, free advice and guidance by writing my blogs. 
I get asked for healthy hair tips, from white and Asian women at work and happily provide guidance and tips, after asking them about their routine of care for their hair and their nutrition, as this plays an important part in promoting healthy hair.
Q: 
What inspired you to write a book?
A: From my consultations and general discussions with women, men and young people, it was clear that the information, knowledge etc was a lot to take in, as it went against what we were taught or not taught, depending on which side of the coin you are looking at. I would have to provide written guidance, step by step via phone communication and follow up calls to support my clients on their healthy hair journey. The book inspiration/idea came out of: wanting to reach more people, to provide knowledge and information, in an easy to read step by step guide.
It took me about five to six years to understand and make sense of all the information  available and I knew the frustration of not knowing where to start. Everything starts with needing to understand a basic understanding, a foundation to which to build. I wanted to provide this foundation, so people did not give up, as I know is often the case if something appears too complicated or hard. My love for people, hair and writing was the perfect recipe to attempt to write my first book. I am writing two more books related to healthy hair.
Q: 
Can you describe the process, from idea to publication?
This is my first book, so from I had the idea of the book, I decided to attend a few workshops about 'writing', such as 'Finding your Voice' by Gary Young and reading and researching about what makes a good book, I had my years of healthy hair consultations over five years to support what I knew woman struggled with and how to structure the book.
I booked a consultation with my chosen publishers and got a free 30-minute consultation. This helped me to think about chapters in my book and structure. I had started holding healthy hair care events, so developed a structured workshop on teaching. I have provided training and workshops in my professional career so had this skill already, which gave me ideas on how I wanted to present my book visually. I work full-time and have a family so very busy. I would write my ideas and notes on the train, travelling to work, early in the morning before the family were awake etc.
In putting the book together, for my first draft to publishers, I agreed with my family, I would stay at work late one day a week and go to the library on the weekend for a few hours. I then had to write late into the night, towards the end of completing my book, before finally sending in to be considered for help with publishers to conscious dreams publishing. My manuscript was accepted and then began the process of editing, type setting and design before being published in June 20.
Q: 
What are your key tips for maintaining fabulous hair?
A: My key tips for maintaining fabulous hair is:
1. Respect and love your hair, understanding that it is an important aspect of your overall identity and your biggest accessory. In this sense, you need to give it the time, in regard to the care and attention it needs to be healthy, as part of one's overall self-care and self-love.
2. Get to know and understand the characteristics of your own unique hair. This will allow you to develop a healthy hair care regimen that is based on the needs of your own hair to be fabulous, which will depend on your hair's texture, curl pattern, or straight hair, the porosity of your hair, density and elasticity.
3. Eat a healthy balance diet consisting of protein and essential foods, with vitamins and minerals that the body needs to help your hair grow and keep it strong and healthy. Try to combat stress, as extreme stress can impact on the health of your hair and lead to hair loss.
4. Have a consistent regimen of washing, conditioning and deep conditioning your hair. Ensuring a good balance of moisture and protein, depending on your own unique hair needs, as pee point two. For example, some of my friends who are White, wash their hair daily, Black woman have drier hair and recommended washing is between five-10 days.
5. Product selection is vital to maintaining fabulous hair. Products should be viewed as essential food and nutrition for our hair and scalp. Products which have ingredients to support the hairs essential balance of moisture and protein, with additional ingredients that ensure a healthy scalp is essential for its overall health and well-being. Some products are harmful to the body, as well as our hair.
6. Remember that the goal is to preserve our hair strands, as hair is essentially dead fibres. Protect your hair strands, by keeping heat to a minimum. Limit the use of blow dryers and use a low heat where possible. Limit the use of hair straighteners, curling tongs. If you use a dye, ensure you carry out weekly deep conditioning.
Q: 
Can you describe the relationship between our hair and our self-esteem?
A: For most women and men, hair is more than just an attachment to our head, its part of our overall identity and out biggest accessory. Its used to create a visual representation of how we like to be represented to the outside world. It can speak volumes about our character and personality, at first glance.
In this sense, hair plays a huge part in helping us to communicate lots of things about ourselves without using words, giving us a sense of self confidence and self-worth. This emotional connection and relationship with our hair should not be underestimated, as when a man or woman, suffers hair loss and or having a bad hair day, or generally feeling bad about their hair overall, their self-esteem is greatly impacted in a negative way. This can result in feeling a low sense of self-worth, low self-esteem and self-confidence.
Q: Have you seen a change in how Afro-textured/natural hair is viewed within mainstream society in the United Kingdom? Which terminology do you prefer?
A: The natural hair movement, which began in the United States around 2008 has resulted in a lot of change towards how natural hair is viewed (hair that has not been chemically altered) within the media and how Black people have began to form a more positive relationship with their naturally curly hair textured, which is known as Afro-textured hair.
Afro-textured hair represents the natural texture of the hair, largely attributed to people of Black African decent, regardless of whether the hair is represented in its "natural state," meaning no chemical or represented as relaxed, using chemicals I can see a change in how Afro-textured hair in its natural state is viewed more positively within mainstream society in the United Kingdom. This is evident in TV adverts, Black people with natural hair being seen as the norm, you can also see more Black TV presenters wearing natural hair on TV. This was never seen before. We also have world Afro Day in September.
A quote from the website reads, "A global day of change, education and celebration of Afro hair; endorsed by the UN Office of the High Commissioner for Human rights. We work with families, schools and authorities to tackle discrimination against Afro hair. We carry out research, create events and produce resources to empower people with Afro hair and raise awareness in wider society."