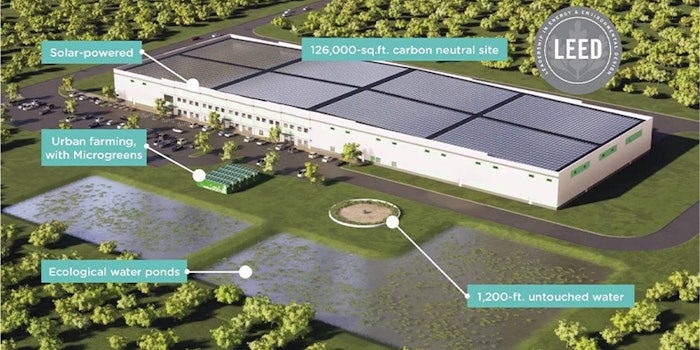 Capsum has announced its new carbon-neutral manufacturing plant in Austin, Texas.
Related: Amorepacific Introduces Recyclable Pouches
Up until 2020, all of the company's production took place at its lab site in Marseille, France. To keep up the pace and tap further into the U.S. market, Capsum opened the U.S.-dedicated Austin plant.
Capsum's first sustainable production site in North America achieved its first customer production and delivery in early September 2020.
With the Austin site, Capsum plans to fulfill its 2025 vision including:
being one of the first Leadership in Energy and Environmental Design (LEED) certified buildings in beauty manufacturing
be powered by solar energy
have no hydric stress
be locally and sustainably made in the United States
The 126,000-square-foot plant uses solar energy produced by 3,570 solar panels on its rooftop. It is also LEED silver-certified and equipped with low-energy LED lighting.
To avoid hyrdric stress, the site uses an untouched, naturally salted water source, powered by solar energy.
The plant also features urban farming that embraces a farm-to-face concept, with active ingredients grown and extracted on-site in a controlled, pesticide-free environment.
Capsum's R&D team also favors cleaner formulas and more sustainable packaging choices to help brands create eco-designed products.
Capsum CEO and founder, Sébastien Bardon, said, "Right from the beginning, we aimed to minimize our environmental footprint by balancing the site's energy consumption with solar-generated electricity ... American brands already account for a quarter of our business, thanks to our sales offices in NYC and Los Angeles. Time-to-market is a critical criterion for these customers, so it is a real advantage to have a local production site."
Bardon continued, "Listening to environmental research studies and experts, I'm convinced that water will be the next environmental struggle to come. Thus, the selection of a water source that doesn't compete with human needs was essential for me in choosing the site location (and it was a tough aspect of the project!). We selected this one because it granted us access to naturally salted water with a salinity level too high for human use and agricultural purposes. Today, I'm proud to produce cosmetics that avoid hydric stress."