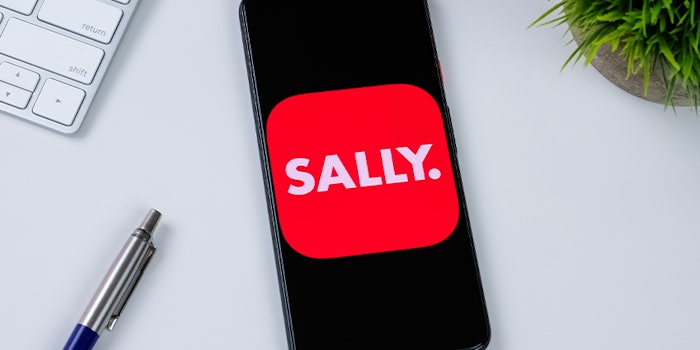 Sally Beauty Holdings Inc. has announced its fourth quarter consolidated net sales of $957.8 million, down .8% compared to the prior year. 
Related: Sally Beauty Announces SallyCrew Ambassadors
The fiscal 2020 fourth quarter had a consolidated gross profit of $489.1 million, an increase of $9.9 million from the previous year. The consolidated gross margin was 51.1%.
Its adjusted diluted EPS grew to $0.63, an increase of 8.6% compared to the prior year
A percentage of sales, selling, general and administrative expenses were 38.3% compared to 37.7% in the prior year. e-Commerce also increased 69% globally, compared to the prior year.
GAAP net earnings in the fourth quarter were $70.2 million, an increase of $1.2 million from last year and the GAAP operating earnings were $119.7 million, compared to $116.1 million last year.
During the fourth quarter, cash flow from operations were at $152.5 million, an increase of 30.8% compared to the prior year. Capital expenditures totaled $21.1 million. Operating free cash flow was $131.4 million, an increase of 66.6% compared to the prior year.
At the end of the fourth quarter, the company had $514 million in cash on its balance sheet and a zero balance on its $600 million revolving line of credit.
For the full fiscal year, consolidated same store sales decreased by 8.1%. Consolidated net sales were $3.51 billion, a decrease of 9.3% from last year. 
GAAP net earnings for the full fiscal year were $113.2 million, a decrease of $158.4 million, or 58.3%, from the prior year. 
Chris Brickman, president and chief executive officer said, "During the fourth quarter, we saw a significant acceleration in our sales and margin performance compared to the third quarter boosted by the reopening and stabilization of our operations across the globe and progress from our strategic initiatives in innovation, digital content, technology and talent. While total reported sales for the fourth quarter slightly trailed the prior year period, due primarily to the ongoing impact of the COVID crisis and fewer stores, we are pleased to report positive same store sales and significant gross margin expansion. We ended the year with strong liquidity, including $131 million in operating free cash flow for the quarter and a strengthened balance sheet with over $500 million of cash after proactively reducing our debt levels by $445 million. I am proud of our 30,000 associates around the world who assisted our Company in meeting the needs of our customers during this unsettling time."
"We begin fiscal 2021 focused on completing our transformation plan while maintaining stringent financial discipline and ample liquidity as uncertainty remains as to the duration and severity of the pandemic. Our strategic initiatives will involve capitalizing on strong consumer interest in DIY hair color, building and refining our digital customer experience including the addition of 'Buy Online / Pickup In-Store', growing our new Private Label Rewards Credit Card Program, expanding the rollout of JDA to the rest of our distribution centers, and growing our partnerships with Female-owned and Black-owned brands. This should provide our Company with a strong platform as we navigate past COVID-19 and achieve our goal of sustained long-term profitable growth," said Brickman.