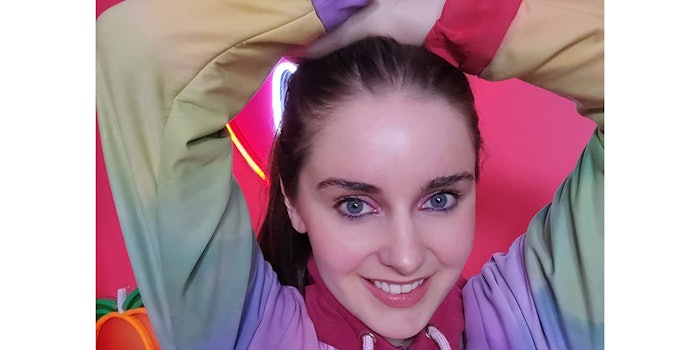 e.l.f. Cosmetics has announced a new partnership with gamer Loserfruit, who has the second largest Twitch following globally for a female gamer. The venture aims to connect with Gen Zs who are less likely to engage in mainstream media. 
Previously: e.l.f Beauty Q2, H1 2021 Net Sales Increase 7%
Loserfruit (Lufu) will provide her audience—both females and males—with platform-native content that integrates her favorite cosmetic and skin care products from e.l.f.
In a recent online social survey conducted by e.l.f., more than 70% of e.l.f. fans responded that they play video games, and 65% like to watch gamers play on platforms like Twitch and YouTube.
The brand and Lufu will be unveiling e.l.f. U (University) in 2021, a platform for supporting female gamers in a male-dominated sphere while also presenting e.l.f. products to male fans who may not have previously used beauty products. 

According to Marketing Brew, Twitch dominates the market share of hours watched on video game streaming platforms at 4.74 billion hours watched in quarter three. That's a massive uptick from pre-pandemic numbers.
Em Cosmetics founder Michelle Phan has also delved into the world of gaming when she recently hosted a livestream on Twitch to play with her fans, all while promoting her brand. Marketing Brew reports that 45% of Em Cosmetics' site traffic for the day was generated during the livestream.
MAC Cosmetics and Maybelline have gone even further in their quest to reach more consumers when they participated in TwitchCon in September 2019.
In addition, brands like Shiseido have launched marketing projects in the popular Animal Crossing game.
Kory Marchisotto, chief marketing officer at e.l.f. Beauty, said: "Fans respond to Lufu's passion and her genuine, relatable persona. We believe this makes her an ideal partner for e.l.f.'s mission of providing inclusive, positive, and energetic beauty to our global beauty-verse."
Marchisotto added: "Just as we jumped into the world of TikTok with original messaging and engagement with Gen Z, we are proud to be one of the first cosmetic and skin care companies to establish a unique presence on Twitch. We are excited that our presence on Twitch is designed to uplift, empower, and grow a community of beauty enthusiasts."
Lufu said, "I'm really excited to team up with e.l.f., a brand that reinforces the key values that I look for—being for every eye, lip and face, cruelty-free and vegan. Together we are creating amazing content that I know will be a fan-favorite—for both male and female gamers."