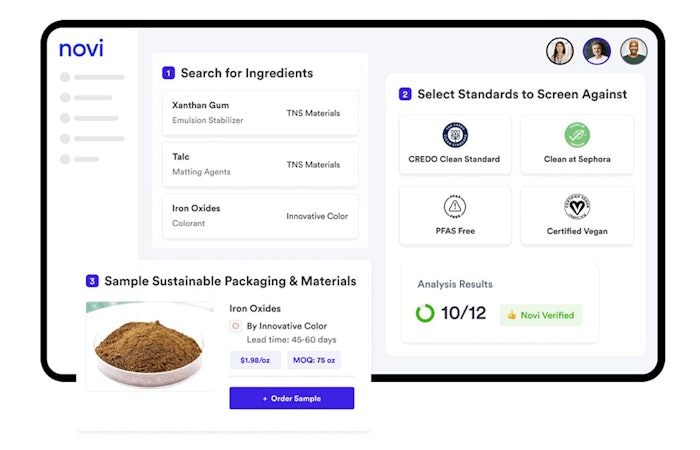 Novi has announced that it raised $40 million in its latest funding round, led by Tiger Global with follow-on investments from Defy.vc and Greylock. The new funding brings Novi's total investments to more than $51 million.
Report: Thirteen Lune Raises $3 Million in Funding Round
According to the company, its B2B marketplace has experienced 9x growth in consumer brands in 2021, including Smashbox, Dow, Croda, APC Packaging, Seventh Generation and Unilever. Novi also partners with retailers like Credo, Grove Collaborative, Sephora and Target.
Novi Connect is a publicly available ingredient screening tool that compared ingredients against data-driven standards including certified vegan, clean at Sephora and EWG verified.
Back in January 2021, Global Cosmetic Industry revealed that the expanded Novi platform was being developed with input from Credo Beauty to ease brands' transition toward cleaner and more sustainable offerings. 
Kimberly Shenk, CEO and founder, said, "Pre-Novi, brands would spend weeks hunting down materials and interpreting disparate material documentation to determine if they met complex industry standards. Novi collects, digests, and digitizes all of this data, ensuring real-time accuracy against ever-changing standards and claims, which allow our users to make procurement decisions around sustainability more efficiently and with confidence."
Donna Petretti, head of North American marketing at Croda, said, "Novi has become the clear front-runner in terms of innovative sourcing platforms. Every week we are getting new Indie leads from Novi for customers who want to formulate with our sustainable ingredients. This type of platform delivers true transparency and is the future of the beauty industry. We are so excited to be part of this great journey."