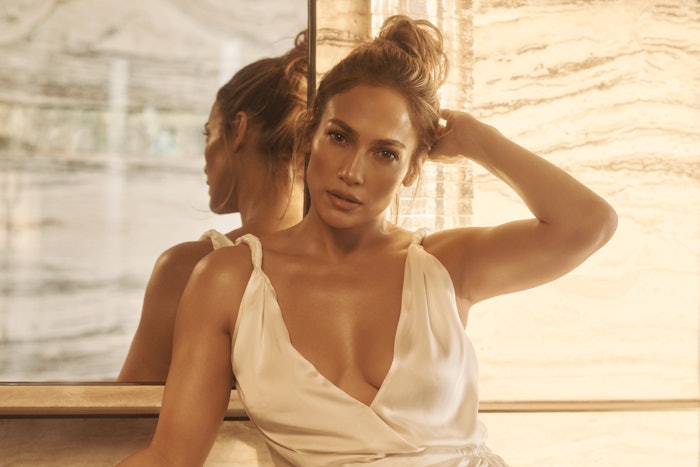 The Beauty Health Company has announced a HydraFacial partnership with JLo Beauty to launch The Hydrafacial x JLo Beauty Booster.
The Hydrafacial x JLo Beauty Booster features a unique combination of potent ingredients including a tri-fermented essence, super antioxidants and niacinamide which will leave skin plump, healthy-looking and glowing.
Ingredients:
Olive leaf extract: Used to help slow the appearance of aging by improving skin hydration
Fermented adaptogens: Restore skin's natural glow and diminish the look of fine lines and wrinkles
Hygroplex HHG: This sugar-derived matrix ingredient helps restore the skin's ability to retain moisture
The HydraFacial x JLo Beauty Booster will be available in the United States in September 2022 and can be added to all HydraFacial treatments.
Andrew Stanleick, president and CEO of The Beauty Health Company, said, "We're thrilled to expand our portfolio of customized treatment solutions through our partnership with JLo Beauty. Jennifer Lopez is a beauty and skin care pioneer and HydraFacial is about elevating your skin health. Together, this HydraFacial x JLo Beauty Booster partnership takes your skin care routine to the next level. This treatment will leave you feeling confident and looking radiant in your own skin."
Lisa Sequino, co-founder and CEO of JLo Beauty and Lifestyle, said, "Everyone wants to glow like Jennifer Lopez and JLo Beauty makes that desire a reality. Now, we can deliver that signature JLo glow to consumers in a new and exciting way. Through this partnership, we're combining our proprietary blend of radiance-inducing ingredients with HydraFacial's breakthrough treatment and skilled professionals. The HydraFacial x JLo Beauty Booster is a must for anyone looking for next-level hydration and glow."
Head of Corporate Affairs Appointment
Amy Juaristi has been appointed head of corporate affairs, a newly created role.
Juaristi will join BeautyHealth's executive committee and lead the development, advancement and execution of the company's strategic communications and public affairs strategy.
Most recently, she led corporate affairs in the Americas for Coty, where she shaped the stories of bellwether brand Covergirl and Coty overall, and managed communications through the merger with Procter & Gamble Specialty Beauty Business.
Juaristi said, "What a moment to join BeautyHealth. There is wide open space for us to build and grow the story of BeautyHealth as a category creator in a way that supports consumers and providers to embrace their most confident selves. I am thrilled to join the talented team as it creates and grows a world-leading beauty health platform."
Q1 2022 Results
Net sales for Q1 were $75.4 million, compared to $47.5 million in the previous year.
Net income was $32.5 million, compared to a net loss of $3.3 million in the previous year.
Operating loss was $13.0 million, compared to an operating income of $2.4 million in the previous year.
Gross profit was $51.9 million, compared to $31.7 million in the previous year.
Stanleick said, "I am proud to report that BeautyHealth delivered another outstanding quarter of growth as we continued to execute on our Master Plan. We achieved record delivery system sales, supported by the highly successful launch of Syndeo, our next generation digitally connected HydraFacial delivery system. We are driving continued strong demand as consumers seek the confidence boosting glow we're famous for. As a result of the momentum we're seeing across the business and the strong rollout of Syndeo, I am pleased to announce that we are raising our full-year guidance for net sales. We remain confident in the long-term outlook for the beauty health category, and we look forward to carrying this momentum into the rest of the year as we continue to build upon our impressive platform."
Fiscal 2022 Outlook
BeautyHealth increased its fiscal 2022 guidance and now expects net sales in the range of $330.0 million to $340.0 million, up from the previous outlook for $320.0 million to $330.0 million.