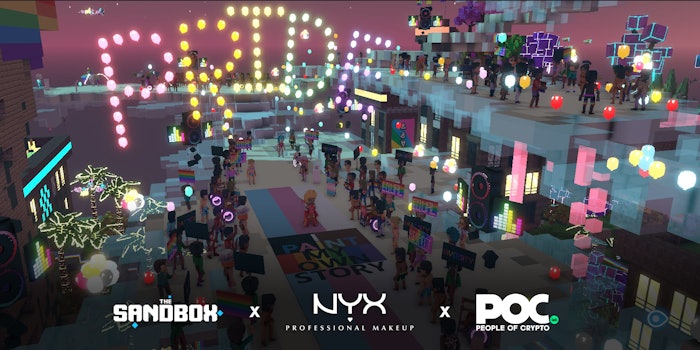 The Sandbox and People of Cyrpto (POC) are collaborating with NYX Professional Makeup to launch the Valley of Belonging, the first diversity, equity and inclusivity hub in the metaverse, on June 24, 2022.
The new hub is a part of a special Belonging Week where The Sandbox will open ahead of its Alpha Season 3 to celebrate our differences, reaffirming the importance of an equitable Web3.
POC will onboard brands to build metaverse projects and movements that drive cultural awareness and education. NYX Professional Makeup will be the first cosmetics brand to integrate into The Sandbox and kick off a new wave of consumer onboarding and education in Web3 via #MetaPride.
NYX and POC Lab will celebrate Pride Month, highlighting that makeup has no gender via a non-binary NFT avatar collection featuring voxelized makeup looks for each group represented in the progress pride flag. 
The 8,430 avatar NFT drop on June 17, 2022, is representative of the estimated 84.3% global majority population of communities of color and LGBTQIA+. Avatar traits will incorporate more than 36 skin shades, every ethnicity, sexual orientation and gender identification, celebrating our differences ranging from different abilities like prosthetic limbs to cultural identifiers like the hijab. 
NYX Professional Makeup is donating 100% of its proceeds from the sale of the avatar NFTs to the Los Angeles LGBT Center, amounting to $50,000. 
POC Lab co-founder, Akbar Hamid, said, "There has never been a more important time to build a safe space that welcomes all given the rising discrimination against LGBTQIA+ and other minorities. As someone who has had to hide my real identity, I want to help build Web3 as a place that allows marginalized communities to feel represented and not left behind. We are proud to have NYX Cosmetics as a partner that shares our mission."
POC Lab co-founder, Simone Berry, said, "Culture drives commerce, so Web3 can only scale if diversity and inclusion are rooted in the foundation of what is being built. Black and brown women, people of color, and LGBTQIA+ have an immense combined spending power and unprecedented cultural influence. We need to actively onboard these communities in order to ensure they get an  equitable, profitable future for Web3."
Sebastien Borget, COO and co-founder of The Sandbox, said, "Our vision for The Sandbox metaverse is to create a continuous shared digital space where worlds and brands collide to make a place where everyone is invited to participate, engage, create, and play. Diversity, equity, and inclusion are essential in a truly open metaverse. Rather than replicating the biases and inequality of the real world, the metaverse must break barriers and forge an inclusive, welcoming global community."