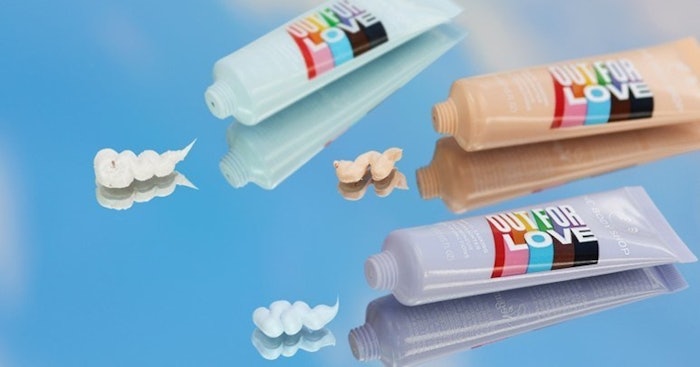 The Body Shop North America has launched a pro-2SLGBTQ+ creative campaign that opposes the Parental Rights in Education Bill recently passed in Florida.
The campaign will be brought to life through retail signage, digital initiatives, an educational hub, non-profit partnerships and dedicated product sales.
Visitors to the brand's North American stores will see bold, colorful signage, videos and specially designed apparel worn by retail staff including bandanas and pins that will read "We don't just say gay. We also say…" followed by the list of 2SLGBTQ+ identifiers, including pansexual, bisexual and trans, among others, meant to capture the sentiment "we say it all" for, and in solidarity with, the 2SLGBTQ+ community.
Stores across North America will also be equipped with informational tables and QR codes that lead customers to The Body Shop's digital Pride Hub, which will include educational resources and a petition hosted by the brand's charitable partners, which are Advocates for Youth in the United Sates and It Gets Better Canada.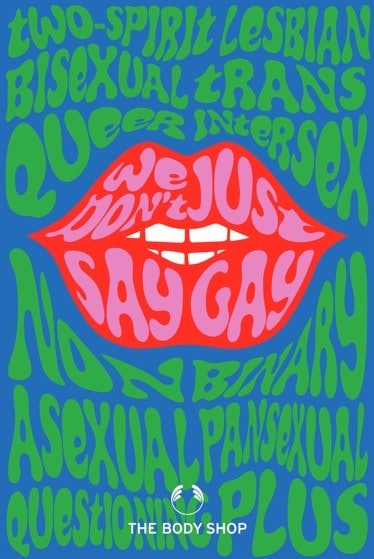 The Body Shop also recently launched an "Out for Love" highlighter makeup range in three different shades. From May 31st through August 31st, $1 of every sale will benefit It Gets Better Canada and Advocates for Youth in the U.S., up to $10,000 for each organization.
Hilary Lloyd, VP of marketing and corporate responsibility for The Body Shop North America, said, "Our priority this Pride, and always, is to keep working toward a world where 2SLGBTQ+ youth feel safe, supported and able to show up as they are. We hope this unapologetic campaign speaks truth to power and helps our 2SLGBTQ+ customers and allies to feel at home with The Body Shop."
Sydney Greene, manager of digital content and strategy, Advocates for Youth, said, "Young 2SLGBTQ+ people are facing attacks on our bodily autonomy and rights. "It is vitally important for companies, organizations, and people showing up to Pride this year to do everything they can to pass the Equality Act, which will provide protections for the queer and trans youth who are under attack in many parts of the United States right now."
Omid Razavi, executive director at It Gets Better Canada, said, "We are proud to collaborate with The Body Shop this year to inspire a better future for all, by working towards creating opportunities that elevate hope, resilience, and determination for 2SLGBTQ+ youth."