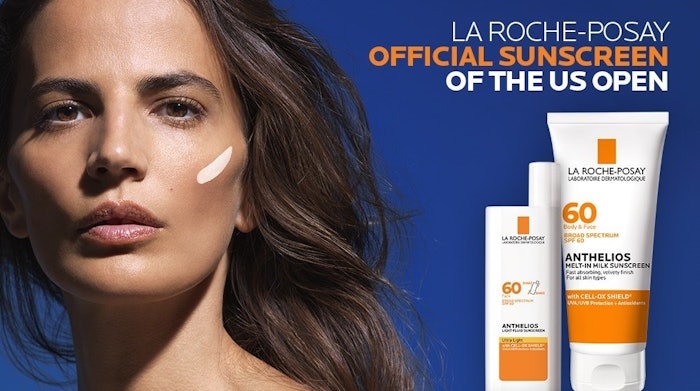 Retrieved from USTA and La Roche-Posay press release
The USTA and La Roche-Posay have announced that La Roche-Posay has become the official sunscreen partner of the US Open. La Roche-Posay sunscreen products will be featured and sold in US Open Collection stores, and products will be provided to players.
At this year's US Open, La Roche-Posay will have a sun safety education booth in the South Plaza of the USTA Billie Jean King National Tennis Center, with product sampling kiosks on the grounds. 
According to the American Academy of Dermatology, skin cancer is the most common cancer in the United States, with one in five Americans developing skin cancer in their lifetime.
Per the announcement, daily use of an SPF 15 or higher sunscreen reduces the risk of developing melanoma by 50%.
"La Roche-Posay is proud to be the Official Sunscreen of the US Open. In 2010, La Roche-Posay introduced the SOS – Save Our Skin campaign to inform the public about the dangers of UV rays and the importance of practicing sun safe behaviors in order to prevent skin cancer. La Roche-Posay has strategically partnered with the US Open to advance our mission and promote sun safe behaviors on and off the court with complimentary sunscreen and skin education available to all attendees at the US Open," said Guillaume Monsel, vice president of marketing, La Roche-Posay USA.