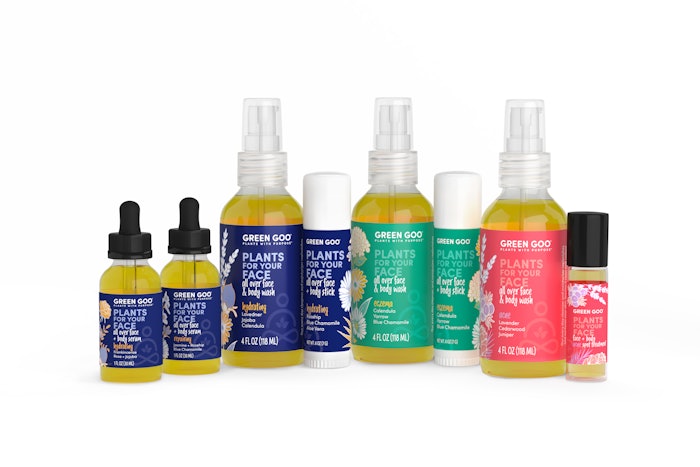 Green Goo rolled out its Plants for Your Face & Body skin care collection, targeting aging, acne and eczema from head to toe.
The new plant-based range is made with Green Goo's proprietary lipid infusion process. Rather than using harsh chemicals or pre-made extracts, the process infuses herbs and whole-plant botanicals in rich, nourishing organic essential oils to maximize the purity of the formulas and elevate their healing properties.
The Plants for Your Face & Body range consists of three lines.
The Hydrating Collection addresses sun damage, wrinkles and dry skin:
The Hydrating Face & Body Wash is a daily moisturizing cleanser that blends calendula, lavender and jojoba oil to clean and replenish the skin without clogging pores.
The Hydrating Face & Body Serum combines pomegranate oil, vitamin E, jojoba oil, frankincense and rose to moisturize the skin and leave it with a fresh glow.
The Repairing Face & Body Serum features jasmine extract and blue chamomile, rosehip and jojoba oils. The regenerative formulation helps repair sun damage and scarring as well minimizes the appearance of fine lines and wrinkles.
The Hydrating Night Stick is formulated with blue chamomile, rosehip, aloe vera and vitamin E to relieve puffy eyes; reduce dark spots, fine lines and scars; and improve the skin's elasticity and firmness.
The Acne Collection seeks to provide a gentle and nourishing alternative to harsh, chemical-laden acne products:
The Acne Face & Body Wash is a nontoxic alternative to alcohol-based washes. The oil-based cleanser is formulated with a naturally protective and astringent blend of lavender, cedarwood, chamomile and juniper to calm the skin and cleanse pores.
The Acne Spot Treatment Roll On is made with pure essential oils of juniper, cedarwood and lavender to provide soothing relief to acne-prone and irritated skin.
The Eczema Collection seeks to provide all-natural soothing relief for chronic skin conditions like eczema and psoriasis:
The Eczema Face & Body Wash is formulated with calendula, yarrow and chamomile to replenish and nurture the skin while gently dissolving dirt and makeup.
The Eczema Dry Skin Stick blends calendula, yarrow, and red clover and elder flowers to alleviate the symptoms of eczema and psoriasis as well as dry skin, cracked hands and feet, and windburn.
"Our new skin care collection was born from practitioners searching for nontoxic alternatives to treat chronic and acute skin conditions," said Jodi Scott, CEO and co-founder of parent company Sierra Sage Herbs, "and we now have hospitals and facilities across the country recommending our products to their patients seeking head-to-toe body care regimens."
She added, "Ultimately, we hope this collection serves all those people looking to make a lifestyle change to nourish their skin healthfully. This is really just the beginning for Green Goo to challenge the way we think about and use body care products."
The Plants for Your Face & Body collection is available at GreenGoo.com.
Hydrating Face & Body Wash
$24.99 per 4 fl oz
Ingredients: 

*

Olea Europaea

(Olive)

 Fruit Oil, *

Helianthus Annuus

 (

Sunflower)

 Seed Oil, *

Simmondsia Chinensis

 

(Jojoba)

Seed Oil, *

Calendula Officinalis

 

(Calendula)

Flowers,

Lavandula Angustifolia

 

(Lavender

)

 Oil,

Rosmarinus Officinalis

 

(Rosemary)

Leaf Oil, Tocopherol 

(Vitamin E)

Oil
Hydrating Face & Body Serum
$34.99 per 1 fl oz
Ingredients: *Olea Europaea (Olive) Fruit Oil, *Simmondsia Chinensis (Jojoba) Seed Oil, Punica Granatum (Pomegranate) Seed Oil, Natural Tocopherol (Vitamin E) Oil, Rosmarinus Officinalis (Rosemary) Antioxidant Oil, Rosa Damascena (Rose) Oil, Boswellia Carterii (Frankincense) Oil
Repairing Face & Body Serum
$34.99 1 fl oz
Ingredients: *Olea Europaea (Olive) Fruit Oil, *Simmondsia Chinensis (Jojoba) Seed Oil, *Rosa Canina (Rosehip) Seed Oil, *Argania Spinosa (Argan) Seed Oil, Natural Tocopherol (Vitamin E) Oil, Rosmarinus Officinalis (Rosemary) Antioxidant Oil, Cymbopogon Martini (Palmarosa) Oil, Commiphora Myrrha (Myrrh) Resin, Jasminum Sambac (Jasmine) Flower Extract, Matricaria Chamomilla (Blue Chamomile) Oil
Hydrating Night Stick
$9.99 per 0.6 oz
Ingredients: *Aloe Barbadensis (Aloe Vera) Oil, *Helianthus Annuus (Sunflower) Oil, *Cera Alba (Beeswax), *Olea Europaea (Olive) Oil, *Rosa Canina (Rosehip) Seed Oil, *Cocos Nucifera (Coconut) Oil, Vitamin E Oil, Essential Oils of Chamomilla Recutita (Matricaria), Achillea Millefolium (Blue Yarrow), Helichrysum Italicum (Helichrysum)
Acne Face & Body Wash
$24.99 per 4 fl oz
Active Ingredients: *Achillea Millefolium (Yarrow) Flowers, *Calendula Officinalis (Calendula) Flower Oil, *Matricaria Chamomilla (Chamomile) Flowers
Inactive Ingredients: *Helianthus Annuus (Sunflower) Seed Oil, *Olea Europaea (Olive) Fruit Oil, *Simmondsia Chinensis (Jojoba) Seed Oil, *Argania Spinosa (Argan) Oil, *Rosa Canina (Rosehip) Seed Oil, Lavandula Angustifolia (Lavender) Oil, Juniperus Communis (Juniper) Fruit Oil, Cedrus Atlantica (Cedarwood) Wood Oil
Acne Spot Treatment Roll On
$11.99 per 0.34 fl oz
Ingredients: *Capric/*Caprylic Triglyceride (Fractionated Coconut) Oil, Lavandula Angustifolia (Lavender) Oil, Juniperus Communis (Juniper) Fruit Oil, Cedrus Atlantica (Cedarwood) Oil
Eczema Face & Body Wash
$24.99 per 4 fl oz
Active Ingredients: *Achillea Millefolium (Yarrow) Flowers, *Calendula Officinalis (Calendula) Flower Oil, *Matricaria Chamomilla (Chamomile) Flowers, *Sambucus Nigra (Elder) Flowers
Inactive Ingredients: *Helianthus Annuus (Sunflower) Seed Oil, *Simmondsia Chinensis (Jojoba) Seed Oil, *Olea Europaea (Olive) Fruit Oil, Tocopherol (Vitamin E) Oil, Cymbopogon Martini (Palmarosa) Oil, Pelargonium Graveolens (Geranium) Flower Oil, Lavandula Angustifolia (Lavender) Oil
Eczema Dry Skin Stick
$9.99 per 0.6 oz
Ingredients: *Achillea Millefolium (Yarrow) Flower, *Calendula Officinalis (Calendula) Flower Oil, *Chamomilla Recutita (Matricaria) Flower, *Sambucus Nigra (Elder) Flower, *Trifolium Pratense (Red Clover) Flower
*Organic