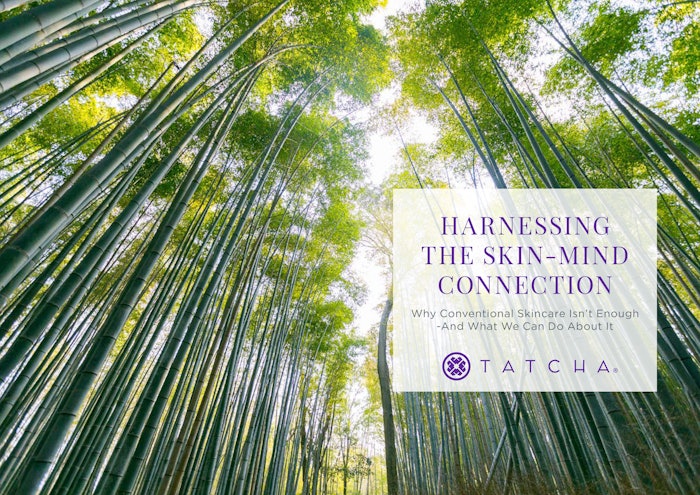 Tatcha has released a new study titled Harnessing the Skin-Mind Connection: Why Conventional Skincare Isn't Enough—And What We Can Do About It, which finds that mindful skin care rituals can lead to improved well-being.
The brand's latest launches reflect this mindset. The Forest Awakening range features the Hinoki Body Oil, Hinoki Body Milk and Hinoki Body Wash. All three formulations are designed to "awaken the senses and calm the mind."
Guided by its mission to care for people through their skin, Tatcha examined how it can better serve its consumers given the increasing stress and tension they face brought about by the complexities of modern life.
Tatcha's study surveyed 841 women to evaluate their stress levels and the role skin care plays in their lives.
Respondents in the study reported that their stress levels are high, worsening their skin issues. About 69% of respondents report experiencing burnout in the last 12 months, while 70% noticed changes in their skin for the worse during that same time.
The study also finds that three out of every four respondents reported being mentally absent for half the day or more.
In addition, 47% of respondents considered their skin care routines as just another task—if not another source of stress.
Yet 74% of respondents said they sense that their mental state and the condition of their skin are connected.
Because the skin is sensitive and rich in nerves, it feels stress more than any other organ. As such, burnout and stress makes the skin break out, age faster and become more sensitized.  
The Tatcha study identifies untapped opportunities to reverse course, including treating one's skin care routine as a ritual of intention.
The study recommends adding a new step to begin every skin care routine, Step 0: Breath + Connect. It involves people taking a moment to center themselves by taking a few deep breaths. They should focus on breathing and preparing to apply their skin care products with intention.
Although Step 0 requires no skin care formulas or tools, it is the most important step in a skin care ritual because it sets the tone for the practice of mindfulness, the study says.
Before any skin care products are applied, the simple act of deep breathing calms down users, opens up their awareness, and allows them to reconnect with their bodies and reset their minds—recognizing that this is their time, according to the study.
Next, users set intentions with each step of their skin care routines to bring meaning to every motion, the study says. Throughout the ritual, users should pay attention to their environment, feelings, skin and senses to stay present.
CEO Mary Yee said, "Going beyond skin-deep is no longer a nice-to-have, it's a necessity. The skin-mind connection is transformative; it's at the heart of our pursuit of new ways to care for our clients' well-being."