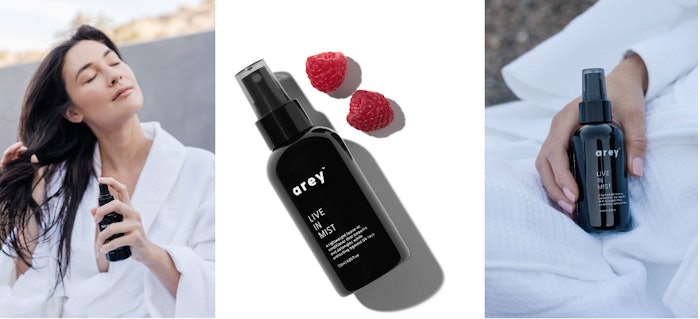 Arey, a direct-to-consumer hair care brand targeting the growth of gray hair, blew past its recent $2 million fundraising target, generating a $4.15 million seed round led by the Female Founders Fund and Greycroft.
Funds will be invested in R&D and distribution expansion.
Arey was co-founded by CEO Allison Conrad (previously of Goodmylk, type:A Brands, Vegamour, etc.) and stylist Jay Small (formerly of Paul Mitchell).
Avey addresses gray hair with a supplement and hair serum, as well as a duo of shampoo and conditioner that helps prevent an increase in graying hair. In total, the system can reportedly preserve and perhaps restore hair pigment.
Conrad says, "We are not anti-gray, but rather want to provide both men and women an alternative to the current reactive option of hair dye. We are the wrinkle cream of hair care targeting those looking to prevent aging hair and customers who are in the early stages of graying hair."
Smalls adds, "Nearly 85% of women have colored their hair, 78% of which is at home. For years, the response to gray hair has been to cover it. Unfortunately, once this cycle begins, it's likely that each time you apply hair color chemicals to your scalp, healthy production of hair is stifled. The average person covering gray will have to maintain color every four weeks, and will likely overuse hair color on areas of the hair that do not need coverage. This frequency and overexposure are a high payload of oxidative stress and could be contributing to an increase in gray hair with every application." 
The brand claims to have experienced 1,100% year-over-year growth since its 2021 launch, driven by 975% subscription growth in the last year, which makes up more than 70% of their revenue.
The direct-to-consumer model differs from the increasing migration of beauty and personal care brands to brick-and-mortar amid rising online customer acquisition costs and marketing limitations related to Apple's App Tracking Transparency tool.
Conrad notes, "We built the business with strong unit economics from the beginning and a focus on profitability. We are thrilled that Female Founders Fund and Greycroft recognize the huge potential in this growing category we have created."
Anu Duggal, founding partner at Female Founders Fund, says, "We are thrilled to co-lead Arey Grey's seed round in bringing a much needed science-driven system for addressing aging hair to consumers. The hair care category has been ripe for innovation and co-founders Allison and Jay have taken a preventive approach to hair health by creating a solution that both slows the graying process while also re-pigmenting hair color. Since launch they have seen tremendous organic demand from both female and male consumers with exciting product development in the pipeline. With a big vision to offer better solutions to consumers for hair care, we are excited to be backing this stellar team in their vision to transform hair health."
"Arey's science-driven, efficacious solutions and elevated education-based branding speak to consumers across genders in a differentiated way," says Greycroft principal Alaina Hartley. "The Greycroft team is excited to support co-founders Allison and Jay as they build the category-defining brand in aging hair care."