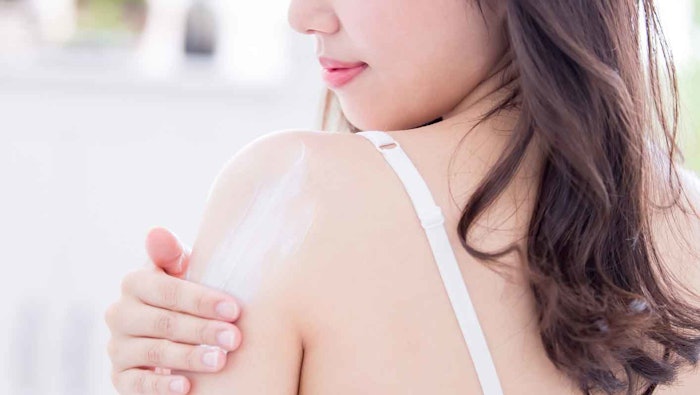 GluEco highlights its DermAmaize (INCI: Not Provided) adhesive film, designed to provide a thin, conforming layer even at points of flexure to deliver active or passive chemistry to the epidermis for extended periods of time. The product is created from bio-based, sustainable zein and can be utilized as an amorphous film, with nanoparticle inclusions, or both. The product was developed through GluEco's licensing agreement with Purdue University.
See related: Delivering Efficacy, Well Aging and the Microbiome: Day 1 at IFSCC London 2022
Applications
Possible applications include:
Long-term transfer of natural essential oils as an adjunct to skin microbiome health (e.g., antimicrobial oils, antioxidants, vitamins, soothing agents, etc.);
Delivery of bioactive additives such as collagen, hyaluronic acid, astringents, glucans, etc;
Long-wear color cosmetics; 
OTC products including creams, roll-ons and sprays; 
Extending topical drug delivery into the epidermis; and 
Clinical wound care and management.
Safety and Formulation
DermAmaize's small molecular size conforms well to surface and appendageal tissue, the company reports, and easily adheres to skin with little or no sign of its presence. The product demonstrates no dermal allergic risk and the skin-safe package solvents are said to disappear within seconds of administration. The solvents also are compatible with most organic, lipophilic chemistries and some water-based actives.
See related: HA-coated Niosomes Drive Ascorbic Acid Deeper into Skin
Pre-emulsions, liposomes and complexes can be incorporated during or after final film assembly depending upon order-of-addition requirements. Furthermore, variability among several ingredients allows for tuning rheology, carrying capacity, moisture vapor transmission rate and adhesive strength. Adjusting binding strength and viscosity can accommodate different loading to deliver time-release and concentration in consistent, custom formulations.
All ingredients in the adhesive are Generally Recognized as Safe (GRAS) by the U.S. Food and Drug Administration and the adhesive is recyclable, compostable and biodegradable.
"When you look at evolving governmental standards or consumer preferences, it is clear that the time is ripe for the introduction of a plant-based and sustainable adhesive," said Dan Rosen, CEO and co-founder of GluEco. "GluEco offers a clean-label alternative for an array of applications without compromising performance requirements."