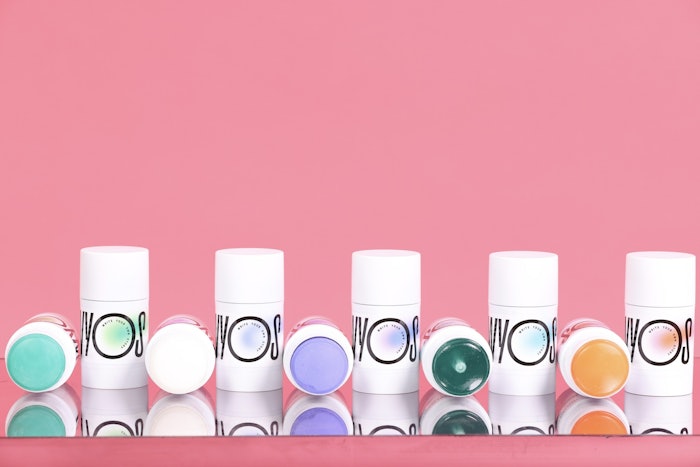 WYOS, (Write Your Own Story) is a new brand from beauty incubator Gen.Create, which is led by Jamie Glassman (CEO and founder) and Wendy Charland (COO and co-founder and a former L'Oreal executive).
Gen.Create focuses on building inclusive consumer brands that launch digital-first with community-led commerce.
WYOS features five travel-friendly stick format beauty products for skin, body and hair. The launch is in line with a growing embrace of solid-format/waterless beauty.
Products include:
The Clean Sweep – Gentle Face Cleanser ($20)
The Big Reveal – Purifying Face Mask (clay mask format; $24)
The Mane Event – Daily Shampoo (sulfate-free; $16)
The Disappearing Act – Shaving Suds (for face and body; $16)
The Shining Star – All Over Moisturizer (waterless formulation for a glass skin look; $24)
The brand is launching February 7, 2023; to access the brand's presale, consumers must agree to share a pledge of values (POV), including "An Attitude of Gratitude," "A No Ghosting Guarantee" and "Connect with Respect."
For each pledge, WYOS will donate $1 (up to $50,000) to The Madhappy Foundation, a non-profit organization with a mission to advance the mental health conversation.
"We created WYOS because we saw whitespace not only for the products, but for the way brands interact with their communities," said Glassman. "We set out to make products that are easier to use with less waste, but also, we felt as a brand we needed to act differently and connect with our consumers where they are physically, digitally and emotionally. This is why we aren't donating based on purchase, but rather based on action, to truly have an impact."
"To us, WYOS is more than just a brand with amazing products," said Charland. "The story runs deeper. We have experienced the reality of mental health challenges and the stigma and struggles that come with them. We want WYOS to not only offer fantastic products that resonate with our consumers, but also to connect in a meaningful way with those consumers and do our part to help have a positive impact on mental health issues."