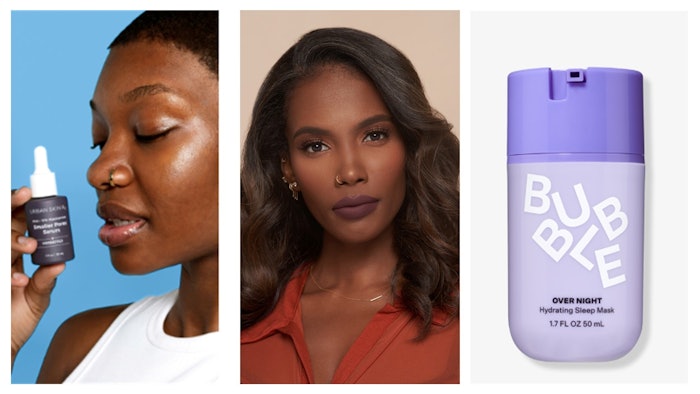 A number of brands are expanding their retail reach, including Unsun, Bubble Skincare, The Lip Bar and Urban Skin Rx. The news comes amid a renaissance for prestige brick-and-mortar sales and a gravitation of mass sales to e-commerce.
Free briefing: Let Execs from Bubble, Beekman 1802 and Mad Rabbit Help Recession-proof Your Brand
In prestige beauty, 2022 year-over-year brick-and-mortar retail share grew, while online sales share increased in the mass market.
Brick-and-mortar units were down in 2022, driven by mass market declines, while prestige in-store sales actually grew. In fact, prestige sales are dominated by brick-and-mortar channels while mass sales in the channel are falling.
Meanwhile, multi-brand ecommerce grew shopper frequency more than any channel in prestige beauty, while dollar stores experienced the largest drop in the mass sector.
Unsun has launched its Everyday diffusion line on Target.com and in Target stores, offering daily sun protection and recovery for healthy, younger-looking skin.
The line includes the Mineral Tinted Face Sunscreen (SPF 30; available in two shades: light-medium and medium-deep), Full Coverage Mineral Sunscreen Lotion (SPF 30) and Healing After Sun Lotion (comprising aloe vera, prickly pear extract and baobab oil).
"We all deserve to wear clean, mineral-based sunscreens that don't leave a white cast and aren't harmful to our animals or our coral reefs," said Katonya Breaux, founder of Unsun Cosmetics.
The Lip Bar (TLB) is expanding its footprint by 700% with its entry into U.S. nationwide Target stores. This represents a move from three shelves to 24, per the brand.
The brand will offer its TLB Skincare collection, the Just a Tint 3-in-1 Tinted Skin Conditioner, the Quick Conceal Liquid Caffeine Concealer and the Set The Tone Finishing Powder alongside existing cosmetics lines.
The brand launched in select Target stores in 2018; since that time, TLB's matte liquid lipstick Bawse Lady has grown to be the retailer's top red lipstick across all multicultural color cosmetics brands, while TLB reportedly remained the top independent, Black-owned beauty brand amongst all multicultural color cosmetics.
In September 2022, TLB's parent company, The Lip Bar Inc., raised a $6.7 million fundraising round to scale TLB and other brands.
"TLB is about celebrating, encouraging, and providing effortless solutions to women to bring ease to their routines, without compromise," said TLB founder and CEO Melissa Butler. "Every product developed by TLB is thoughtfully designed and developed to give women effective products with safe, gentle formulas."
Meanwhile, Bubble Skincare has expanded into the U.K. market, launching its cleansers, toners, serums and masks with online retailer Beauty Bay. The brand previously expanded into 9,000 U.S. doors across Walmart, CVS and Ulta. Existing formulas from the U.S. expansion were already U.K.-compliant.
Finally, Urban Skin Rx's new Smaller Pore Serum ($23.99) has launched on Ulta's e-commerce platform and direct-to-consumer via the brand's website.
Key ingredients include:
1% PHA (gluconolactone) for removal of dead skin cells, hydration and antioxidant benefits;
10% niacinamide to minimize the appearance of pore size and improve redness;
probiotics for barrier function;
tea tree oil to calm the skin and improve the appearance of acne, redness and blotchiness;
2% glycolic acid for exfoliation;
aloe leaf juice and allantoin for calmed and hydrated skin;
and the brand's ClearTone Advanced Technology, comprising kojic acid, azelaic acid, alpha arbutin, L-glutathione and niacinamide.