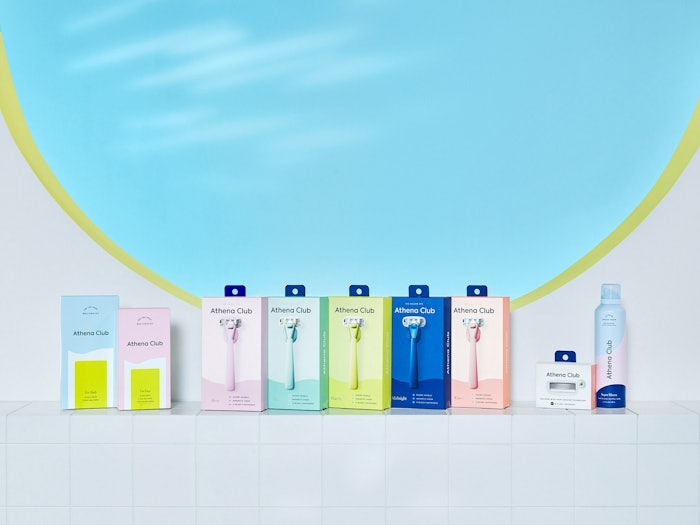 Athena Club, a brand featuring shaving/body, skin, wellness and period care, has expanded from DTC to 1,600 Target stores the retailer's site. The move comes four years after the brand's founding and seven years after Unilever's acquisition of Dollar Shave Club mainstreamed DTC shaving/personal care. It also comes at a time when many pure-play DTC brands are embracing retail. 
"We couldn't be more excited to have Target as our first mass retail partner," says Maria Desmarais, co-founder and co-CEO of Athena Club. "We aim to elevate the routines of millions of customers across the United States by providing them with solution-driven self-care products through a retailer they know and love. Offering Athena Club products at Target also addresses our digital customer base's growing demand for omnichannel shopping choices, and allows us to further build loyalty through both in-store and online touchpoints." 
"We've sought out the best talent to help execute our vision of building the next generation CPG company that modern consumers can love and trust for their daily routines," says Charles Desmarais, co-founder and co-CEO of Athena Club. "Our mission is to provide better everyday essentials to customers across the United States and beyond. With our industry-leading team and expert-partners, we will keep delivering on our promise of creating innovative, accessible, affordable, and solution-driven products as we expand onto retail shelves and bring Athena Club to millions of new customers."
Why are brands like Athena Club launching into retail?
In its latest earnings call, Unilever CEO Alan Jope noted that, "Dollar Shave Club, whilst marginally profitable continued to decline in a fiercely competitive market. We've been clear that performance of Dollar Shave Club has not met our expectations. And consequently, we've taken an impairment charge on DSC for our full-year 2022 results."
An analysis by The Drum notes that the acquisition of Dollar Shave Club has been beneficial, however, driving a small profit while infusing the larger organization with DTC expertise. The key takeaway: grooming/body care is unlikely to thrive by DTC alone. The Drum offers up Harry's as a key example of a DTC brand that pivoted to omnichannel to overcome the lack of product bundling and access to the wider shopping public faced by pure-play brands.
Athena Club represents this post-DTC era. The brand reportedly boasts consumers in 60% of U.S. zip codes, a 93% second purchase rate and more than 12,000 five-star customer reviews.
It is also launching about five products per year. In addition to adopting sustainable packaging, Athena Club tapped armpit microbiome expertise to develop its All Day Deo, while partnering with doctors from Harvard University and The University of Pennsylvania for its skin care and supplements. This focus on expert-backed care is in line with shoppers' interest with expert backed brands.
As an analysis by Richard Kestenbaum at Forbes notes, "Brands that were successful selling direct to consumers online are now opening stores and with good reason: that's where the customers are. It was never about the channel, that was just a moment in time. It was always about the message, the product, the belonging and the values. And that's where brands, DTC and otherwise, are going."