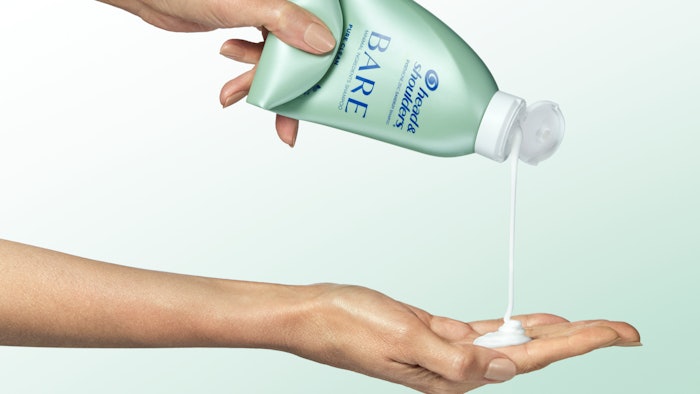 P&G's Head & Shoulders brand has launched BARE, a nine-ingredient anti-dandruff shampoo that is said to "get the job done with no trade-offs." According to the company, some consumers worry that products with long ingredient lists could further irritate their already aggravated scalp. In a recent survey by Head & Shoulders, more than half of respondents (n = 1,000 adults, 18-44 years old and experiencing scalp issues) had the misconception that anti-dandruff shampoos damage their scalp and that DIY home treatments are a more effective for scalp concerns.
See related: Multi-targeted Delivery System Restores Scalp Microbiome to Reduce Dandruff
In response, the brand launched BARE. As the company explained, after two years of work and more than 100 formula attempts, the resulting product was found to give users a simple, effective anti-dandruff solution.
Ingredients include: zinc pyrithione, sodium cocoyl isethionate, lauramidopropyl betaine, cellulosic polyquaternium, acrylate, citric acid, fragrance, sodium benzoate and water. The product is available in two variations: Pure Clean uses a coconut water-scented formula for those with an oily scalp and hair; and Soothing Hydration is an orchid and aloe-scented formula for those with dry scalp and hair. 
Besides a minimized list of nine ingredients, the product is packaged in a recyclable bottle that contains 45% less plastic per mL versus the company's 370 mL bottle. It also has been dermatologically tested and clinically proven.
"Millions of people suffer from dandruff, and many consumers are choosing minimalist products. After years of research and seven pending patents, we are excited to offer Head & Shoulders BARE," said John Brownlee, P&G senior vice president, North America Hair Care. The product is available for $9.99 exclusively at Walmart stores and Walmart.com. 
See related: Restoring Hair Health; Bonding, Exposome, Wellness, Hair/Scalp Routines, Minimalism