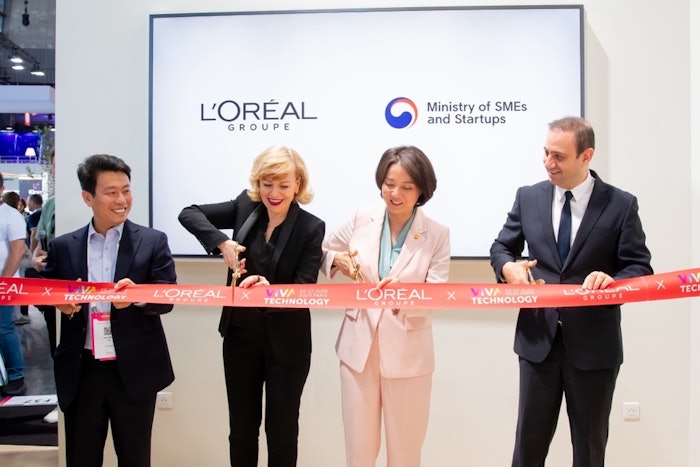 L'Oréal has announced the launch of the Big Bang Beauty Tech & Innovation Challenge ("Big Bang Program") in North Asia, the first regional open innovation initiative focused on driving co-creation and co-development of innovative beauty products and experiences across China, Korea and Japan.
The initiative will discover, support and nurture promising start-ups and companies with beauty tech and innovative sciences that can be scaled regionally and globally. 
After a successful three-year pilot in China, the program attracted more than 1,500 Chinese startups and incubated more than 50 projects in the past three years. 
In Korea, L'Oréal will partner with MSS to further expand and support promising Korean SMEs and startups with innovative digital and beauty tech technologies that can be scaled globally. The Big Bang Korea Program will focus on beauty devices, beauty tech, skin diagnosis and delivery systems enabled by digital and AI technologies.
In Japan, L'Oréal will partner with J-Startup and Hello Tomorrow to support Japanese startups and cross industry collaborators through the Big Bang Japan Program for open innovation and co-development opportunities. The Japan Program will focus on sustainable beauty and green sciences.
 Barbara Lavernos, deputy CEO of L'Oréal Groupe in charge of research, innovation and technology, said, "At L'Oréal, we embrace and nurture innovation, and believe in open innovation through partnerships. Therefore, we work with innovative start-ups, small and medium businesses, institutions and governments to inspire and be inspired. The signing of MOU with Korean MSS is a significant milestone for L'Oréal's journey in leading open innovation in North Asia. We are excited to collaborate with startups from China, Korea and Japan through the Big Bang Program, and to scale up creativity and innovation from North Asia globally."
Young Lee, Korea Minister of SMEs and Startups, said, "Supporting promising Korean SMEs and startups to play an active role in the global market is a big mission for us at the Ministry of SMEs and Startups. In this sense, collaboration with the global beauty leader L'Oréal Groupe is very meaningful. The ministry will continue to support Korean companies with innovative technologies to collaborate with global companies to strengthen their market competitiveness and expand into the global market."
Yoshiaki Ishii, Ph.D., director of startup and new business promotion office at METI, said,  "Japanese government is enhancing startup ecosystem to realize social benefit and economic growth and J-Startup is the flagship program. We believe that collaboration with the L'Oréal Big Bang Program will make the J-Startup more global and contribute to the better world."
Fabrice Megarbane, president of North Asia Zone and CEO of L'Oréal China, said, "North Asia is the most dynamic beauty market in the world with one third of the global beauty market and five geographically and culturally connected markets. Leveraging the unique 'beauty triangle' innovation eco-system and our strong research and innovation expertise in China, Korea and Japan, we believe the Big Bang Program in North Asia will unleash the power of co-creation through open innovation on disruptive beauty solutions with start-ups and partners across China, Korea and Japan. Let's inspire the world with innovations from North Asia, to create the beauty that moves the world."