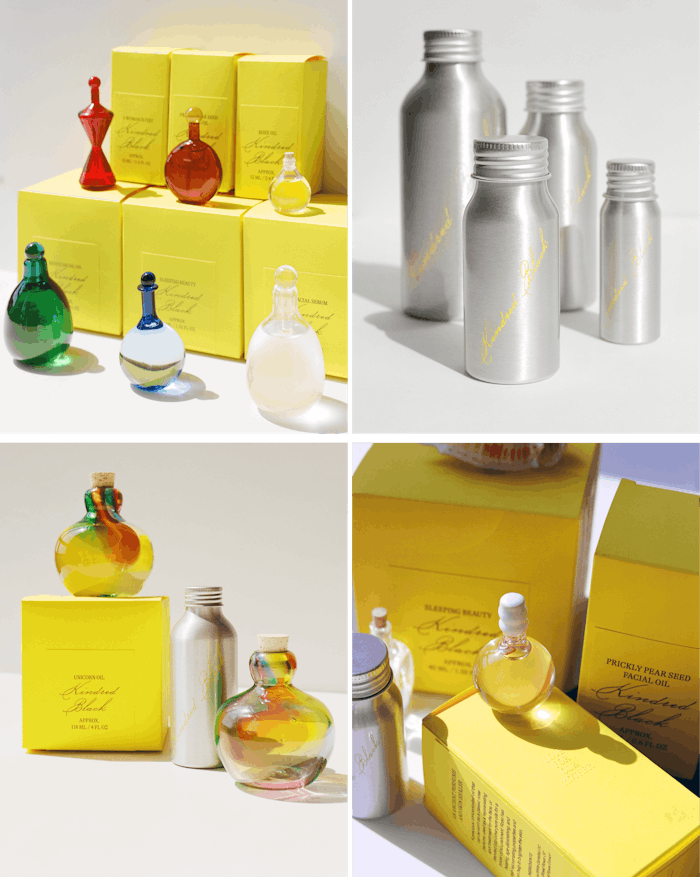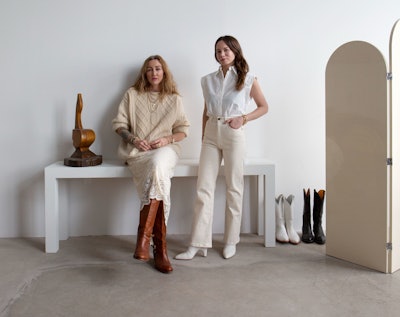 Artisan beauty brand Kindred Black has simultaneously launched a sustainable refill program and a brand refresh.
Each of the brand's bottles are hand-blown by artisan glass blowers, creating "one-of-a-kind vessels," according to the brand. To ensure reuse of these vessels, Kindred Black adopted wide-necked aluminum refills for 75% of its product range. That percentage is expected to grow over time.
Two particularly challenging products for refills include lip pots, cheek colors, highlighters, crèmes and salves, many of which are poured warm as liquid and harden as they cool. Also not included, currently, are the brand's mini perfumes and the Savannah Viper Lip Oil, the latter of which comprises plant matter that renders the formula too viscous to efficiently refill at home.
Refills for smaller vessels will be accompanied by a metal funnel or a glass and rubber pipette, per the brand. They will reportedly save shoppers 30% with each purchase. Refill containers are easily recyclable, per the brand, excepting the small white liner inside the refill container's cap.
"Our bottles are far too special to be thrown away when you're finished with your favorite cosmetics or skin care–with the introduction of travel-friendly and infinitely recyclable branded aluminum refill bottles, we're able to preserve the glass vessels and reduce the footprint of Kindred Black even further," said co-founder, Jennifer Black Francis.
Francis took some time to speak with Global Cosmetic Industry about Kindred Black's transition to refillable formats.
What's behind Kindred Black's decision to adopt refillable bottles for its products?
Francis: As an environmentally focused brand we've been wanting to do refills for so long. Our bottles are already glass and plastic free but they're made individually by glass artisans–each one slightly unlike any other. They're essentially sculptural pieces of art for the home and too much went into that to throw the bottle away when you're done with your skincare. Our refills are aluminum, which is more easily recycled than our glass (we picked it because it's the most easily recyclable material) and they can be washed out efficiently for recycling.
How does the brand ensure that its blown glass primary packaging is relatively uniform?
Francis: Our artisans are actually amazing at achieving a fairly uniform size and shape. Because each bottle is handmade though there can be small differences that are unavoidable–a person is sitting at a flame and blowing an orb of molten glass into shape. We think of these small differences as a strength and what makes our line so unlike anything else on the market.
What's behind Kindred Black's brand refresh? What were the goals?
Francis: We wanted the unboxing experience to feel as special and unique as what's inside the box and we wanted something that felt more in line with our perspective–so it had to be designed mindfully to reflect our love of the earth but we also wanted it to showcase our love of art and history and our curiosity about the origins of plants for beauty. Our goals are always centered around creating something beautiful with as little waste as possible.
What are the key features of the brand's refresh?
Francis: Our new logo is based on a handwritten signature because we wanted it to feel fresh and modern but to also evoke the old world apothecary and a time when beauty was gathered from nature. Our new outer cartons are made with a lighter weight, uncoated paper that is FSC certified and acid, heavy metal, and elemental chlorine free.