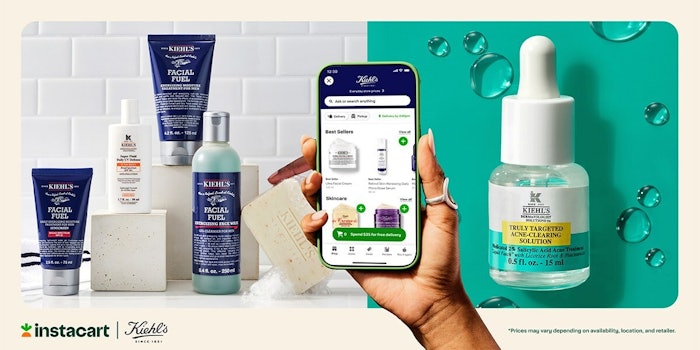 Kiehl's is partnering with Instacart to launch same-day delivery from all 58 Kiehl's store locations across the U.S. via the Instacart App and website.
This partnership expands Instacart's skin care and beauty offerings by giving customers access to Kiehl's full lineup of skin and hair care products.
Kiehl's products are offered on the Instacart app and website at in-store pricing.
Kelly Johnson, VP of retail stores, sales and operations at Kiehl's, said, "Kiehl's' launch on Instacart in Canada has been very well received by customers, and we're thrilled to now expand across the United States and make our scientifically advanced products available at in-store prices—just in time for the holiday season. Instacart is a key technology partner in enhancing our omnichannel strategy, providing customers easy ways to access their favorite products with helpful functions such as Instacart's auto-order feature, which makes it easy to schedule deliveries for frequently used products like shampoo and serums."
Blake Wallace, senior director of retail partnerships at Instacart, said, "We're excited to bring Kiehl's premium products directly to people's doorsteps, especially as many look to 'skip the ship' by sending gifts through Instacart this holiday season. Our partnership with Kiehl's makes it easy for customers to buy their favorite products for themselves or send them as gifts to loved ones nationwide."