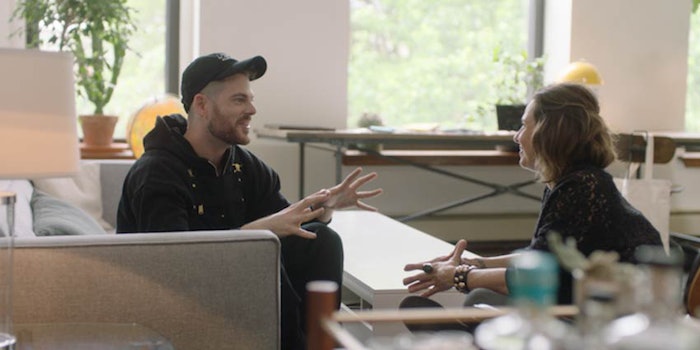 On Sunday, June 24, 2018, revelers lined the streets of New York City—clad in attire that would make Rainbow Brite seem dour—to celebrate the city's annual Pride Parade, the jewel in the crown of Pride Month.
Among those marching in this year's parade, alongside the Kiehl's float, were hundreds of L'Oréal USA corporate and brand employees, taking part in just one of the company's major celebrations for the month.
For the other, the cosmetics giant paired employees with artists for #SignsofPride. The duos collaborated on signs which were displayed at the parade, each inspired by the personal stories and conversations that sprang from these meetings.
Xavier Vey, president and COO of L'Oréal  USA's Luxe Division and founder of the OUT@L'Oréal think tank, discussed the campaign and the company's other LGBTQ initiatives.
Global Cosmetic Industry: Where did the idea come from to pair L'Oréal USA employees with LGBTQ artists?
Xavier Vey: Pride is an important movement that celebrates inclusivity. At L'Oréal USA, our employees are our greatest assets and we wanted to use this moment to show our support and honor members of the LGBTQ community by telling their stories with the hope of inspiring others. Since beauty is an art form in itself, what better way to bring to life these individuals, yet unifying experiences with artists who have also been on a similar journey? That's what #SignsofPride is--a means of sharing four distinct stories of individuality and inspiration through the lens of LGBTQ artists, using collective connection points along their journeys. Because of the powerful impact signs can bring, we hope these collaborations will help spread their important messages even further.
How were artists and employees selected and paired?
We sat down with active members of our OUT@L'Oréal group to hear their personal stories and reasons for marching. We then paired them with diverse local artists in the LGBTQ community who are known for creating modern, captivating work.  The pairs sat down to discuss their Pride journeys and what makes 2018 special and from there, the artists transformed those conversations into artwork for the employees' Pride march signs.
Can you tell me a little about the collaborations, such as the themes and styles behind each one?
The initial conversations with artists captured the perspectives of what marching means for each employee. Shauna Lewis of Atelier cologne and artist Adam Kurtz spoke about family and the importance of owning who you are, while Billy Porges of Matrix connected with illustrator Mohammad Fayaz through their shared experiences of expressing gender.
L'Oréal Paris brand manager, Kris Lee, sat down with artist Loveis Wise—one of the first black women to have her illustrations on the cover of the New Yorker—to share his hopes in revealing his sexuality to his parents. They created a beautiful piece of signage to help others embrace the freedom of individuality.
And we have amazing people like Kelly Buchanan, an ally of the LGBTQ community, who spoke with Refinery29's art director Isabel Castillo Guijarro. She discusses how a diverse and inclusive workplace and world is essential for individuals to be able to express their full selves.
How can people check out the signs?
L'Oréal USA employees [carried] the signs at the 2018 Pride March in NYC on June 24. Videos of each story and collaboration [were] shared on L'Oréal USA's YouTube following the March.
Are there any other L'Oréal Pride or LGBTQ initiatives we should know about?
L'Oréal's support of the LGBTQ community is something that I'm very proud of. A few years ago, I helped create OUT@L'Oréal—a think tank designed to advance initiatives for the LGBTQ employee community and champion diversity and inclusion across L'Oréal USA. The group is a catalyst for progress, ensuring employees' voices are heard and every individual is empowered to be their true self at work. The company has been so supportive of this group of people, all the way up to our CEO Frederic Roze. 
L'Oréal USA also supports many other LGBTQ initiatives and organizations including volunteering at the Ali Forney Center, participating in local AIDs walks, matching donations and more.
To see all of the #SignsofPride and the stories behind them, check out the L'Oréal USA YouTube channel.