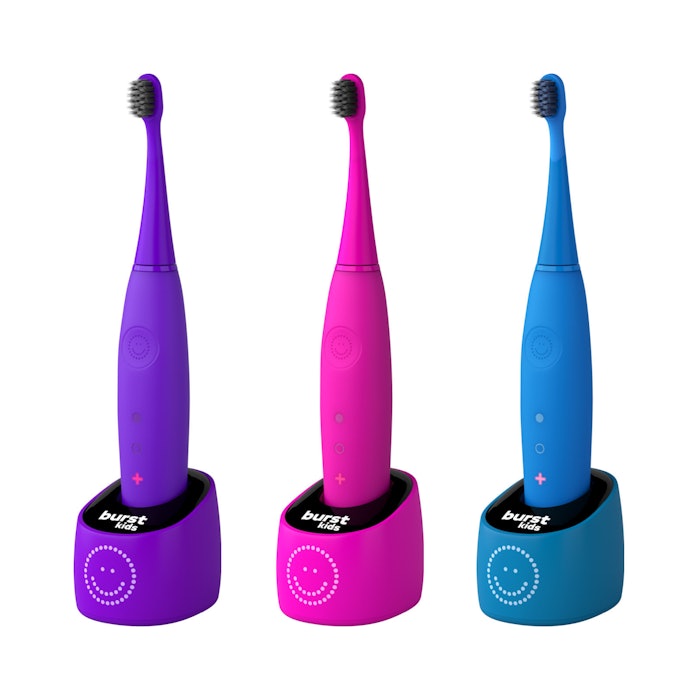 Burst, which garnered a Series C round of funding led by Goldman Sachs Growth Equity, has been featured in Dentistry Today, Forbes and Wired. Here, we provide an inside-look at how one oral care brand is charting growth and innovation. -Editor
Hamish Khayat developed his first supersonic toothbrush at the age of 19. Fed up with the high prices other companies charged for electric toothbrushes, he decided to make one that was half the price yet twice as effective as its rivals. Today, Burst is one of the fastest-growing D2C brands in the United States, with a product range that spans oral care, health care, wellness and beauty.
Amaia Alcalde, managing director at ico Design has overseen this expansion. As brand partners, ico have helped take Burst from a single-product start-up to a valuable brand. Here, Alcalde and Khayat discuss the story behind this evolution.
How would you describe Burst's product development approach?
Khayat [K]: Traditionally, the big oral care brands would maybe consult a handful of dental and industry professionals about their products. Instead, we developed a network of 40,000 dentists, hygienists and assistants across the country that we collectively call the Burst Ambassadors. They play a crucial role in the way we develop our products.
Alcalde [A]: The ambassadors are effectively a direct line to Burst's customer base, with an intricate understanding of the wants and needs of oral care consumers. They're also incredibly knowledgeable about what issues consumers are facing and the areas where their needs are not being met.
What does the process look like?
K: Our entire product development process begins with understanding what the issues are that the Ambassadors want us to solve.
The kids' brush is a great example: the biggest problem with existing brushes was that brush heads aren't curved at the end, so they can't reach the rear molars. So, you curve the head and you solve that problem.
When we have a working prototype, we go back to the ambassadors and ask them to test the product. We had around 1,300 dental professionals testing the floss—different yarns, flavors and waxes. Then, we gather all the feedback and implement it as best we can.
Ultimately, we're a conduit to help dental professionals develop products they want to recommend to their patients.
A: We don't work with a lot of brands that have such a highly iterative product development process. It's a listening game, but there's also a degree of interpretation.
The hygienists talk in clinical terms, but, as a brand, Burst needs to make sure they are making something the consumer wants.
Aesthetically speaking, when it came to developing the water flosser, it was imperative that an 18-year-old girl would be happy using it.
What was the turning point in shifting from oral care to health care to beauty?
A: The health of your body begins with the mouth given it's our first line of defense against illnesses and diseases trying to enter our system. This has enabled Burst to create a wider suite of products than just toothbrushes.
Developing the toothpaste was certainly a turning point and involved talking to hygienists across the country about fluoride, taste profiles and product testing.
The whitening strips—although they're not necessarily to do with your oral health—can help improve confidence and make people feel better about themselves.
We know that our health is closely tied to how we feel. Of course, your health isn't directly affected by how white your teeth are, but we're launching a cosmetic range because it gives people the confidence to feel good about going to a job interview or going on a date. 
What has underpinned the shift from D2C into retail?
A: The overall strategy stems from a desire to democratize oral care. The brand isn't just in specialist stores, it's in Walmart and Macys.
The retail strategy is to attract as many people as possible because there are many places where people don't have access to good oral care. Combine this with the fact that good oral care and beauty products are traditionally very expensive, and you've got a lot of people who are priced out of the market.
Burst moving into retail will help to change that.
K: Many brands rush into retail because they see a big paycheck. We took our time. I didn't want to go before we had a reputation and before we had a full product pipeline.
We're developing ways to have the Burst ambassadors come into stores to demonstrate and educate. But if you're not going to the dental hygienist, then you're going to Macy's and your dental hygienist is Burst.