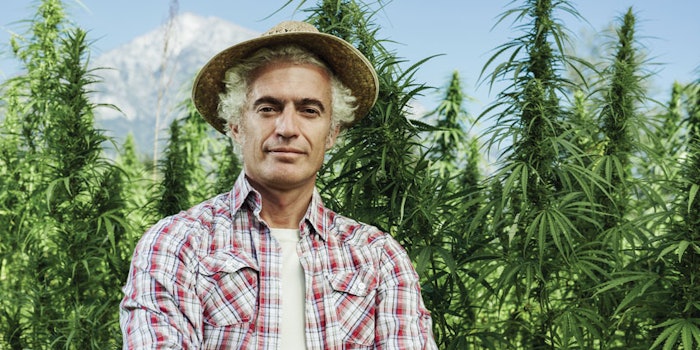 Cannabidiol, or CBD, is the gateway to the plant-based wellness movement (see What Hemp Legalization Means for Beauty), and points to a massive opportunity for topical beauty products. But there are challenges.
CBDs Explained
This low-THC, non-intoxicating cannabinoid compound can be derived from cannabis or hemp, the latter offering greater regulatory flexibility. The majority of CBD oils and other CBD products come from hemp.
There are a number of ways to extract CBD from the cannabis plant; some are better than others. The extraction process determines whether CBD is an isolate or a full-spectrum extract. Isolate, or pure CBD, is quickly coming into favor.
While increasingly popular, CBD is still very much in a pre-clinical-proof era. People are reporting anecdotal benefits for treating inflammation, sore joints, anxiety, depression, seizures and many more ailments. (Brands making these claims must follow the U.S. Food and Drug Administration's requirements for a drug.) In addition to relaxation, it's commonly used to enhance yoga and running.
CBD is available in topical and sublingual forms, in gel caps and tinctures, and is smokable, vapable and edible. Ongoing research has resulted in the compound sometimes being paired with other plants to enhance results.
CBD in Beauty
Wellness junkies are crushing on CBD because beauty editors and micro-influencers have turned the compound into a darling ingredient. Of course, companies are also dashing to throw it into every formula.
For example, CBD's extreme anti-inflammatory properties led to its use in skin care. In addition, there are CBD bath bombs, mascaras, lip glosses and other products coming to market.
And, because CBD has been a marketing buzz word with little regulation, it's sometimes hard to even know if CBD-touting products contain any compound at all.
Cannabeauty at Retail
The Farm Bill will likely simplify how CBD beauty products are sold. CBD has traditionally been listed on Amazon's no-sell list, but savvy consumers could still find CBD-containing brands if they tried.
From my point of view, the best practice is for retail to be held to a higher standard. If you are going to retail CBD successfully and be a part of the plant-based movement, you've got to sell responsibly.
What's Next?
And while marketers are trying to figure out how to capitalize on CBD, the R&D community is focused on its cousin, cannabis-derived terpenes. Terpenes are found in the essential oils of cannabis and enhance the effects of CBD, providing another pathway for synergistic formulations.
The Queen of the Prom
During a recent talk titled "CBD and Its Herbal Allies," held at ABC Carpet & Home in New York City, Lou Sagar, CEO of Evolver and creator of Alchemist Kitchen, referred to CBD as the "queen of the prom."
The panel discussion included insights of Rachelle Robinett of Supernatural, Zachary Clancy of Urban Farms and Benjamin Banks-Dobson of Hudson Hemp, all of whose companies are located in upstate New York, which has been dubbed the Sonoma of plant-based healing. The rise of such a large industry in a relatively short time points to a booming industry.
Cannabis has the potential to be even bigger business than it is news. Stay tuned to the science, politics and buying trends on CBD. It's moving quickly.
Nancy Trent (nancy@trentandcompany.com) is a writer and speaker, a lifelong health advocate, a globe-trotting trend watcher and the founder and president of Trent & Company (https://trentandcompany.com), a New York-based marketing communications firm with an office in Los Angeles. Trent & Company, which launched many fitness brands, grew out of Trent's personal commitment to helping people live longer and healthier lives.