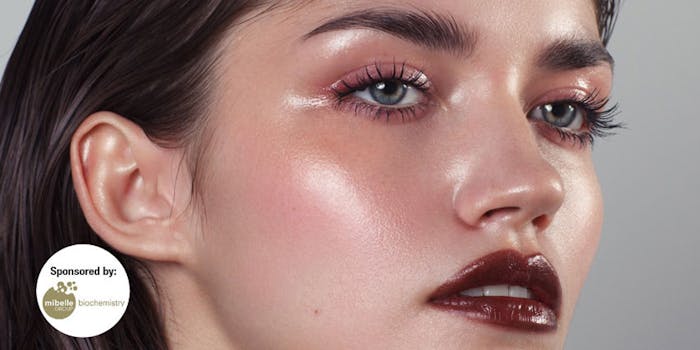 What's most striking about skin care in 2020 is that no single trend or claim stands alone. Personalization, for example, supports the simplification of consumers' beauty rituals (skip care) and reduces waste by delivering only what is needed—at times within reusable/refillable systems (sustainability).
Noto Botanics illustrates this cross-benefit ethos well, with its mission to deliver clean formulations that are sustainably sourced and which offer multifunctional benefits for all genders. Its hero hair, skin and scent product, Rooted Oil, for example, is intended for men and women and can be applied to the body, hair and beards. The formulation comprises fractionated coconut, argan oil, palo santo, vetiver, fir, birch tar and other soothing naturals.
Similarly, claims increasingly fall under the multi-benefit/-functional umbrella. For example, Ultra Chemical's Bicoalgae XT (see: Skin Care Highlights) provides anti-aging benefits and blue light and pollution protection to skin care formulations, delivering holistic defense for the skin. This allows brands to deliver more value within a streamlined ingredient deck.
Here, we examine the new rules driving skin care innovation in 2020, encompassing everything from consumer trends to ingredients and claims and beyond.
1. The Beauty Tech Boom is a Personalization Boom
E-commerce sales comprise 15% of skin care's global sales, greater than any other category, according to data from Euromonitora. This has helped drive a boom in diagnostic systems and technologies that can leverage consumer-reported data, facial scans and selfies, as well as environmental factors such as climate to generate personalized product and regimen recommendations. It's no surprise that the report found that 55% of respondent companies in Euromonitor's Digital Consumer Industry Insights Survey noted that personalization would "impact sales" last year, while 47% said the trend would do so in the next five years.
While many companies have jumped into the personalization race, the offerings typically fall within one of three tiers of intensity.
Tier-one personalization
On the relatively low-tech end of the spectrum, Unilever's digital-first Skinsei (launched in 2017) offers a skin care subscription generated from consumers' survey answers regarding skin type, diet, UV exposure, sleep quality, etc. The system also offers a mobile app to track several of these metrics, turning the brand into a consultant.
Tier-two personalization
A more intensive level of personalization leverages smart phone technology to assess skin conditions and gather data for personalized solutions.
Shiseido's Optune (launched in mid-2019) personalized skin care system draws from 80,000 patterns to offer users solutions geared toward their specific needs. A dedicated iPhone app allows users to learn their skin conditions—such as amount of moisture, texture, oil and pores—by taking a picture of their skin with their camera; the skin condition data is stored together with skin care records.
Along with skin conditions, the app collects data on external environmental factors such as temperature, humidity and pollen each day, together with data input by users such as their mood or menstrual cycle. Optune analyzes and determines the skin care required that day, sending the data to the dedicated machine.
Five skin care cartridges, or "Optune Shots," are selected based on skin conditions input by users when they apply for the services. Cartridges are delivered to the users' home along with the dedicated machine.
This year's Consumer Electronics Show (CES) in Las Vegas provided a platform for the beauty industry's tech-driven personalization innovation, all of which centered on enhanced personalization.
For example, the Neutrogena Skin360 app featured advanced skin imaging and behavior coaching via artificial intelligence to generate personalized skin health actions with eight-week goals. Notably, the system ditched the need for a specialized tool and opted instead to leverage Perfect Corp's YouCam technology for 180-degree analysis of skin parameters such as wrinkles, fine lines, dark under-eye circles, dark spots and smoothness.
The system is purportedly capable of generating more than 2.5 million possible product recommendations and guides users through their eight-week personalized routines by providing AI-powered coaching, as well as tips and science-backed content.
"The Neutrogena Skin360 app helps bridge the gap in knowledgeable, personalized, science-based skin care and supports users in sticking to a routine that helps deliver their personal skin health goals," said Kerry Sullivan, vice president and general manager of Neutrogena at Johnson & Johnson Consumer Health.
L'Oréal, meanwhile, made a big splash with its Perso system for at-home skin care (moisturizers, serums and under-eye creams), lipstick and foundation (only the skin care capabilities have been demoed as of press time). The device is 6.5 inches high and weighs about 1 lb. According to the company, Perso will be launched in partnership with a L'Oréal skin care brand in 2021.
Users assess their skin condition by taking a selfie and feeding it into the ModiFace-powered Perso mobile app, which also draws climatic data from geo-located environmental conditions (pollen, temperature, UV index, etc.). The user enters their skin care concerns (ex: dark spots) and texture and hydration preferences. Perso's AI platform can assess skin conditions over time to optimize formulas and alert the user to what works and what doesn't.
Perso leverages this information to create a personalized skin care formulation that is dispensed in single doses. Product is adjusted to fit the time of day. A motor at the top of the device moves and compresses the formula from the ingredient cartridges at the base of the machine to the dispensing tray above. The NFC-enabled cartridges automatically prompt refill orders when levels get low.
"We know that customization relies on information about your unique skin and personal preferences as well as your environment; this technology accounts for that," said Guive Balooch, head of L'Oréal's Technology Incubator. "Perso uses AI to optimize the formulas and actually gets smarter as you use it."
P&G Ventures' Opte Precision Skincare System will arrive on the market ahead of Perso, reportedly in summer 2020. The personalized handheld inkjet printer device takes a more precision-based approach to instantly address hyperpigmentation in the short- and long-term. P&G reportedly optimized the system since its CES debut in 2019 by rendering it 70% less expensive and 30% faster at analyzing skin scans. It is also more portable, per the company.
The Opte wand scans the skin with a digital camera, feeding images into an algorithm to detect tonal imperfections. In response, the Opte prints picolitre droplets of Spot Optimizing Serum on target areas "until there is a perfect color match with the surrounding skin tone," per the company. The Serum also helps fade the appearance of sun damage and hyperpigmentation spots.
Tier-three personalization
DNA-based skin care regimens are perhaps the epitome of personalization. For example, in early 2019, EpigenCare Inc. launched Skintelli, its beta-stage product for personalized skin care. The company claimed the product was the "first direct-to-consumer epigenetic test on the market designed to assess the dynamic qualities of consumers' skin." It looked at a panel of epigenetic marks which determine the "active" states the genes responsible for multiple skin quality factors, some of which include aging, moisture retention and anti-oxidation.
Skintelli profiles the user's current skin quality via self-collected user samples and assesses the changes over the time via repeatable tests. Consumers are matched with skin care products on the market—from indie to legacy brands—best suited for the current state of their skin.
During the limited beta release, Skintelli was made available to early backers, pre-orderers, waitlisted individuals and select invitees. Remaining inventory was made available to the general public.
In September 2019, EpigenCare reported that the accuracy of its proposed model was capable of identifying "individuals with atypical skin quality." In an official announcement, the company explained, "The most frequent skin quality factors with minor adverse impact are skin sensitivity response control (73.9% of participants) followed by skin rejuvenation capability (47.8%) and moisture retention (30.4%)."
SkinShift, another brand in the DNA-generated skin care space, was founded by Ruthie Harper, MD, who made a name for herself on television shows such as "Good Morning America" and "The Doctors."
The SkinShift model features an at-home DNA test (cheek swab), which generates a personalized DNA report "identifying unique skin care products just for you," according to the brand. Users can use this report to order the optimal skin care products (serums, supplements, etc.) from the brand.
As Euromonitor's "E-Commerce Acceleration in Beauty" noted, DNA-based skin care personalization is a concept that could only exist in an e-commerce format, illustrating just how much this channel has reshaped the industry. While the report cautions that the trend "is concentrated in premium-driven beauty and personal care markets," it adds, "There are untapped opportunities to cross-promote, bundle or discount in e-commerce the products that are either custom-formulated or present a suitable match, based on DNA assessments."
2. Hydration is King
According to a Gen Z survey from consumer insights platform, Perksyb, 32% reported that moisturizer is their favorite skin care product and that 54% struggle with skin dryness daily.
Hydration has long been a focus of skin care ingredient innovation. Recent launches are no exception. For instance, SILAB's Lactobiotyl is a natural postbiotic for the treatment of dry skin. The material, to be highlighted at in-cosmetics Global in Barcelona, is inspired by a desert plant probiotic, Lactobacillus arizonensis, commonly found in jojoba. The probiotic reportedly bioconverts the molecules of its host plant in order to survive harsh desert conditions. SILAB has reproduced the natural environment of this probiotic in industrial bioreactors by pairing L. arizonensis with jojoba extract to yield postbiotic molecules. The resulting cyclic polyols comprising Lactobiotyl are said to restore hydration and luminosity to dry skin, while preserving the equilibrium of the cutaneous microbiota.
Meanwhile, Novachem's Hydraskin is a natural cosmetic active rich in GABA (γ-aminobutiric) and free amino acids from yeast, obtained through biotechnology. According to the company, the yeasts utilized to derive this ingredient are also used to produce an emblematic Argentinian wine. The natural components of the yeast are said to act in synergy to promote instant and long-lasting hydration and osmoprotection in the skin.
The active showed hydrating effects five minutes after application in a hand balm, per the company. In skin cream, the ingredient reportedly prolonged hydration and maintained the natural moisturizing factors in skin for approximately 72 hours. In facial masks, the ingredient is said to deeply hydrate the skin overnight and is said to be useful in a deep hydration serum for a more concentrated hydrating treatment.
Kao Corp.'s moisture innovation has taken a different approach via its Fine Fiber technology, which creates a membrane that demonstrates moisture permeability, controls water evaporation and can activate protein expression in skin.
The technology was developed in 2018 and uses direct-spraying of a specialized polymer solution to the skin to create a light, soft and ultra-thin membrane composed of sub-micron-sized, super-fine fibers that demonstrate a high capillary force.
According to the company, the technology was inspired by moist healing methods, which are widely used for wound care. Previous studies by Kao showed that moisture permeability of the stratum corneum could be controlled via this novel formula. The formula also increased the expression of several proteins that provide favorable skin conditions in the stratum corneum and, within a short period of time, early improvements in dry skin appearance were observed.
Based on these findings, Kao developed a small, high-performance diffuser that dispenses the Fine Fiber technology to create a layered, ultra-thin skin care product under the Kao brand est and the Kanebo brand Sensai, which the company notes will offer a new nighttime skin care routine combining the ultra-thin membrane formed by the diffuser with an essence. To illustrate, the est range includes the Biomimesis Veil Effector, a skin-nourishing essence that uses the water-sealing formula, as well as the Biomimesis Veil Diffuser for deployment of the Veil Potion, a liquid that creates a second-skin effect.
Next, Kao expects to use the technology to advance the development of makeup to impart a natural look while firmly covering pores, uneven skin color and blotches, as well as body makeup that allows for the painting of the skin at desired sites on the body. The membrane has a high capability to keep makeup on but, at the same time, enables users to remove makeup easily and whenever they want. Dermatological applications are also anticipated.
3. Natural is a Mature Category
A recent analysis from NPD Group's Larissa Jensenc, "The Face of Beauty in this New Decade," noted that "2019 was the first year we saw performance of natural skin care softer than the year before." This was inevitable, she argued, owing to the sector's meteoric rise over the last decade-plus. Jensen added that growth in the sector will continue but that the big leaps of years past will likely be seen in under-served categories such as makeup and fragrance. Inevitably, today's natural brands will have to work harder to stand out from the crowd, likely with affinitive clean and sustainable claims.
4. Sustainability is the New Differentiator
Revlon recently launched its PhotoReady Prime Plus Perfecting + Smoothing Primer, which is reportedly the first mass cosmetics product to meet the Environmental Working Group's (EWG) clean beauty standards. Around the same time, Covergirl introduced its Clean Fresh collection, which is formulated without the usual "ingredients of concern," including talc, parabens, formaldehyde, mineral oil and sulfates. These high-profile introductions illustrated the ways in which clean beauty—however it may be defined by various brands and stakeholders—is rapidly becoming table stakes. Paired with the maturity of "natural" skin care, brands are being challenged to differentiate.
Sustainability may be the key here. Jensen's NPD analysis noted that, "While the cost to implement sustainable practices is significant, the cost of not doing so is even more significant in the long term. As the consumer continues to drive that conversation, companies will need to give just as much weight to environmental and social impacts as they do to financial ones."
The recent launch of Hear Me Raw is a perfect illustration of this moment in skin care. Founded by former Bliss World and Burt's Bees executive, Mike Indursky, the brand is designed with "clean" ingredients, sustainable packaging, modest claims and relatively attainable prices ($42 for the initial jar of product and $32 for subsequent refills which, per the brand's calculation, is 25% cheaper than comparable alternatives).
The minimalist ingredient deck is designed for maximum simplicity and efficiency and clarity of purpose. Hear Me Raw's signature The Brightener phytobioactive mask reportedly features 16 natural ingredients, including chlorophyll, matcha, spirulina, lemon peel, lactic acid, phytic acid, Swiss cress sprout extract and the on-trend retinol alternative, bakuchiol.
The packaging design includes a reusable glass jar and lid, recyclable refill pods and recycled board cartons, and excludes plastic discs and spatulas. The brand claims "this system uses 88% less overall packaging, 90% less plastic and 94% less glass than the typical beauty product."
In the future, brands will have to go further, argues Monique Large of Pollen Consultingd. During PCD 2020 in Paris, Large highlighted DecarbonateOurFutureInBeauty (DOFIB), a self-described "fictional brand … targeting young consumer[s] in the context of global eco-anxiety." In her presentation, Large described (DOFIB) as: "[A] manifesto brand committed to the beauty of women and men, allowing them to consume while depolluting. The sparkling cosmetic formula is carbonated from CO2 extracted from the air, using emerging carbon capture technology. Some extra carbon is also trapped in the packaging. Consuming would thus become a visible saving act."
Large concluded, "[W]hether they are aware of climate change or pretend not to see it, young [Gen] Z are affected by eco-anxiety. A more radical change is expected from the brands than [just] the 3Rs (reduce, reuse, recycle), [which are] far too slow to keep us below the 2°C of warminge."
To help companies measure their progress, the Ellen MacArthur Foundation has launched Circulytics, a new tool for businesses to measure and improve their circular economy performance. More than 30 companies, including BASF and Unilever, have been involved in the development and testing of the new tool, which allows organizations to confidentially submit details of their operations for analysis.
5. Consumers Would Rather Skip It
Neophytou's GlobalData analysis reported that 81% of global consumers consider living a less complicated lifestyle important in creating a feeling of wellbeing/wellness. The analyst noted that a minimalistic approach to skin care, hair care and beauty in general will emerge as a means for consumers to identify the most essential products and avoid excess. This trend supports personalized solutions as well as products designed with high levels of efficacy and multifunctionality. Known as "skip care" in South Korea, this philosophy eschews the complex rituals of standard K-beauty as well as the types of harsh products that threaten the skin's natural protective barrier.
For instance, Rowse, a brand that specializes in plant-based beauty products for the face, body and hair, are designed to offer all-over functionality. According to the brand's website, "We were fed up with the industry standard of buying multiple products for different parts of our beauty regime, so instead, we've focused on responsibly sourcing the most versatile ingredients, and inspired by their origin, have created formulations and recipes for use all over the body." Products include botanical soaps featuring Dead Sea mud or camelia, the Winter Body Oil and Terracotta Mask.
To learn more, see Nancy Trent's "Skip Care: Keep it Simple" on Page 44.
6. Pollution Defense is the New Normal
Between climate change and the rise of densely populated urban centers, pollution is becoming a leading skin care concern. In a recent analysis, Lia Neophytou, consumer analyst at GlobalDataf, noted that anti-pollution will no longer be considered a "nice to have claim" among consumers, but an expectation and necessity for brands. Based on these expectations, Neophytou said beauty brands will be more intensely focused on products that fight against pollution exposure.
Suppliers and brands are ramping up innovation in anti-pollution beauty. For instance, to illustrate her analysis, Neophytou highlighted launches such as Oskia's City Life Facial Mist, said to fight environmental aggressors when spritzed on the skin, and Maybelline's Dream Urban Cover foundation, which reportedly provides both anti-pollution and SPF coverage.
Similarly, BeautyStat's Universal Pro-Bio Moisture Boost Cream was designed to help heal, detoxify and soothe the skin while fighting pollution and other skin aggressors. The moisturizer contains hyaluronic acid, ceramides, pomegranate sterols, bio-fermented Bifidus and mushroom extracts. According to BeautyStat, the cream provides 24-hour moisture protection and repair of the barrier function while also minimizing premature lines and wrinkles.
Mary Kay Inc. recently proposed that vitamin C (not unlike BeautyStat) was the antioxidant solution to skin concerns stemming from diesel exhaust particles (DEPs). DEPs can trigger premature signs of skin aging such as dark spots and dullness and instigate inflammation in skin. Mary Kay developed a serum containing five botanical extracts known to be rich in the antioxidant vitamin C—pomegranate extract (Punica granatum); kakadu plum extract (Terminalia ferdinandiana); camu camu extract (Myrciaria dubia); acerola cherry extract (Malpighia punicifolia); and black currant berry extract (Ribes nigrum)—and analyzed its effects on skin appearance Artificial skin tissue was treated with the test serum. Genomic analysis results indicated positive effects on four main classes of genes important to skin firmness. In addition, the serum increased the production of the dermal matrix proteins collagen and laminin, which also support skin firmness. According to Mary Kay, this confirmed the serum worked to help improve the appearance of skin laxity and texture.
Meanwhile, Estée Lauder has revealed that Eucalyptus globulus extract has significant antioxidant activity and could help to defend against oxidative stress from pollution, UV or blue light. E. globulus, also known as Tasmanian bluegum or Southern bluegum, is a widely cultivated evergreen tree native to Australia. Previous studies had characterized its pharmacological benefits including antibacterial, antifungal, anti-inflammatory, antioxidant, antitumor and antihistaminic.
Finally, Ultra Chemical has launched Bicoalgae XT (INCI: water (aqua) (and) lecithin (and) glycerin (and) Haematococcus pluvialis extract (and) tocopherol (and) beta-sitosterol (and) squalene (and) phytic acid (and) sodium benzoate (and) potassium sorbate (and) citric acid), which is based on the Bicosome technology delivery platform that provides double encapsulation to protect actives as they are delivered to specific skin layers without damaging the tissue. Its H. pluvialis is rich in astaxanthin, a bioactive that is reportedly claimed to be 65x more powerful than vitamin C and provides anti-aging benefits including wrinkle reduction, improved skin firmness, increased brightness, accelerated cell renewal, increased antioxidant efficacy, reduced lipid peroxidation and decreased TEWL. According to Ulta Chemical, the ingredient protects against pollution particles absorbing into the skin. Application of a cream containing the ingredient provided as much as 70% protection in skin explant studies.
7. Build for Skintellectuals
The beauty industry's dream has always been a science-fluent consumer. The rise of the skintellectuals has turned this dream into a reality.
As Saisangeeth Daswani notedg in the June 2019 issue of Global Cosmetic Industry, "Beauty has a new consumer. This cohort of self-educated, highly knowledgeable shoppers, AKA the skintellectuals, know what they want and could be beauty's most discerning consumer yet. And their growing influence is fueling the crossover between skin care and cosmetics."
These shoppers prize value for money, are delivery-driven and efficacy focused, demand clinic-worthy at-home results, and desire newness over novelty.
JWT Intelligence (www.jwtintelligence.com/2020/01/the-future-100-2020/)h recently noted, "Skin care devotees are turning to experts in scientific fields to deliver technical, precise products."
Launches in the segment include tech-enabled products highlighted at CES (see: "1. The Beauty Tech Boom is a Personalization Boom"), as well as Noble Panacea, inspired by Sir Fraser Stoddart, Ph.D., who won the 2016 Nobel Prize in Chemistry. Among stoddart's many accomplishments is the discovery of an organic molecular vessel technology. This is at the center of the brand.
According to the brand's website, the organic molecular vessel (OMV) is 10,000 times smaller than a skin cell. This symmetrical octagonal cubic molecular structure is built from a biodegradable, renewable carbohydrate and salt to house and protect active ingredients on an individual molecular level to preserve ingredient freshness and potency while preventing cross-interaction.
OMV reportedly can be programmed to deliver its active ingredients with extreme precision. It may be designed for long-term release into the exact location within a skin cell with perfect timing, control and sequence, maximizing the perpetual potency of the overall treatment.
Stoddart has explained, "The organic molecular vessel increases the efficacy of Noble Panacea's products up to tenfold [per in vitro clinical tests], extending its regenerative and healing properties of active ingredients."
Nobel Panacea's OMV technology reportedly aligns with the 12 Principles of Green Chemistry. Additionally, the brand's packaging was created with starch-based boxes, as well as recyclable doses, aluminum and FSC paper.
The brand is distinctly priced for the top end of the market. Nobel Panacea products currently include: Prime Radiance Serum ($253), Vibrant Eye Infusion ($149), Radiant Resilience Moisturizer ($215), Overnight Recharge Cream ($232), Intense Renewal Serum ($420), Restoring Eye Cream ($239), Active Replenishing Moisturizer ($355) and Rejuvenation Night Balm ($384).
Debuting at the 2019 CES event, Atolla unveiled a brand that utilizes machine learning to analyze skin, using that information to create a personalized serum. Users can track their skin progress over time. The brand sends users a test kit featuring moisture and pH swabs, as well as texture samples to assess their preferred product specifications. Atolla then creates a skin care report for the user to review before purchasing a personalized serum. Shoppers can reassess their skin on a continuing basis to update their formulation based on current skin conditions.
8. CBD Brands Need to Differentiate
According to a report from Allied Market Researchi, the global CBD skin care market is expected to hit $3.48 billion by 2026, registering a CAGR of 24.8% during 2019-2026. According to an analysis by Prohibition Partnersj, the CBD skin care market could account for 10% of global segment sales by 2024, with sales totaling $959 million.
Allied Market Research found that sustainable skin care products and a surge in awareness and acceptance of cannabis-derived skin care are major growth drivers behind this phenomenon. In 2019, the department store channel accounted for nearly one-third of the global CBD skin care market share and is expected to dominate throughout the forecast period. In addition, North America held the major share of the market in 2019, generating nearly two-fifths of the global CBD skin care market.
According to GlobalData's 2019 Q3 global consumer survey, 37% of global consumers find CBD/cannabidiol appealing as a beauty ingredient. Global Data analyst Neophytou said while this appeal may intensify in the future, beauty brands will have find difficulty in using CBD as a differentiating factor going forward.
Neophytou said beauty players will incorporate the ingredient as an expansion upon other natural propositions, instead of emphasizing it as the star ingredient. Brands will more subtly point toward its anti-inflammatory, hydrating and conditioning benefits.
"I feel the expectations of our customers are evolving more on the side of transparency vs new product launches," says Michael Bumgarner, founder of Cannuka, LLC. "While we are focused on launching new innovative face products in 2020, such as our CBD Gel Balm Cleanser and CBD Brightening Mask, the feedback we receive on the regular is on product ingredients and how we are working hard to transition away from plastics."
He adds, "Over 2,000 CBD brands launched in the past 18 months. I believe the market will normalize and there will be a culling of the brands that are not unique and don't stand on a broader mission. I also believe there will be a transition from talking only CBD to talking about all the other wonderful cannabinoids.
As for what's next for Cannuka, Bumgarner says, "[We have s]everal new product launches in-store for 2020. We are also working on clinicals with a major university in preparation for our wellness line, which will consist of products that can help with sleep, pain, anxiety, etc., which will launch Q4 2020 or early 2021."
Cannuka's expansion into wellness comes as the CBD field continues to mature rapidly, with even Avon leaping into the space with a CBD-infused facial oil, the Green Goddess Facial Oil, which is intended to help relieve irritation and reduce the appearance of redness and skin discomfort. Key ingredients for the vegan formulation include CBD, of course, as well as hempseed oil, sunflower seed oil, turmeric, jojoba seed oil, squalane oil and azulene.
Black Pearl CBD Sunscreen has taken another approach by infusing an SPF 30+ formula with CBD. The formulation is reportedly able to prevent coral reefs from bleaching by omitting octinoxate and oxybenzone and claims to protect consumers from 97% of the sun's rays.
Flowerkist and Dabur Research Foundation (DRF) have partnered on a CBD range that differentiates itself through a focus on delivery. The products reportedly use DRF's patent-pending Rapid Penetration Technology.
Finally, on the ingredient side of the equation, Amyris has shipped its first batch of sustainable fermentation-derived cannabinoid (CBD) to its partner, Lavvan. Amyris will send its second shipment in the first half of 2020, per the firm. The fermentation process reportedly boosts the sustainability of the ingredient by removing agricultural inputs while also supporting consistency of product and reduced costs, creating a new point of differentiation for brands seeking to optimize their carbon footprints.
9. Balance is Critical: pH & the Microbiome
JWT Intelligence's 2020 analysis noted that the skin's microbiome will be an increasing focus of beauty innovation, as seen with recent launches from Kinship (Kinbiome) and SL&Co (The Powder of Youth No 1) and Estée Lauder's research partnership with Nizo in the area of Lactobacillus plantarum and benefits of extracts thereof.
A key element of microbiome health is pH—low pH levels tend to benefit "good" bacteria" and are not as well tolerated by harmful bacteria. As a result, pH assessments have become a key focus of skin health, as seen with My Skin Track pH by La Roche-Posay, a wearable sensor and companion app which measures the skin's pH levels to create customized product regimens for skin care.
In the system, a small, thin, flexible sensor is placed on the inner arm for five to 15 minutes, until the center dots take on color; then, the wearer opens the My Skin Trach pH app and photographs the sensor. Reading the pH measurement as well as the wearer's local sweat loss, the app then makes product recommendations.
As JWT Intelligence notes, "When pH balance is compromised … it can trigger inflammatory responses, which could exacerbate conditions such as skin dryness, eczema and atopic dermatitis." (The report also points to the role of pH in intimate care such as vaginal health products.)
Ultra Chemical's Biolin/P and the PreBiulin product line comprise natural prebiotics based on inulin extracted from chicory root. They work by selectively supporting protective organisms to help restore the microbiota layer and prevent certain skin conditions, according to the supplier. Each product within the line offers different benefits to both skin and hair, including hydration, microbiota support, skin and hair conditioning, thickening and opacifying. All products within these brands are COSMOS-certified and vegan.
Meanwhile, Bayer and Azitra have teamed up to address eczema, atopic dermatitis, rosacea and acne by targeting microbiome dysfunction. Azitra reportedly targets skin-friendly bacteria to address adverse skin conditions and diseases. Bayer will leverage this technology to develop new natural skin care products.
Skin Care 2021
As the wellness movement continues to drive the rise of skin care around the world, expect to see a ramping up of personalized and tech-enabled launches, as well as products delivering clearly defined and proven benefits, while also delving deeper into claims that offer emotional and mental wellbeing benefits such as sleep promotion and stress reduction.
Footnotes:
a"E-Commerce Acceleration in Beauty," January 2020; data via Euromonitor's proprietary market intelligence platform; https://go.euromonitor.com/passport.html
bwww.getperksy.com
cwww.npd.com
dhttp://pollenconsultinggroup.com; decarbonateourfuture@gmail.com
eThe Paris Agreement for climate change was designed to keep the global average temperature below 2°C above pre-industrial levels, with the ultimate goal of limiting the increase to 1.5°C.
fwww.globaldata.com
g"3 Ways to Engage Skintellectuals," http://gcimagazine.texterity.com/gcimagazine/june_2019
h"The Future 100: 2020; www.jwtintelligence.com/trend-reports/the-future-100-2020/
iwww.alliedmarketresearch.com
jhttps://prohibitionpartners.com/reports/#disrupting-beauty