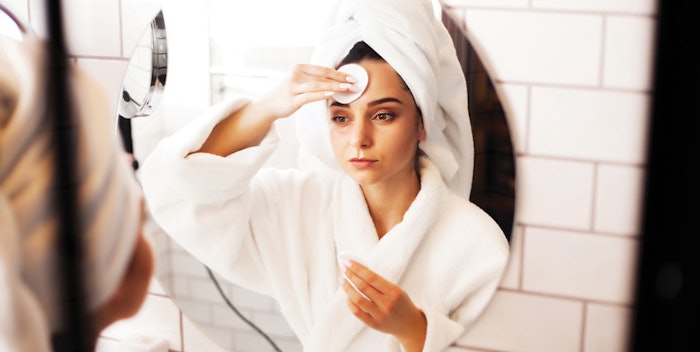 This year has taught many to expect the unexpected.
"As a beauty manufacturer and brand, we learned to lean into our multiple channels to help keep steady during the uncertainty of COVID-19-related disruptions," says Jared Reynolds, founder and president of Zenagen Hair Care. "From supply chain to distributors' sales planning, being frozen made our business and team really have to tighten down to ride out the storm. We learned to adapt to not lose product launch momentum."
The global pandemic has shifted how beauty brands and manufacturers not only produce and deliver their products to consumers, but what products they offer. In a changing world, it's important to track consumers' behaviors and trends to succeed in the marketplace.
We reached out to industry insiders to get their thoughts on how beauty has changed during this unprecedented year, as well as how these changes will reshape the industry in the years to come. The responses emphasized digital innovation, shifting practices, as well as a number of successes achieved during difficult times.
1. E-commerce-model Disruption
"As e-commerce became the norm and consumers acclimated themselves to making the bulk of their purchases online, it will be harder to get customers to return to stores," says Sampo Parkkinen, CEO of Revieve. "While there will be a rush to return to stores once it becomes safe to do so, this bump will be short-lived, as they realize that they can have the same experience, if not a better one, online."
Parkkinen adds, "Part of this shift to e-commerce is also the shift toward a more personalized shopping experience. With consumers growing accustomed to the personalization benefits offered by an online experience, such as specifically tailored product recommendations and a one-on-one shopping experience, retailers will have to integrate this experience into their brick-and-mortar stores. For example, retailers will have to bring in try-on technology to give consumers the ability to test a number of new products in-stores."
For Revieve, Parkkinen says that the launch of the No-Touch Skin Tone Analysis Solution and the Live Video Selfie Analysis are driving engagement among many categories including e-commerce.
He continues,"Our biggest successes have been the launch of our No-Touch Skin Tone Analysis Solution and the Live Video Selfie Analysis," Parkkinen says. "The No-Touch Skin Tone Analysis Solution leverages proprietary deep-learning techniques to enable the accurate analysis of the consumer's skin tone from mobile phone selfies and video feeds, bypassing the need for consumers to be in optimal light conditions or use a color-calibration card next to their face."
Parkkinen adds, "Leveraging Revieve's AI skin diagnostic capabilities, the Live Video Selfie Analysis solution enables the accurate analysis of skin, health and beauty-related factors directly from a live video feed, as well as the presentation of individualized findings directly on a live video feed. Together, these solutions enable Revieve's brand and retailer partners to drive engagement and provide a superior interactive customer experience across a number of digital touchpoints, including mobile apps, social platforms, e-commerce and in-store digital. Beyond that, we have launched a number of new technology partnerships, including one with No7, where we supplied our Digital Beauty Advisor tool to deliver a more personalized skin care shopping experience."
"E-commerce is the wave of the future, and there will be less brick and mortar stores," says Caren Dres-Hajeski, business unit director-personal care at Acme-Hardesty Co. "Those companies that can adapt will indeed see success."
"The rapid adoption of digital brand reach is becoming very important for retail beauty," says Reynolds. "Brands will continue to find unique ways to give customers information and influence purchasing decisions with a mix of offline and online strategy. New technology is quickly emerging to bring the in-salon experience online and the online experience in-salon and in-store to allow beauty brands to show customers the product benefits from home and in the store."
Parkkinen concludes, "[This year] will reshape the beauty industry in that it forced brands to more fully integrate technology into their everyday offerings. Before this year, brands were thinking about tech as personal tech or e-commerce as something on the sidelines of their overall strategy. Now, technology must be integrated into all facets of a retailer's strategy, such as in-store set-ups, budgets and product offerings. Beauty retailers will also be more open to experimenting with unproven products and digital technology assets. The retailers who were able to successfully navigate the pandemic were ahead of the curve on technology, so more retailers will be apt to experiment after seeing this success."
2. Face-to-face Goes Digital
"Digital marketing became a more effective tool at reaching consumers and networks," says Thembisile Mashinini, business development manager, Americas, Asia Pacific, Southern Africa, Turkey at Cirebelle. "This has allowed business to compete and market their products on an equal footing despite business size. Virtual (digital) events flattened the marketing plane, allowing equal opportunity to all."
Roz Wicks, founder of fragrance-focused trends and marketing agency, TrendAroma, adds, "I think one the biggest lessons and eye openers for many businesses is how successful digital and online collaborations can be, and how many meaningful business relationships can be forged without being face to face in the traditional sense."
"Certainly our overall business has changed, and I honestly do not see this new way of life reverting backwards in the short term," says Dres-Hajeski. "I think it has made us realize we can do many things with much greater efficiency. I think we will utilize technology to a much greater extent than we have ever done before. We will continue to use the new tools which we have developed as well as our new approach to working with our customers."
"Communication from brands/retailers on how they operate and what they're doing for their employees, the environment, their consumer" will be critical, says Sarah Jindal, associate director, global beauty and personal care at Mintel. "The concept of trust will become central to consumer choice, and brands need to find ways to build that especially for consumers who have moved away from product categories during 2020 or traded down out of necessity. Product/brand discovery and experience will rely on technology and lead to broader adoption of virtual, apps and social selling as a way to touch consumers while allowing them to maintain a sense of distance."
Lauren Eriksen, senior director of development at Element Packaging, says, "The most significant thing that comes to mind [as part of the 'new normal'] is retail, and how the consumer experience has changed. Suspended (gone sounds too foreboding) are the days of popping into Sephora, Ulta, Credo or any beauty retailer and just testing product, having a good rummage around what's new, engaging with the cast/staff as much as pre-COVID, and getting their feedback and recommendations or even makeovers. I don't see people using or even viewing testers as safe and that will take a lot out of the consumers' experience when purchasing a product."
She continues, "You can rely on social media, friends, family or your favorite influencer to give you their opinion, [and] a Sephora store of the future [may] show you how that new lipstick shade will go with your skin tone on an iPad, but gone is the sensorial part of purchasing. There are so many people at brands and formulators that spend sometimes years developing a texture or just finding the balance with performance, and to have that part of the consumer experience relegated until after they've purchased the product and taken it home for a test drive seems such a shame. Hopefully we can devise a safe way to bring this aspect of the purchasing experience back."
3. Skin Care and Wellness Categories Boom
Skin care has had a banner year, despite the pandemic. NPD data shows that United States prestige skin care sales totaled $1.1 billion in Q2 2020, a year-over-year drop of 18%. During that period, e-commerce sales spiked 93% year-over-year.
Nielsen's data showed that mass facial skin care grew more than 22% year-over-year in the first half of 2020, led by a 42% rise in online sales. Grocery channel facial skin care sales rose 14.5% for the first half of 2020.
Per NPD, skin care had the biggest share of prestige beauty sales March-June, overtaking makeup's recent dominance. Skin care comprised as much as 50% of all prestige beauty sales at some points in the period. Top product types included body and facial devices (+16%) and body exfoliators (+15%).
Beyond this, wellness and hygiene products climbed the charts in nearly every market.
"The strategic approach by our R&D center enabled us to quickly develop offerings catering to emerging demands for products [such as] face makeup, eye make up, and trends of hygiene and self-care products like soaps, sanitizers, etc.," says Jay Mehta, marketing manager, Americas and European Union, Koel Colours. "Our team could sense the demand and our on-the-toes approach to immediately enable the forumulators with products like specialty dyes for sanitizer, water-based pigments for soaps, etc., bestowed upon us significantly resounding success, thus enabling us to cater to the demand in a short time."
For the full article, check out Global Cosmetic Industry's November 2020 digital magazine.