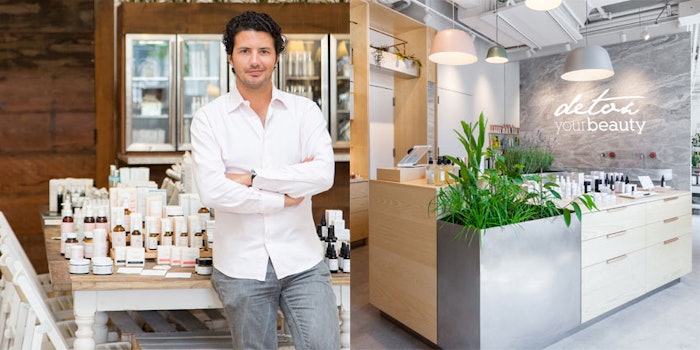 For the last decade, Romain Gaillard has been obsessively curating the cleanest beauty brands for his brainchild The Detox Market, which has become hands down, one of the most trusted sources for sustainable beauty brands. 
The Detox Market has non-toxic footprints in New York City, Toronto and Los Angeles, and its sustainable standards are respected worldwide. Gaillard has created a safe haven from an unregulated beauty industry which is currently undergoing a detox itself, trying to clean up its act. 
Report: Clean & Sustainable Beauty
Here, Gaillard shares his perspective on how sustainability is selling amid the pandemic. 
Who is your typical shopper?
Romain Gaillard [RG]: We work with various groups. We have been doing this for over a decade, so the consumer has evolved. They used to be a health conscious group, starting with food and then skin care. Then, consumers were seeking specific brands. Women 25 to 45 years old who like new brands that are mission-driven, were drawn to us. 
Now, the consumer is seeking lifestyle and health conscious brands—they want performance without caring if it's actually clean. They want brands that deliver.
Our customers are highly educated, sustainable-minded consumers that have to be open to learning. Education is key as opposed to seeking a miracle brand. And, Detox employees are passionate. We're the guides, and there are so many brands with conflicting information. Skin care has to be balanced with lifestyle and we're here to help.
Where do your customers get their inspiration and information?
[RG]: Everywhere online bloggers and influencers, YouTube tutorials, and I have to admit that a lot of our customers are very influenced by their friends.
What do you do to try to reach customers?
[RG]: We create a lot of content on social media including on YouTube, Instagram and on our own blog. We have an in-house media department of five people who are experts in their fields.
What types of products do customers turn to your store for?
[RG]: We sell a lot of skin care [products] like Odacite Skincare, Pai Skincare and Tata Harper Skincare. Since, COVID, makeup is down, and many people want a sensory experience. They need things to smell good, and skin care gives them that self-care experience.
How do you influence shopping trends?
[RG]: Our customers like a story, so our brands have to have a great story. Everything we do is about telling a story.
We just launched The French Capsule, as a collection that encompasses French beauty know-how and American clean beauty standards. We selected seven brands and launched it by creating a story through newsletters, publicity, virtual media tours and sending the products to influencers.
I think that 'influencer' is just one term to describe a huge population. A perfect influencer tells cool stories for free. Sales from the capsule are mostly online and ship everywhere. 
How has COVID changed your business?
[RG]: Consumers without children that needed homeschooling have more time, and we saw consumers spending more time educating themselves.
What are you doing to navigate the new normal?
[RG]: We are constantly adjusting, but things are reopening and cases in New York are going up again. Safety is always first, so we invested in more social media to stay connected to our customers wherever they are located.
What do you look for from your brands?
[RG]: We look for brands that continue to make great products and remain. We want to stay as close as possible to our origin mission. We get three or four brands a day to review, and I reviewed about 30 this week. We're not specifically looking for a category. I like a specific story, but we take less than 1% of the brands we're offered.
How can brands better support you and better succeed?
[RG]: Getting into a retailer is a partnership, and brands should focus only on retailers that make sense for them. Don't go into more than you can realistically support with marketing dollars. Have an omni-channel strategy, so you can push traffic to the retailer selling your brand.
If you are in too many retailers too fast without marketing support, the brand will get diluted. I do my own brand training of sales staff because I think many salespeople are too focused on their own particular brand. So, we have our own training program.
What surprises has COVID brought you, both good and bad?
[RG]: I was surprised the world didn't collapse. We kept people despite the need to shut down some stores. I spent a lot of late nights with our CFO. People continued to work from home, creating content and shuffling roles, so we could pivot.
Do you have plans for growth?  If so, what?
[RG]: We have continued to grow even during COVID, and we will keep doing what we're doing. We acquired a detox chain in Canada called Clementine Fields that we're very excited about. 
Who do you think are the most influential celebrities on your customers?
[RG]: Our customers are typically influenced by celebrities like Gigi Hadid, Emma Watson and Hilary Duff, who are big advocates of clean beauty, Khloe Kardashian, and other micro influencers. A lot of celebrities use our products but have big contracts, and they can't talk about our brands, though they definitely use them.