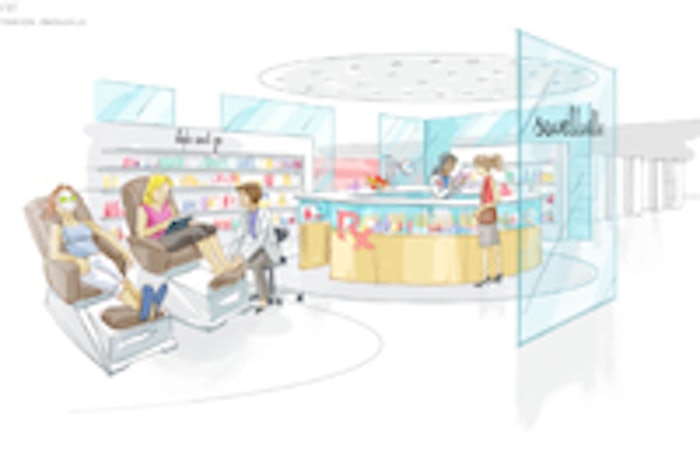 Image courtesy of Knock, Inc.
The 2011 graduates of the cosmetics and fragrance marketing and management master's degree program at the Fashion Institute of Technology (FIT) in New York presented their Capstone presentations at the Beauty For All: Innovations in Mass Retail event and reception, sponsored by Target, at FIT's Haft Auditorium in May. The following white paper accompanied the presentation from Stephanie Dishart, Pei Wong, Tanja Lindermeier, Evelyn Lu and Lindsay Novellano.
Introduction
In the U.S., the natural category grew 12% last year versus 2% total beauty.1 Due to this tremendous growth, Ulta, Walgreens and many other retailers have created specialty sections. However, today the challenge is that it is no longer just indie brands introducing truly natural products for niche consumers. Major mass natural introductions from Unilever, Proctor & Gamble, L'Oréal and Johnson & Johnson, have met previously deterring price and performance thresholds for their consumers, often going beyond specialty standards. For example, L'Oréal recently introduced Garnier Pure Clean with claims on 94% biodegradable formulas that are paraben, dye and silicone free in 50% recycled bottles. Mass is shifting the natural definition.
This paradigm is not just in beauty. Naturals are omnipresent across categories, even in some unexpected places. For example, this fall, Wendy's introduced Natural Cut Fries with Sea-Salt, resulting in a 17% increase in fry orders at launch.2 Lays new tagline is "Lays, we make them natural, you make them fun." New launches for bleach, fertilizer, and paint are "green", "organic" and "natural" respectively. The bold contradiction of these introductions is merely a symptom of mainstream America's wellness fever. Even paper towels, the epitome of commodity, have become powerfully emotional with natural's safe authenticity. With major corporate sustainability commitments and marketing campaigns to leverage them, plus an engaged gen Y and baby boomer population, this is just the beginning. However, the challenge is that today, even the word "green" is still gray for consumers. Despite ongoing efforts from agencies, corporations, retailers and beyond, natural and organic certifications abound with no clear authority.
The line between beauty and pharmacy has also blurred, but the numbers tell a very clear story. According to the American Society of Plastic Surgeons, 12,000 teens had Botox injections last year and cosmetic surgery rose 9%.3,4 Unregulated claimed levels of actives have risen to meet this demand for efficacy. In the U.S., cosmeceuticals will continue to outpace nutricosmetics, yet globally both, with close proximity to the pharmacy, have exponential opportunity. Global Industry Analysts reported last month that the global nutricosmetics market will grow 14%, reaching $4.2 Billion by 2017.5 If a new product is not natural, it is the epitome of science with supercharged results giving fearful aging consumers another avenue for wellness in their search for the fountain of youth.
This parallel is a global phenomenon. Last year, natural beauty grew 21.3% in Brazil and 13.3% in China, according to Kline. Yet cosmeceutical brands like Vichy, La Roche Posay, and Eucerin, as well as nutricosmetic brands like Japanese Fancl, are top-selling, new introductions in Watson's and traditional Chinese medicine shops alike.6 From our travels to China this March, it is clear that "Better City, Better Life", the theme of the World Expo, was not just about sustainability, but a shift in the Chinese consumer's mindset. For the first time since 2001, economic growth parameters set by the government have been reduced to 7%.7 A new focus has been put on happiness, intellectual property and financial stability, the fundamentals of wellness.
Together, naturals and cosmeceuticals represent the spectrum of beauty options global consumers need today as an integral facet of their wellness lifestyle. Yet they also represent the ultimate in consumer confusion and the need for awareness, education, and engagement. Today, consumers need solutions, not just in beauty, but in every category, so that consumers can live looking good, feeling good and doing better. Mass retail is the only place this can happen with its price democracy and all-encompassing assortment. In essence, its ubiquity represents a tremendous opportunity for positive impact. In conjunction, we must be realistic that most of the U.S. population would much rather wear toning shoes and drink a V8 than hit the gym or cut up celery. Wellness at mass needs to be easy, creating choice and saving time—the crux of convenience, the number one reason after price that consumers shop at mass.8 Through simple solutions in service, education, and merchandising, and through authentic connections, mass retail becomes the wellness authority.
Service Solutions
Every day, we are reminded that American health is declining. Over 63% of Americans are either obese or overweight.9& Diabetes and heart disease are national crises. A compounding factor is that health care costs are rising, and unaffordable to many Americans. In fact, 1 in 6 Americans do not have health insurance, and the average cost of a single doctor's visit without health insurance can be well over $200.10 All the while, a large proportion of our population is aging, and in need of more regular health maintenance. Already, we see corporations stepping up to meet this national challenge.
At this year's NACDS, P&G, no doubt inspired by the success of their "Lookfab Moments" pop-up boutiques, expanded their services from beauty and grooming into wellness. In the Wellness center, a dentist was on hand to measure plaque while a doctor consulted on visitors' true heart age.11 Pharmacies are already evolving into mini health clinics to meet the demand for smart, simple, medical solutions. 76% of Americans shop the mass channel—more than any other channel.12 Therefore, this is where we have the greatest opportunity (and the largest square footage) to make the biggest impact. Beyond just providing convenience, mass retailers are in position to make a real impact on total family health and national consumer wellness.
The Wellness Center is a destination for smart, simple, services. It will take the mass concept of one-stop-shopping into one-stop-shopping-AND-services. To be a true destination for health and wellness, this center will take care of a consumer's most common medical needs. In addition to prescription drugs, the health center will offer services such as flu and allergy shots, vaccinations, and diet and nutrition counseling.
If the consumer needs more information about his or her health condition, they can experience the total body diagnostic of the future. It will measure vitals, screen for deficiencies, and make recommendations for diet, supplements, and even skin care products. These results are stored online, so the consumer can track health progress on an ongoing basis. This is an opportunity to leverage the expertise of the pharmacy and health clinic to drive front-of-store sales while making a positive impact on overall consumer health.
For services of a more indulgent variety, consumers can make use of the Beauty Bar. Consumers get a pedicure while shopping on an iPad, picking up the order on the way out… with a fresh coat of polish. The best part is, if she liked the nail polish she tried, it is for sale in the same store. What's unique about this beauty bar concept is that each station will be sponsored by a different beauty brand every month. For mass brands that typically don't have their own spas or salons, this presents an opportunity to showcase their latest and collect valuable consumer feedback.
There will also be medical spa services, leveraging the authority of the in-store pharmacy. We are, after all, entering the age of lunch-hour face lifts and drive-by Botox. Such services will only build credibility for the mass retailer as a comprehensive wellness authority. A retail partnership with Allergan would be akin to JCPenny's partnership with Sephora: more distribution for Allergan's products, more accessibility for the consumer, and more revenue for the retailer. For brand manufacturers, imagine what a lip plumping service would do for lipstick sales in the next aisle.
Education Solutions
As previously mentioned, the Wellness Center will be an obvious touch point for education. However, education must also exist outside its walls. The proliferation of products and SKUs available at mass is astounding. Consumers are overwhelmed and confused. Something as simple as choosing a shampoo quickly becomes a daunting task. This makes education just as, if not more critical for mass shoppers than prestige shoppers. Moving the traditional Beauty Advisor model into mass has not proven successful. However, we believe the following educational solutions will be successful in mass retail.
67% percent of consumers research a product or ingredient on a manufacturer's website before purchasing.13 Online is the natural platform for information. What mass retailers can do immediately is establish a sponsored microsite. It should be separate from the e-commerce site but seamlessly link back to it. Mywellness.com is a digital platform that lives online or on your phone. The format is uniquely linked to storytelling. Because this site's sole purpose is to educate, consumers will identify it as a reputable source of information. To elevate the site's legitimacy, it will include testimonials and information from experts like dermatologists and estheticians. If consumers require customized educational guidance, they can set up an account, log in and make mywellness.com a digital destination for their personal wellness.
If consumers are looking to optimize their personal wellness education in the store, they have the option to speak directly with health and beauty experts via a skyping kiosk. Strategically located between beauty, pharmacy, and grocery, this kiosk provides the option to call one of several types of experts. With Microsoft 's recent acquisition of Skype and its 170 million users14, you can imagine the potential.
Finally, the shopping cart can use a state of the art makeover. Introducing the Electronic Cart Companion. This updated shopping cart will feature a touch screen and a high tech product recognition system. As consumers shop and place items in the basket, facts about products, ingredients, and usage pop up on the shopping screen. This new shopping cart also checks off shopping lists and features a GPS guide to add in the ease of finding products. To entertain children sitting in the basket, the settings can be changed to feature games and movies.
Ensuring that consumers feel educated is critical to ensuring the success of mass as a wellness authority. After all, feeling smart, feels good, and shoppers that feel good are sure to return again and again.
Merchandising Solutions
A GPS for products is worthless if retailers cannot keep the consumer happy at the most important place of all—the shelf. In 2010, about 30% of women surveyed found it confusing to choose a beauty product.15 In fact, according to WSL, with the burgeoning market for private-label brands, 14% of consumers bought store brands by mistake.16 Mass retailers and brands have to better segment the beauty section at the shelf without confusing or overwhelming the consumer.
Time is often the difference between a good day and an exhausting one. For consumers who simply need more time in the day, the Wellness Zipline. Designed to get consumers in and out, this area of the store is organized by non-browsing categories with top-selling SKUs. As a result, consumers can quickly complete their shopping lists for everyday essentials like prescription pickups, milk, and toilet paper. The Zipline can also be expanded to an urban model. Like a corner convenience store, mass retailers can truly reach the urban consumer, stocking the same top-selling SKUs and offering the same discounts without the big city inflation. Additionally, the Zipline could also be a potential housing for private-label brands.
On the main floor, beauty products need to be better distinguished and should be categorized according to the regimen consumers follow at home. This would not only help consumers filter products but educate them on how to use the product as a regimen from the first steps of exfoliating and cleansing to the last steps of what type of sunscreen they should be wearing.
End-caps should be used for more than just promotions. For instance, imagine an end-cap filled with products that contain key trend ingredients like vitamin A or beauty recommended spices? An even more perfect opportunity resides in the travel-size retail section. This location would be ideal for products inspired by places like the Amazon rain forest and Asia, especially when it comes to naturals.
Obviously, there is only so much retail space to execute new ideas and logistically, it is expensive to change end caps for every new concept. Introducing a simple solution—the Roving End-Cap, a truly versatile cart that affords many options, including platforms that allow for brand sponsorship. Cross-selling products can be easily accomplished. For example, a Roving End-Cap with an "Energize" theme could carry fragrances that excite you, supplements that wake you up, and facial products that make your skin glow. To top it all off, consumers get a free smoothie highlighting foods that help revive the mind and body. Retailers not only gain incremental sales but additional retail space that is easy to change and can be used to test pilot new ideas, products and concepts. Best of all, the Roving End-Cap can easily go where the traffic is and helps guide consumers to the right product.
Authentic Connections
Retailers can contribute to consumers' better health and well-being by helping them make the right product choices by making authentic connections between 1) pharmacy and beauty, 2) products, and 3) products and community. This leads to increased consumer satisfaction and ultimately increased loyalty and sales.
Retailers can help consumers make better health and well-being choices by clearly connecting the pharmacy with the beauty aisle. Introducing the Care Cabinet, a virtual medicine and beauty cabinet that is the ultimate resource for the online consumer. First, like Fresh Direct, the Care Cabinet stores current products for online re-order or pick-up. One added benefit is that based on usage recommendations, it can auto-refill and send products so that you never run out of prescriptions, toothpaste or night cream. It also suggests products based on previous shopping habits or changing seasons. Second, like CVS and Walmart.com, the Care Cabinet houses OTC drugs and provides a diagnostic tool. However, the Care Cabinet also indicates drug interactions and needs based on items already in it. For example, if a prescription creates sun sensitivity, the Care Cabinet will suggest a sunscreen. This Care Cabinet allows consumers to narrow the digital space and connects pharmacy, beauty and personal care in a way that is impossible for traditional bricks and mortar.
If retailers want to become the authority for wellness and help U.S. consumers shift behavior towards a healthier lifestyle, they should focus specifically on women, who make 85% of household purchase decisions.17 Since most of them are mothers, they are the gatekeeper to the family's health and well-being. It is important to help her choose the right products, and also set a good example for her children18. In leveraging the scientific expertise and equity of brands, retailers can create the authority to offer higher value solutions like wellness programs to consumers.19
The Wellness Guide is for mothers and is available online and as a mobile application. This Wellness Guide will empower mothers to create rituals at home for herself or her children that are scientifically proven to work, thereby helping her to easily achieve her wellness goals. Multiple wellness programs will be available within the three wellness benefits of "Looking Good", "Feeling Good" and "Doing Better". Each wellness program will be sponsored by a brand and developed in partnership with their scientific experts to ensure quality outcomes. For example, the Wellness Guide could feature a weight management program sponsored by Nivea or a better sleep program supported by Tylenol.
The Wellness Guide concept also has potential application in the store. In this scenario, in-store merchandising would be more consumer-centric in that it would group products in a problem/solution format. For example, if the consumer is having trouble sleeping, she can visit the "Sleep Well" aisle in the store. This aisle would feature cross category products for better sleep, such as fabric softener, night time skin repair serums, aromatherapy, bath salts, and moisture wicking pajamas. The online and in-store execution of the wellness guide benefits the retailers since consumers see better results through product combinations, which increases consumer satisfaction and loyalty.
While product performance is an important criterion for purchase, more and more Americans20 choose products with a triple bottom line.21 In fact, in 2010 the market of certified sustainable products went up to $56 billion.22 This environment forces retailers to take a stand on sustainable and ethical sourcing, as shown by UK consumers' vote for the "the greenest" supermarkets.23
One way retailers reinforce their ethical sourcing in the eyes of the consumer, is offering sustainable certified products. However, as mentioned earlier, the plethora of certifications dilutes the authenticity of the certification. Retailers should go one step further and offer sustainable sourcing partnerships with local farms such as organic olive, wine or aloe farms. Products from this exclusive partnership would be offered to consumers, thereby allowing them to support the farm while ensuring transparency of the product's organic skin care ingredients' origin. Such an exclusive retailer owned product line would increase consumer engagement. This unique story telling value could be leveraged to enhance consumer loyalty programs by offering unique opportunities like family trips to local farms to learn about organic farming. Furthermore, 64% of consumers are willing to pay a premium for products that support a cause they are interested in24, boosting the potential for incremental sales.
Conclusion
Wellness is no longer the absence of sickness or wishful thinking. It is approachable and holistic.
Instead of right and wrong, eco, natural, green, or cosmeceutical, wellness is about conscious consumption and the role products play in your life. "Is Tom's of Maine toothpaste really green if consumers leave the water running while they brush their teeth? Is an Energy Star-rated light bulb really green if it remains on after everyone leaves the room?25 It is about the choices we make to live looking good, feeling good and doing better.
Introducing Swellness: Integrated and simple wellness solutions in service, education, merchandising and connections. This concept leverages serious sustainability, health and societal issues with a positive twist for an all-encompassing destination to help eco-conscious, sophisticated and every-day consumers alike "Live a Swell Life". Through Swellness, mass retail becomes the consumers' wellness authority. By offering the consumer experiences, helping them to reach their goals and by saving them time, their experience online or in-store leaves them transformed. A perfect fit with beauty, Swellness brings back the feel-good power of the lipstick factor that we have lost. With an integrated approach, mass retailers gain incremental sales and magnetic loyalty.
Swellness is not naïve of the mass environment Instead, it utilizes its power, addressing serious issues with the potential to make a difference in the lives of millions. It has the power to do even more. In mid March, Ad Age called $400 billion-plus Wal-Mart the "biggest and most vigorous of a new breed of private-sector regulators". With government-like mandates Wal-Mart and their obliged suppliers will reduce greenhouse gas emissions, invest in the community, reduce sodium by 25% and trans-fatty acids by 100% by 2015 among other impressive goals.26 In 1996, Target walked away from cigarettes27. Can you imagine if all mass retail followed suit? This may not be too far away and the impact would be epic.
In conclusion, mass retail is powerful and today through simple solutions for wellness it becomes the Swellness authority.
References
Doskow, Karen. Naturals and Cosmeceuticals Market. New York: Kline, 14 Apr. 2011. PPT
Morrison, Maureen. "For Wendy's, Fancy-Fries Launch Declared a Success." www.adage.com. 28 Mar. 2011.
Bianna Golodryga, and Don Ennis. "Botox: New Trend for Teen Girls - ABC News." ABCNews.com: Breaking News, Politics, World News, Good Morning America, Exclusive Interviews - ABC News.
"Cosmetic Plastic Surgery Spending Increases 9 Percent to $12.4 Billion | Aesthetic Medicine News." Aesthetic Medicine Medical Spa News. Web. http://www.aestheticmedicinenews.com/cosmetic-plastic-surgery-spending-increases-9-percent-to-124-billion.htm.
"Global Nutricosmetics Market to Reach $4.24 Billion by 2017, According to a New Report by Global Industry Analysts, Inc." Press Release Distribution - Submit Press Releases Online - PRWeb. 5 Apr. 2011. Web. http://www.prweb.com/releases/nutricosmetics/nutritional_supplements/prweb8262307.htm.
Doskow, Karen. Naturals and Cosmeceuticals Market. New York: Kline, 14 Apr. 2011. PPT
Davis, Bob. "Wen Says China to Lower Growth Target - WSJ.com. 28 Feb. 2011. Web.
WSL Strategic Retail. How America Shops. Rep. 2011. Print.
Mendes, Elizabeth. "Six in 10 Overweight or Obese in U.S., More in '09 Than in '08." Gallup.Com - Daily News, Polls, Public Opinion on Government, Politics, Economics, Management. 9 Feb. 2011. Web.
Wolf, Richard. "Number of Uninsured Americans Rises to 50.7 Million - USATODAY.com. 17 Sept. 2010. Web.
Brookman, Faye, and Andrea Nagel. "Outlook Is Bright at NACDS - Beauty Industry and Products News - WWD.com." Fashion, Beauty and Retail News - WWD.com. 6 May 2011. Web.
WSL Strategic Retail. How America Shops: From Buzz to Buy. Rep. 2011. Print.
WSL Strategic Retail. How America Shops: From Buzz to Buy. 28 Rep. 2011. Print.
Lohr, Steve. "For Microsoft, Skype Opens Vast New Market in Telecom." www.nytimes.com. 10 May 2011. Web.
WSL Strategic Retail. How America Shops. 28. Rep. December 2010. Print.
WSL Strategic Retail. How America Shops. 4. Rep. April 2011. Print.
"M2W.biz - Fast Facts." M2W.biz - Marketing to Women Conference. 13 Apr. 2011. Web. 16 May 2011. http://www.m2w.biz/fast_facts.php.
McMillen, Matt. "Study: New Moms May Let Their Health Slip - CNN.com." CNN.com - Breaking News, U.S., World, Weather, Entertainment & Video News. 11 Apr. 2011. Web.
WSL Strategic Retail. How America Shops: The Wellness Opportunity. Rep. 2011. Print.
Doskow, Karen. Naturals and Cosmeceuticals Market. New York: Kline, 14 Apr. 2011. PPT
"Idea: Triple Bottom Line | The Economist. www.economist.com. 17 Nov. 2009. Web.
Lyons, By John. "Skin-Deep Gains for Amazon Tribe - WSJ.com. 5 May 2011. Web.
Smithers, Rebecca. "Co-op and Marks & Spencer Named UK's 'greenest' Supermarkets | Environment | Guardian.co.uk". Guardian.co.uk. 20 Dec. 2010. Web.
Fromm, Jeff. "Five Consumer Trends That Will Impact Retailers in 2011." Barkleyus Blog. Web. 28 Mar. 2011.
Ottman, Jacquelyn A. "MediaPost Publications - Home of MediaDailyNews, MEDIA and OMMA Magazines." MediaPost - News and Directories for Media, Marketing and Online Advertising Professionals. 27 Apr. 2011. Web.

Neff, Jack. "Move Over Government, Walmart's the New Regulator in Town www.adage.com. 7 Mar. 2011. Web.
Feder, Barnaby J. "Target Chain, Citing Costs, to Stop Selling Cigarettes - New York Times." www.nytimes.com. 29 Aug. 1996. Web.