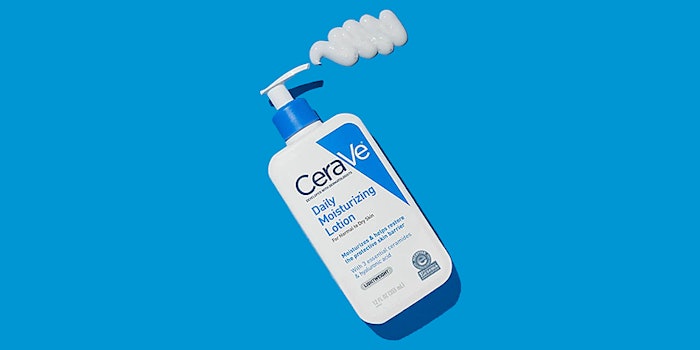 Image source: CeraVe
Editor's note: While the "Read the Label" series provides an overview of the ingredients cosmetic manufacturers use and their related claims, without use levels or access to clinical studies, the author is drawing conclusions based on speculation—albeit from training, formulating experience and, in some instances, evidence in the literature. The following is offered for your consideration and further verification.
CeraVe was born in 2005 when a team of dermatologists created a skin care range using core ingredients–ceramides, fatty acids and lipids–designed to repair, strengthen and restore the skin barrier. Thus, the brand specializes in products that protect the barrier; some are even accepted by the National Eczema Association. 
Related: CeraVe Launches Skin Renewing Nightly Exfoliating Treatment 
CeraVe discovered a way that its products could slowly release moisture into the skin over 24 hr, which was later patented and used in the product range. The three products CeraVe launched in 2006 were a moisturizing cream, a moisturizing lotion and a hydrating cleanser–all of which are still popular today.
The lightweight, non-comedogenic moisturizing lotion under review uses the patented 24-hr hydration delivery system. All the brand's products also contain ceramides 1, 3 and 6-II to help protect the skin's natural barrier, as well as hyaluronic acid to improve skin moisture retention. 
Ingredients
The ingredients below in bold are ones that I believe are contributing to the product's performance and claims:
Ingredients: Water (Aqua), Glycerin, Caprylic/Capric Triglyceride, Cetearyl Alcohol, Cetyl Alcohol, Potassium Phosphate, Ceramide NP, Ceramide AP, Ceramide EOP, Carbomer, Dimethicone, Ceteareth-20, Behentrimonium Methosulfate, Methylparaben, Sodium Lauroyl Lactylate, Cholesterol, Disodium EDTA, Dipotassium Phosphate, Propylparaben, Hydrolyzed Hyaluronic Acid, Phytosphingosine, Xanthan Gum, Polysorbate 20, Polyglyceryl-3 Diisostearate.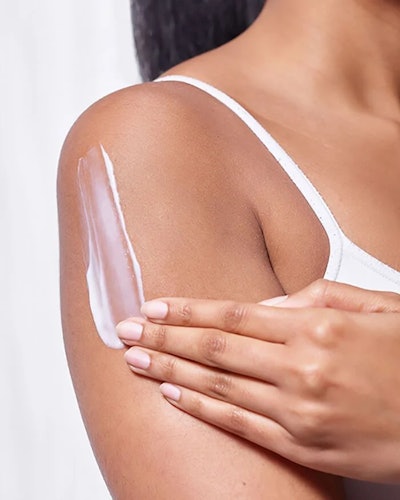 Glycerin
Using glycerin at high levels (> 10%) strongly supports 24-hr moisturization claims. A humectant attracts moisture from its surroundings and draws it into the skin. This powerhouse of humectants provides long-lasting skin hydration.
Caprylic/Capric Triglyceride
Derived from coconut/palm/palm kernel oil, this ester is a blend of fatty acids–caprylic acid (C­8H16­O2) and capric acid (C10H20O2) attached to a glycerin backbone.
This ingredient is a commodity type and is found in mass-market skin care due to its restorative skin barrier properties and moisturization factor. This material is also known as a medium-chain triglyceride (MCT). 
Ceramide NP
Ceramides make up half of the substances found in the skin's natural barrier, so when the skin becomes compromised or damaged, it's crucial to replace lost ceramides to restore moisture levels.
Ceramides are oily lipids that help form a waterproofing effect that locks in moisture. This specific ceramide is also known as ceramide 3. 
Ceramide AP
Known as ceramide 6-II, this ceramide makes up just less than 10% of the skin barrier fluid. It is responsible for keeping the skin flexible in order for it to move and stretch without cracking or tearing.
Featured: Inside Ingredients: Ceramides
Like the other ceramides, it is found naturally in the skin and when applied topically, it has an affinity to sink into the deeper layers of the epidermis for quick relief from dryness. 
Ceramide EOP
This ingredient is ceramide 1; ceramides often work better in combination with others, hence it is often seen that brands use a blend of ceramides with different chain lengths and molecular weights in one product. Ceramides are known to reduce TEWL and smooth the skin's surface cuticles. 
Carbomer
Carbomer is mostly used in pharmaceutical-grade emulsions or gels, as it helps to keep formulations stable with a good degree of suspension for homogenous distribution of active ingredients throughout the formula.
Carbomer is a synthetic polymer that, once neutralized, creates a 3D gel network that allows a steady release of actives from the formulation and into the skin over a period of time. 
Dimethicone
Dimethicone is a general INCI name for a variety of silicone products; usually a chemical structure with methyl groups attached to a siloxane backbone. Depending on the chain length and positioning of the methyl groups, this affects the viscosity of the product. Dimethicones are mostly used for their skin feel but they do have other benefits, depending on their chain length.
Methylparaben
This is a classic choice for preservation that has been used in the industry for many years due to its general low irritancy profile. A paraben is the broad term used for describing the chemical structure of this material. As most formulators know, there are numerous different types of parabens such as methylparaben and ethylparaben. 
While more recently, public opinion of parabens has been negative due to misinformation, data from various studies has confirmed the safety of parabens used in cosmetics. Parabens also occur naturally in blueberries, green tea, vanilla and other sources. 
Cholesterol
As is well-known, cholesterol is a substance found in blood, and while low levels are required to create new cells, high levels can cause blockages in blood vessels. Using cholesterol in skin care can help with skin firming, leading to reductions in wrinkles and pore size, and improved moisturization.
Hydrolyzed Hyaluronic Acid
When a material is hydrolyzed, it has been broken down with water. This means that it can penetrate deeper into the skin because the molecular size is smaller, and the skin can more easily absorb the molecule. The INCI name alone does not dictate the molecular weight of this ingredient, as INCI names are generalized terms, but in this case it usually describes a smaller molecular weight grade. It is beneficial in this formula for its hydration, skin softening and plumping effects. 
Phytosphingosine
This ingredient is gaining more popularity in the cosmetics industry due to its fast-acting skin repair results–it is a key component of ceramides 1, 3 and 6-II, but it also has some anti-inflammatory and antimicrobial properties, which can help with repair and wound healing. 
Usage
To use the product, the consumer is instructed to apply it liberally as often as needed or as directed by a physician.
The product is available in beauty retailers at £10 for 236 mL ($16.99 for 8 fl. oz).
Previous "Read the Label:" Augustinus Bader's The Body Cream
Disclaimer: This article was produced in the UK and therefore the INCI listing and INCI names comply with European labeling requirements.