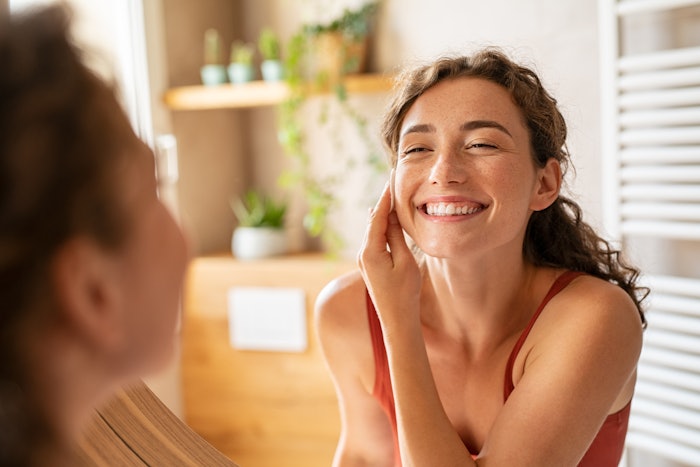 Google searches pairing "glow" with "skin care" have increased exponentially, per Google Trend data. Here, author Nancy Trent explores glow-centric brands delivering the radiance shoppers are seeking. -Editor
A major sign of healthy skin is the natural glow, but some people have trouble achieving that radiant complexion. Sometimes it's the increased stress level, lack of sleep and poor diet that negatively affect the skin, or maybe consumers are using bad products that are inflicting more harm than good. For shoppers seeking beauty tips and new, clean products to transform their skin from dull to glow, there are some great brands and resources.  
To get glowing skin it's important that beauty consumers cleanse regularly, exfoliate, hydrate and moisturize. They can even incorporate a facial massage into their skin care routine. Exercise and a healthy diet help, too. 
Consumers need to pay attention to what they're putting into their body to see whether their skin is benefiting from it or not. Starting from the inside out is vital to understanding what the skin needs to be healthy and have that shine. It's therefore helpful to eat antioxidant rich foods and drink a lot of water.  
Rethinking the Definition of Beauty
Autumn Kendrick, chief marketing and ideation officer at Gnusante Creations, believes glow is redefining beauty: "Glow is healthy individuals, embracing their natural gorgeous selves. When skin is hydrated and supported it has a natural radiance."
Kendrick created a skin care soda called Ra.D8 that supports glowing and healthy skin. It's a sparkling infusion of synergistic clinically proven ingredients to fight UV damage and support glowing skin. 
Kendrick says, "More than just a collagen beverage, we also incorporate a tomato oil extract packed with carotenoids to help fight loss of collagen, a sea buckthorn extract supporting hydration and a source of omegas 3,6,7 and 9. Vitamin C is also a key factor to collagen synthesis as well as a touch of sugar for optimal absorption of these great ingredients." 
With a can a day, Ra.D8 is reportedly an easy way to support better aging and skin health, with results in 28 days.
As noted, this beverage features a sustainable marine collagen complex with elastin peptides at the same ratio found in the skin. The collagen is targeted at skin benefits with as little as 2 g a day. 
The beverage also has the aforementioned Lycored Lumenato tomato oil extract, which provides a great source of carotenoids and concentrations of phytofluene and phytoene, which rare to find in foods but fight UV damage, collagen loss, support skin hydration, tone, brightness and firmness. 
Lastly, the formulation includes Puredia's SeaBerry sea buckthorn extract, one of the few sources of omega 7, which supports moisture and helps with skin hydration and elasticity.   
Clinical Grade Formulations
Another brand with clinical-grade formulations for glowing skin is Clara's New York. This company was launched back in 2018 by founder and CEO James Jo, a U.S. Marine veteran. 
"My goal was to share my beliefs with as many people as possible and that clean, natural cruelty-free skin care should not be only a trend that comes and goes, but a lifestyle that stays with you your whole life," says Jo. 
Clara's New York operates around a simple, straightforward belief: to create radiant and beautiful skin with natural ingredients. Its hybrid facial serums are infused with vitamin E and have the ability to treat all skin types. The company's products are said to renew, rejuvenate, brighten and soften the skin.   
Silicone Patches
SilcSkin, meanwhile, is an established brand that specializes in silicone patches for skin care that are designed to make consumers glow. Developed by an Emmy-award winning celebrity makeup artist, Camille Calvet, SilcSkin is the first to use natural silicone patches that adhere to the skin to keep trouble spots smooth and wrinkle-free while users sleep. 
"SilcSkin utilizes the same proven technology used by the medical industry to give your skin that glow it needs," says Calvet. 
SilcSkin pads are applied topically to the affected areas of the skin and function preferably while the subject is sleeping. While results can occur overnight, optimum results are obtained through prolonged use—five to seven hours daily for approximately two weeks.    
These products have been clinically proven to be one of the most effective at-home scar treatments available for various scar types. These include hypertrophic, keloid, acne and burn scars, as well as surgical scars, such as those from a cesarean delivery. 
SilcSkin uses medical-grade silicone sheeting on wrinkles and fine lines. The wrinkles therefore are effectively treated as scars. The silicone used by SilcSkin in the manufacture of its pads has been refined using a platinum curing process. This process removes the residue that's typically left behind after silicone has been processed, leaving behind 100% pure silicone.   
When SilcSkin is applied to the skin, electrostatic energy provided by the pads reduces wrinkles by improving the irregular collagen structure and creating an increased blood flow which will result in an improved skin tone and plumped wrinkles. Pressure from the SilcSkin pads atomically pumps collagen to the areas that need smoothing. Silicone contributes to moisturizing the skin by drawing the skin's natural moisture to the surface, which hydrates the skin. It's a proven alternative to injections, laser treatments and surgery. 
SilcSkin pads can be applied almost anywhere on the body, including the stomach, thighs, hips, eyes, chest, face, brows, hands and the buttocks. SilcSkin is used by more than 3,000 spas, estheticians, skin care companies, dermatologists and specialists.   
Organic Supplements 
Another recognized leader in beauty innovation is Gosha's Organics, which offers phyto herbal honey infusions. The brand's Odnova supplements feature a blend of raw honey and botanicals, which aid the body in organically reaching a balanced state. (Odnova in Polish means renewal, revitalization and rejuvenation.)
CEO Gosia Steele was on a personal quest to overcome her own health hardships and it soon became a global mission to empower others through the creation of an innovative, exceptional whole-food product that combines the Ayurveda, Chinese and holistic medicine with scientific discoveries. 
"Our products are created with the intention to reach a harmonizing, balancing and centering feeling called the equilibrium state," says Steele.
Steele's supplement, called Glo, was specifically formulated to give users a youthful appearance and lasting glow within. The core benefits include nourishing and tightening the skin, purifying the blood, facilitating collagen regeneration and enhancing photoaging cell production. Users can take one teaspoon after their last meal, or the supplement can be taken throughout the day as needed, with or without food. 
The Odnova supplements feature phytoplankton, royal jelly and schisandra. Phytoplankton has the highest source of antioxidants, protecting users from free radicals. The material represents a special strain developed by the University of Madrid. 
The phytoplankton is reportedly superior to algae because it's cleaner than what's harvested from the ocean and has the highest Orac Index, a measurement of antioxidant power. 
The naturally sourced royal jelly, meanwhile, is high in nutrients and generates collagen. 
Schisandra, meanwhile, is an adaptogen that balances hormones and tightens the skin. It also increases the body's production of collagen. Gosha's Organics is adamant about consumers not ingesting collagen because, according to the brand, ingesting collagen makes one's body lazy.
"Glow is the shine of the skin, the shine in the hair and having clear eyes. It's beyond just being clean and most importantly it's what's in your gut. It's how selective you are about what you eat," says Gosia. "Supplements should taste good, they should be something you crave."