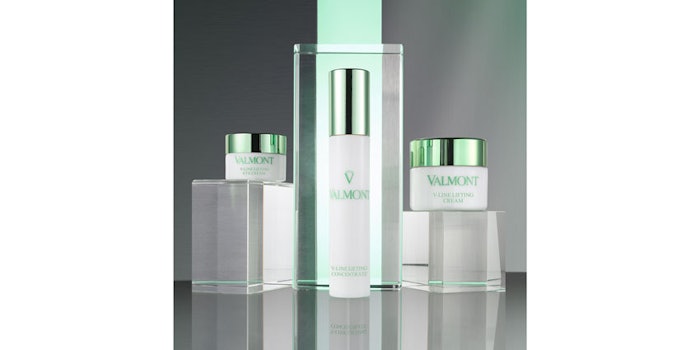 Valmont has announced the upcoming launch of two new collections with AWF5.
Valmont described AWF5 as "a product range offering effectiveness to the fifth power thanks to an exclusive complex of five active ingredients targeting five components of the skin."
The five key ingredients in the AWF5 complex include a peptide cocktail to stimulate cellular renewal; vitamin C to protect the skin; a fibro-boost to increase the production of collagen and elastin; a GAG booster to heighten GAG production "by providing elements indispensable for the development of glycosaminoglycans"; and Densi-Derm to create proper cohesion between fibers and ground substance. 

AWF5 is available in two complementary collections: The V-Line Lifting collection for targeting wrinkles and the V-Shape Filling collection for restoring the loss of density and volume. 
The V-Line Lifting Collection
The V-Line Lifting Concentrate is a serum with a gel-cream texture meant to help rebuild the skin while smoothing wrinkles and fine lines. 
The V-Line Lifting Cream is intended for use on the face and neck and aims to reduce the appearance of both deep wrinkles and fine lines. 
The V-Line Lifting Eye Cream was created to smooth wrinkles, tighten skin and reduce dark circles in the eye area. 
The V-Shape Filling Collection
The V-Shape Filling Concentrate is a serum which targets sagging skin and re-plumping loss of volume. 
The V-Shape Filling Cream works to smooth nasolabial folds in the skin and restore firmness. 
The V-Shape Filling Eye Balm is meant to re-firm skin around the eyes while diminishing under eye bags.