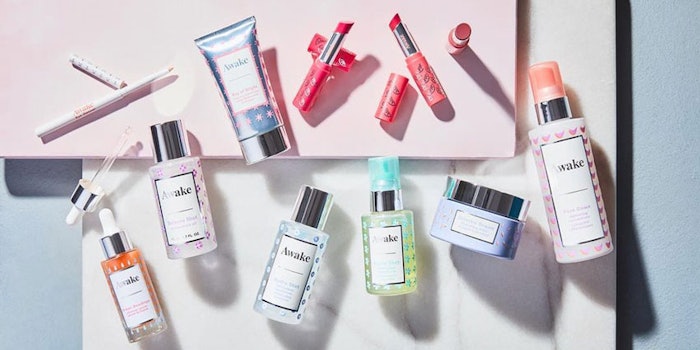 tarte Cosmetics has introduced its new sister brand, Awake Beauty, to the beauty world. 
Unlike tarte, Awake Beauty is solely focused on skin care. The brand strives to give skin a "refreshed and well-rested" appearance with its products. Awake takes a page out of the J-beauty book and utilizes Japanese technology and ingredients from nature. 
Awake, which has been a cult Japanese brand for at least 17 years, according to awakebeauty.com, became tarte's sister brand. Since then Maureen Kelly, founder of tarte Cosmetics, collaborated with the New York and Tokyo teams to create the "new" Awake.
Fun fact: When tarte first launched at Henri Bendel on 5th Avenue over 17 years ago, its neighbor was none other than Awake. 
Current Awake Beauty Products Include...
Balance Shot Antioxidant Concentrate ($38);
Gelactic Dream Hydrating Mask ($38);
Pore Down Tightening Concentrate ($38);
Ray of Bright Radiance Moisturizer ($26);
Dream Dewdrops ShimmerSerum ($32);
Vitamin L-I-P Balm with C+E in Rozu, Pinko and Nudo ($16);
Eye Opener Brightener Liner ($16);
Hydra Shot Antioxidant Concentrate ($38); and 
Firma Shot Antioxidant Concentrate ($38).
For more information, please visit www.awakebeauty.com