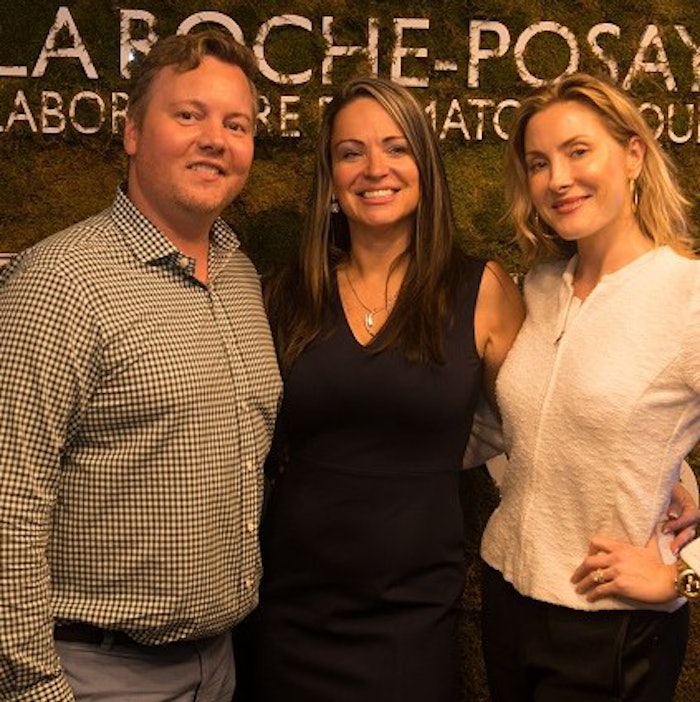 L'Oreal has teamed up with dermatologists to promote a healthy, normal skin microbiome, a key component of skin health. At an event at its L'Oreal USA headquarters, the parent company of La Roche-Posay, Skinceuticals and CeraVe (which it acquired earlier this year), invited guests to start skin health conversations with dermatologists who treat a number of skin conditions such as psoriasis, atopic dermatitis and acne. 
"It is important for [people] to recognize that bacteria on your skin is healthy—it is not all bad," said Shirley Chi, MD,  who attended the event and has a practice in Arcadia, Calif. "[Skin] doesn't have to be completely sterile."
From Gut Health to Skin Care
La Roche-Posay pioneered a study of the bacteria on the skin—the skin microbiome. It found that imbalance, or dysbiosis, of the skin microbiome is related to a number of skin problems. As a result, the brand is likely to adapt strategies for healthy gut microbiomes to skin care.
The brand's microbiome-friendly products for sensitive skin include two additions to its La Roche-Posay Makeup line: Respectissime Extension Mascara and Respectissime Makeup Remover. The sensitive skin makeup collection includes: 
Toleriane Teint Mousse
Toleriane Teint Correcting Pen
Effaclar Micellar Water Ultra
Micellar Water Gel
Micellar Foaming Water
Sensitive Skin, Makeup & Sun Solutions
The La Roche-Posay brand also launched its first sunscreen for kids in the U.S., Anthelios 60 Dermo-Kids, which was developed with dermatologists and tested by pediatricians. The UVA/UVB sunscreen uses patented CELL-OX Shield Technology and is specifically formulated with antioxidant and protective ingredients that are gentle on children's sensitive skin. 
To create products that address issues affecting sensitive skin, La Roche-Posay dedicated five years of research and conducted 13 clinical studies to gain a new understanding on the microbiome, its inter-correlation with the physical barrier and what it could mean for the future of skin care.
The brand already has topical prebiotic skin formulations, including the Toleriane line of moisturizers and cleansers, which it says have early evidence of success in acne. Key ingredients include: 
Ceramide-3: One of the most important ceramides for barrier function. It helps reinforce the natural water retention barrier in dry skin by promoting moisturization.
Niacinamide: A form of vitamin B3 with soothing properties.
La Roche-Posay Prebiotic Thermal Water: Contains prebiotic ingredients thanks to its unique mineral composition and trace elements.
Another one of L'Oreal's dermatologist-approved brands, Dermablend, demoed its new makeup product for Fall 2017: Flawless Creator multi-use liquid pigment for skin. A brand spokesperson said its formulation contains a pigment and binder, which can be used on sensitive skin to conceal common skin conditions like acne and atopic dermatitis.