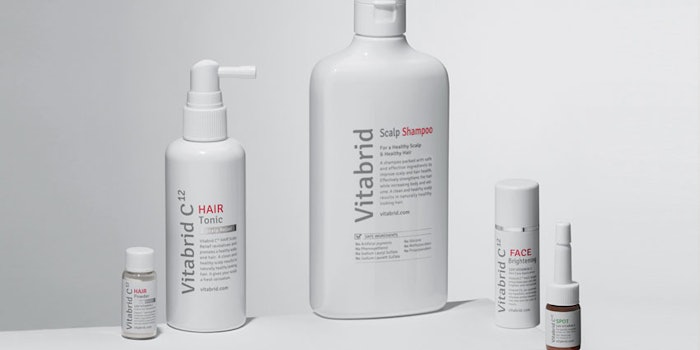 Vitabrid C12 is ready to launch in the U.S. as an exclusive Korean beauty brand for Barneys New York. Developed at Ewha Woman's University in South Korea, the brand has received many awards including the Trendsetter Award at this year's Cosmoprof North America. The line to be sold at Barneys is based on the creation of Vitabrid CG, a proprietary Vitamin C complex that has not been used in the beauty line before.
"We are thrilled to officially enter the U.S. market with Barneys New York as our exclusive retailer," said Ron Choi, Global Business Manager of Vitabrid C12. "This partnership is in line with our goal to become an authority in K-beauty innovations and excellence. With our launch in a retailer as esteemed and prestigious as Barneys, we hope to continue and expand upon the growth we have already seen in Europe and Asia."
The main component of the products in the Vitabrid C12 line, Vitabrid CG, works to deliver active Vitamin C in a stable form through the use of a patented Layered Double Hydroxide (LDH) Technology, according to the brand. The technology allows the Vitamin C to be delivered for over 12 hours and penetrate into the skin and scalp.
When used it the line's facial products, Vitabrid CG smooths fine lines and wrinkles, as well as diminishing the look of age spots. The formula also firms and tones while stimulating collagen to reveal brighter, younger skin. For use in hair products, the formula stimulates collagen synthesis and reduces free radicals in the scalp to prevent hair loss and promote re-growth.
The launch includes products (shown above) ranging in price from $25-$80 and includes the Vitabrid C12:
FACE Brightening Powder ($60)
HAIR Tonic Set Scalp Relief ($55)
HAIR Tonic Set Professional ($80)
Scalp Shampoo ($32)
SPOT Powder ($25)
SPOT Acne Solution ($43)
SPOT Sensitive Solution ($43)
SPOT Essence ($32)