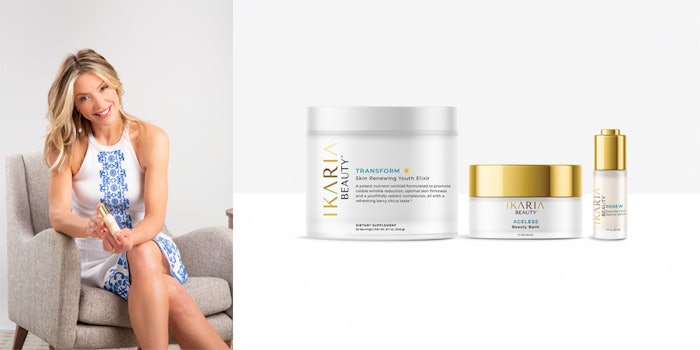 Media personality Debbie Matenopoulos has launched her first skin care line, Ikaria Beauty.

Related: Colorescience Expands Face Shield Sunscreen Line with Flex and Matte
The clean beauty line is inspired by Matenopoulos's Greek heritage and California lifestyle and is reportedly free of more than 50 harmful compounds.
The skin care line has launched with:
Ageless Beauty Balm: Formulated with ingredients such as Biocogent's Volpura EP, an active ingredient extracted from the purple coneflower to holy basil, olive oil, honey and royal jelly which contains vitamins B, C, and E, amino and fatty acids, minerals, and antioxidants.

Transform Skin Renewing Youth Elixir: This supplement is formulated with ingredients such as marine collagen, Beauty OLIGO prebiotic, organic blueberry powder, lemon bioflavonoids and probiotics to promote digestive health and stimulate normal microflora in the gut.

Renew Daytime Fytó Retinol Serum: Formulated with ingredients such as bakuchiol, oat bran extract and squalane.
Matenopoulos said, "I wanted to create a line that was not only effective, but with clean ingredients you can actually feel good about putting on your skin and in your body. As a busy working mom who typically spends about 12 hours each day in full makeup, I've suffered from skin irritation, breakouts and rashes. It was important to me to offer products that were thoughtfully formulated with ingredients that are anti-inflammatory, non-irritating, non-acnegenic and safe for sensitive skin."