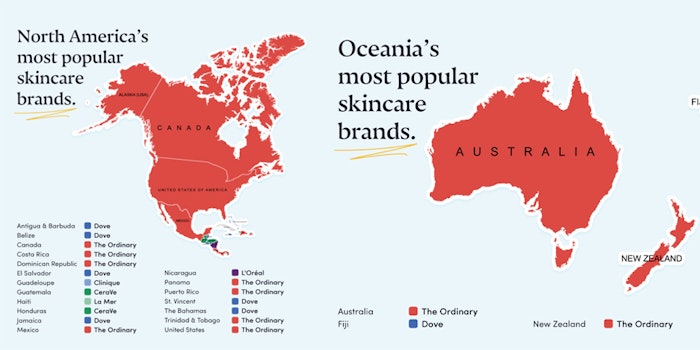 Skincare Hero has curated a list of the most searched skin care brands globally, with The Ordinary ranking number one across all four regions. Tik Tok darling CeraVe also made a strong showing. The company tabulated worldwide average monthly search volume using Ahrefs Keyword Explorer between June 2020 and June 2021.
Related: Consumer Beauty Trends of Q1 2021
Below, the top skin care brands for each region is accompanied by the number of countries in which it ranked number one.
North America
The Ordinary - eight 

Dove - six 

CeraVe - two 

L'Oreal - one

Clinique - one

La Mer - one 
Europe
The Ordinary - 27

Bioderma - five

Estee Lauder - four

Vichy - three

CeraVe - one

Dove - one

Clinique - one

Caudalie- one 
South America
The Ordinary - four

L'Oreal - two

Neutrogena - two

CeraVe - two 

Dove - one

Bioderma - one 
Oceania
The Ordinary - two

Dove - one
Jake Agnew from Skincare Hero said: "The Ordinary has exploded in popularity across the past few years and is now officially North America's hottest skin care brand. With celebrity and influencer fans such as Kim Kardashian and Holly Willoughby, The Ordinary has managed to unseat its more established rivals to be the 'must have' product in almost every country."