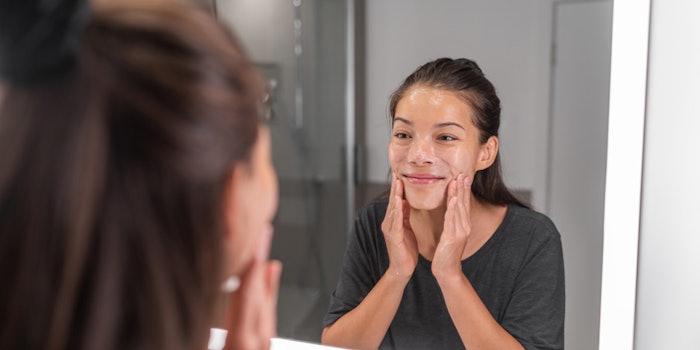 Recent trends show a significant increase in the number of customers opting for natural and organic skin care products, according to a report from Fact.MR.
Related: Global Facial Skin Care and Makeup Market to Reach $182,649 M by 2027
This trend can be attributed to the shift toward healthier lifestyles along with rising concerns over synthetic products. Additionally, individuals with sensitive skin are paying more attention to certain chemicals in products, which reportedly has augmented growth of organic skin care products. 
Products such as creams and lotions capture the major market share. Paraben-free product sales have also surged; in fact, paraben-containing cosmetic product sales are down by nearly seven points, the firm reports. 
As expected, consumers are also shopping online for these products, as online sales channels have shown significant growth in terms of revenue. Major market players are now prioritizing e-commerce platforms for the sale of their products.
Another trend includes skin-brightening products. Due to COVID-19, the demand for "nonessential" skin brightening products saw a decline in 2020. With the growth of online sales channels, however, demand is expected to bounce back with an anticipated CAGR of around 7.5% over the next 10 years.  
When it comes to regional trends, Europe is set to dominate the market in terms of production in 2021 and also through 2031. However, the market in China is expected to rise at a high single-digit CAGR through 2031.
Manufacturing companies are opting for more sustainable processes keeping in mind the needs of present consumers. Additionally, market players are investing heavily in R&D and innovative solutions to come up with more efficient cosmetic products.
"High R&D spending coupled with product innovation will aid market growth over the coming years," said one senior research analyst.