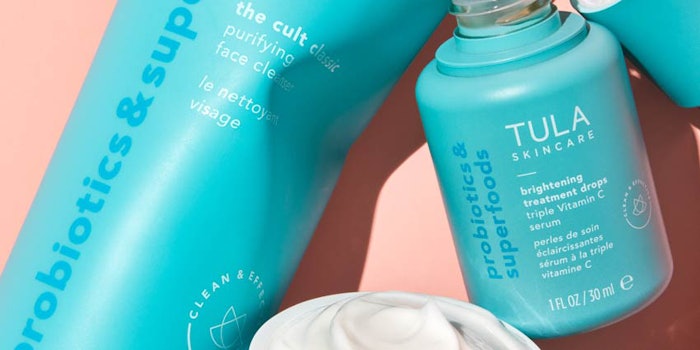 Tula Skincare has launched into Sephora Canada and has appointed Shirley Chen as VP of international to drive growth outside the United States.  
Tula will now be available in more all 80 Sephora Canada stores, and will offer an assortment on Sephora.ca and on the Sephora app. According to the brand, Tula has been a top search term on Sephora.ca, illustrating consumer interest in the brand.
The addition of Tula supports Sephora Canada's pledge to dedicate 25 percent of its brand offering to BIPOC-owned brands by 2026, as well as its focus on clean beauty.
Meanwhile, Chen's appointment will help the brand continue its international expansion. She previously held international business development roles with Bliss Skincare, Too Faced Cosmetics and Kate Somerville Skincare.
"We're excited to welcome Tula Skincare to Sephora, and look forward to providing our clients with access to the brand's coveted probiotic extract and superfood powered products that they've been requesting for several years," said Jane Nugent, senior vice-president merchandising, Sephora Canada. "Tula's innovative formulas and brand positioning focused on confidence offers our portfolio a unique, refreshing feel that we know clients will love as part of our Clean at Sephora brands."
 "We're excited to launch our first international partnership with Sephora Canada and hope to emulate the great relationships we've already established with our U.S.-based retail partners," said Amanda Domaleczny VP of sales at Tula. "We've seen tremendous growth and have worked to solidify ourselves as a top performing and desired prestige skin care brand that drives strong customer acquisition, retention and revenue for our retail partners in the United States. With substantial shelf space in Sephora Canada's full network of doors and an extended online assortment, we look forward to making Tula accessible to our customers throughout Canada with our exclusive partnership with Sephora".
"Our move into Canada is an extension of Tula's wide-spread demand and signals the first of many new growth opportunities for us," said Savannah Sachs, CEO of TULA Skincare. "For this next phase, we're bringing in the best of the best to build out our strategic international plan under Shirley's leadership. We're excited to welcome her to the team and look forward to leveraging her significant operational experience and strong network of global partners. We believe that healthy skin should have no boundaries and want to help drive the democratization of beauty so that we can bring clean and effective offerings to glow-getters across the world."