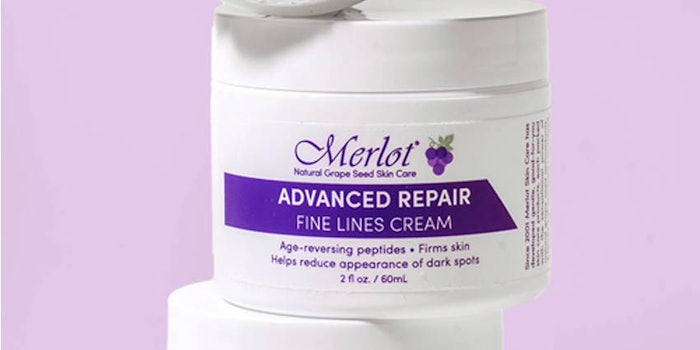 Merlot Skin Care is celebrating its 20th anniversary as a natural grapeseed-based skin care brand with giveaways, limited-time discounts and the release of its latest product, Advanced Repair Fine Lines Cream.
Related: Carbon Theory Releases Breakout Facial Cleanser in Liquid Form
The Texas-based Merlot Skin Care originally debuted in 2001 with three products: Merlot Moisturizer, Cleanser and Eye Cream.
The brand's latest product, Merlot Advanced Repair Fine Lines Cream, is formulated with a retinoic acid-like peptide, myristoyl tripeptide-31, palmitoyl tripeptide-5, grapeseed antioxidants, vitamin C and shea butter.
"We're so grateful to our longtime customers, many who have been with us from the very beginning," says Wayne Beckley, Founder and CEO of Merlot Skin Care. "We've always wanted to deliver products that really work for people. Being an independent brand has given us the agility to respond to what customers are asking for."