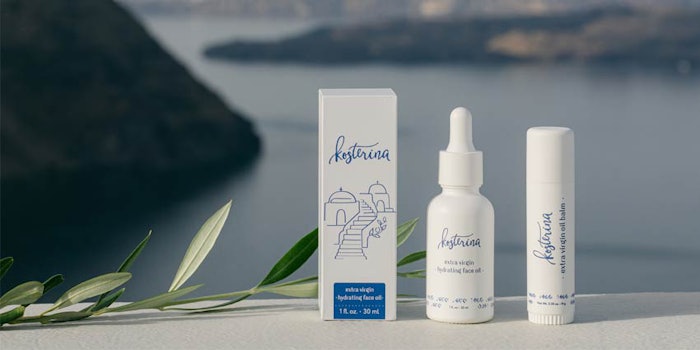 Kosterina is expanding its extra virgin olive oil (EVOO) wellness brand into skin care with the launch of Kosterina Beauty—skin care that uses Kosterina's signature antioxidant EVOO to create Mediterranean-inspired products. The beauty brand is launching with a debut line of Extra Virgin Hydrating Face Oil and Extra Virgin Hydrating Oil Balm. Kosterina previously launched its line of extra virgin olive oils, balsamic vinegar and dark chocolate bars in the food and beverage industry in 2020. 
Related: Dermlove Skin Care Brand Debuts
According to Kosterina Beauty, EVOO is a high-performing plant oil that works from the inside and outside to provide health and skin care benefits. It contains olive-derived squalane, quercetin and high polyphenol content. It is known for its emollient, deep moisturizing and anti-inflammatory properties. 
The use of olive oil in skin care has been a family tradition for brand founder and CEO Katerina Mountanos for generations. According to Mountanos, her mother would add EVOO into face creams and massage the oil into her hair, resulting in thick and luminous locks.
"I have always been inspired by the daily use of extra virgin olive oil by my Greek ancestors, most of whom lived to be over 90 (years old) and honestly had the best skin I've ever seen," Mountanos said. "The extension in beauty was very natural for Kosterina both because of the natural uses of olive oil as well as my career history in the beauty industry."
Mountanos' experience in the beauty industry includes time at L'Oréal, Manicube and BeautyBar.com. She also has e-commerce experience at Walmart, Quidsi and Jet.
Mountanos said, "I was exposed to many of the most high-end skin care offerings from hundreds of brands and never felt or saw a real difference in my skin. I realized that all I needed were simple, clean, natural, efficacious products that would keep my skin hydrated to prevent aging with high-antioxidant ingredients to fight free radical damage. That's how the idea for Kosterina was born."
The Extra Virgin Hydrating Face Oil ($42) features a non-comedogenic formula that will not clog pores.
The Extra Virgin Hydrating Oil Balm ($12) is made from a non-greasy formula and features sustainable packaging made from PP recyclable plastic.
Both are available at kosterina.com.
The brand plans to expand its skin care line in 2022 to include a natural deodorant, cleanser, face moisturizer and body cream.
Mountanos said, "We believe there are no other skincare products in the market built upon ingredients that are naturally derived, harvested for peak performance and featuring hundreds of years of history behind their use. While olive oil has been used in skin care before, we know we are the only brand to use such a high-quality, early harvest, high-antioxidant EVOO in our skin care products and it's those powerful antioxidants that offer protection against aging in the skin. I founded Kosterina on the simple belief that olive oil is a superfood and a key component of our health and longevity and want to bring that same internal health benefit, externally, with Kosterina Beauty."
Ingredients (Extra Virgin Oil Balm): Caprylic/Capric Triglyceride, Candelilla Wax, Olive Oil, Shea Butter, Hydrogenated Olive Oil Unsaponifiables, Sunflower Seed Oil, Argan Oil, Squalane, Cardamom Oil, Tocopherol, Sandalwood Oil, Lemon Oil, Rosemary Leaf Oil, Mastic Gum, Lavender Spike Oil, Lemongrass Oil, Clary Sage Oil, Lavender Oil, Vetiver Oil, Patchouli Essential Oil, Spanish Marjoram Oil, Matricaria Oil, Peppermint Oil.