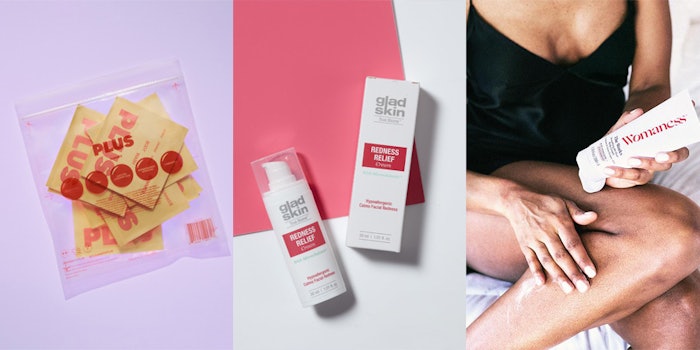 New brands have launched, including Womaness and Plus, as well as new skin care from the brands Blessed By Nature and Gladskin. Meanwhile, recent retail expansions include Elemis London, Susteau and NatureLab. Tokyo.
Related: New Launches from Dezi and Nature's Beauty
Womaness
Womaness, a collection of menopause products developed for women, has officially launched online and in select Target stores.
The brand has a line of skin care, which includes:
The Works Smoothing All-Over Body Cream with ingredients such as Tri-K's Hyaclear 7 (a combination of seven types of sodium hyaluronates), niacinamide, Silab's Filmexel (extracts from tropical, warm-water red algae and from tara fruit) red snow flower extract. 

Let's Neck- Neck and Décolleté Serum with ingredients such as Tri-K's Hyaclear 7, DSM's Pepha-Tight (a microalgae extract) and emblica.

Overnight Magic Nighttime Repair Cream with ingredients such as Tri-K's Hyaclear 7 and bakuchiol.

Eye Opener Smoothing and Brightening Cream with ingredients such as Tri-K's Hyaclear 7, bakuchiol and Silab's Filmexel.

Out D@amn Spot Dark Spot Treatment Patches with ingredients such as tranexamic acid, niacinamide and glutathione.

Here There Everywhere Bundle Fresh and Clean All-Over Body Wipes with ingredients such as cranberry fruit extract, rosewater and aloe leaf extract. 
The brand has also launched products for feminine care and sexual health as well as supplements and menopause kits. 
Plus
Plus has launched its brand with a line of body wash sheets, activated with water.
The body wash sheets are housed in a dissolvable sachet that dissolves down the drain in the time it takes to get clean.
The single-serve sheets are formulated with aloe leaf, eucalyptus, shea butter, almond oil, and sunflower oil. 
It is available in three scents:
Summer: neroli, orange and lemon

Waves: coconut, sea salt and jasmine

Cloud: fragrance-free
Blessed by Nature
Blessed By Nature has debuted its new look, coinciding with the launch of its refreshed Hydration collection available at Priceline Australia wide.
The refreshed Hydration collection includes four products that can be used individually or as part of a daily skin care regime.
The collection combines ingredients such as organic aloe vera, rose water and green tea.
The products include:
Hydrating Foaming Cleanser

Hydrating Mist Toner

Hydrating Dew Moisturizer

Mineral Tinted Moisturizer
The brand uses organically derived vegan products with the majority of its packaging made from post-consumer recycled plastics.
Miranda Waple, director The Six Senses, said, "I'm excited by the opportunity to give consumers a truly accessible and quality range of natural skin care. Particularly at a time when natural and organic beauty lovers might be less confident about personal expenditure, having access to generous, quality formulations brimming with active ingredients under $20 is next to none."
Gladskin
Gladskin has announced the United States launch of Gladskin Redness Relief Cream, designed for skin with facial redness as well as rosacea-prone skin.
The new face cream features Gladskin's patented endolysin technology, Micreobalance, a smart protein, and endolysin SA, which creates a healthy environment for good bacteria to thrive.
Gladskin products are non-prescription and free of antibiotics, steroids and preservatives and suitable for continual daily use.
Skyler Stein, president of Gladskin, said, "Genes certainly can play a role in developing facial redness or rosacea-prone skin, but just because you have a genetic predisposition to facial redness does not guarantee that it will show up on your face. The other determining factor for facial redness resides in your skin microbiome. Our new Redness Relief Cream with Micreobalance targets the skin microbiome, restoring a healthy balance of good and bad bacteria that naturally live on our skin, mitigating the appearance of irritating facial redness."
Elemis London
Elemis London, a skin care brand, has expanded its line to Bloomingdales.
From Pro-Collagen and Ultra Smart Pro-Collagen to Superfood, Elemis London's skin care collections and are now available on Bloomingdales.com. 
Elemis London co-founder and global president, Noella Gabriel, said, "We are thrilled to be launching Elemis into Bloomingdale's. The ultimate destination for the best in beauty, Bloomingdale's offers customers an unparalleled shopping experience. Similarly to Elemis, Bloomingdale's has been pushing boundaries and expanding to meet the ever-changing needs of the beauty consumer and we are thrilled to bring our expertise and award-winning products to their community."
Elizabeth Miller, VP and divisional merchandise manager, cosmetics, Bloomingdale's, said, "Our customers come to Bloomingdale's for the very best in skincare and beauty. We are thrilled to introduce them to Elemis London, and for them to discover the brand's incredible selection of clean beauty products for a variety of skin care needs."
Susteau 
Susteau has announced an exclusive retail partnership with Sephora following a direct-to-consumer relaunch in March 2021.
Starting April 20, 2021, the brand's clean concentrated hair care products, including Moondust Hair Wash and Moondust Conditioner, will be available for purchase nationwide on Sephora.com shipping to the United States and Canada, with planned in-store launches later this year.
Susteau will launch with Sephora's Clean at Sephora seal.
Susteau founder and CEO Kailey Bradt said, "Being one of thirteen women from around the world to participate in Sephora's 2020 Accelerate Program, I was given the unique opportunity to see the direction Sephora was moving as a company. Sephora's vision of making clean beauty more accessible aligns with ours, and I cannot imagine a better partner to build the Susteau brand with. I always envisioned Susteau to stand on a shelf next to other leading brands and not be viewed as a niche. Together, we will take waterless mainstream." 
Jennifer Lucchese, VP hair care merchandising at Sephora, said, "Sephora is thrilled to partner with Susteau and continue our commitment to bringing innovative, differentiated products to our clients, as well as supporting clean and sustainable innovations. With its extremely effective waterless formulas, Susteau delivers concentrated, science-backed solutions that support healthy hair as well as the planet. We are so excited to introduce this unique brand to our Sephora community and know it will be a wonderful addition to our hair care lineup."
NatureLab. Tokyo
NatureLab. Tokyo has announced that its full collection of Japanese beauty hair care products are now available at more than 700 Ulta Beauty locations in the United States.
Naturelab products are part of Conscious Beauty at Ulta Beauty and made free of sulfates, parabens, phthalates, gluten and mineral oil.
This in-store retail expansion builds upon the brand's existing online partnership with Ulta Beauty. 
"Ulta was a natural choice as we continue to expand NatureLab. Tokyo's United States presence," says Ed Valentine, managing director, NatureLab. Tokyo. "Our digital partnership was a great success, and we are thrilled to continue delivering efficacious J-Beauty hair care to the Ulta Beauty guest in the next wave of our retail expansion."