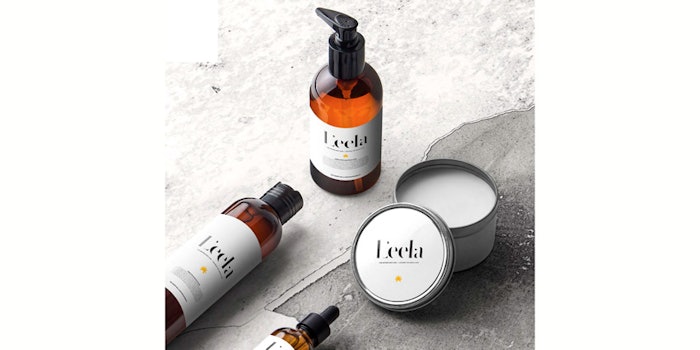 L'eela is a CBD body care line comprising hemp-derived CBD supplements and natural topical products. 
According to L'eela, the line was created to elevate CBD products through ayurvedic principles. Products reportedly prioritize the use of therapeutic-grade oils with customized formulations and natural ingredient pairings.
The line includes:
L'eela Vital Hydrating Oil (100+mg CBD): Meant to protect hair, body and face from free radicals, the oil contains marula, apricot, sweet almond and vitamin E oils as well as sandalwood, frankincense, geranium and lavender essential oils. 
L'eela Radiant Face Serum (100+mg CBD): A face oil meant to give skin a glowing complexion, elasticity and anti-aging benefits. Key ingredients include olive squalane, CBD, vitamin E and hyaluronic acid. Essential oils include sandalwood and rose.
L'eela Pain Remedy Rub (250mg CBD): A pain emollient rub meant to relieve muscle and joint pain by stimulating the endocannabinoid system and aiding with inflammation and soreness.
L'eela CBD Capsule (300mg/10mg per capsule): Vegan capsules meant to nourish, enhance muscle and joint repair, and recuperation. CBD is sourced from organic farms in Colorado and Kentucky.
L'eela CBD Tincture (500mg CBD per 30mL bottle, approx. 25mg per dose): L'eela CBD tincture, available in spearmint and lemon, offers concentrated support and immediate relief for a variety of ailments.