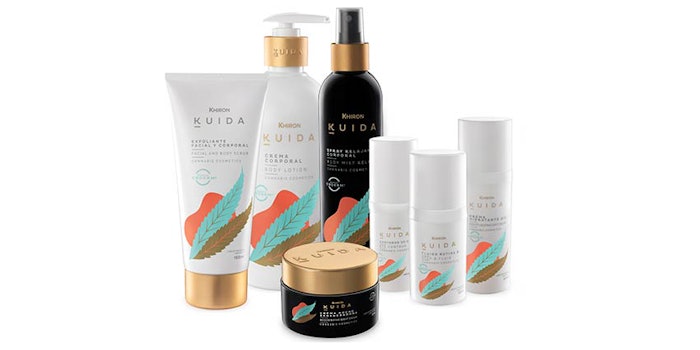 CBD is at a turning point, says Elsa Navarro, the skin unit director for Colombia-based Khiron Life Sciences, a two-year-old cannabis-driven company with several business units: Clinics, servicing about 100,000 patients; Medical, which focuses on developing medical products that will be marketed beginning this year, and which has received endorsements from medical organizations in Mexico and Colombia; and Wellness, which features CBD cosmeceuticals marketed under the Kuida brand.
Khiron's leadership includes co-founder and CEO, Alvaro Torres, and a board that includes former Mexican president, Vicente Fox.
In May 2018, Khiron listed on the TSX Venture Exchange, becoming one of the first Colombia- based medical cannabis company to trade on any exchange globally. It has established production in Colombia, Chile and Uruguay, and is gearing up for continued rapid growth.
Further reading: From Vice to Lifestyle: CBD, Hemp, Cannabis and Beauty
The products
The Kuida brand comprises a body lotion, body mist, eye contour product, moisturizing day cream, step fluid, regenerative night cream, and facial and body scrub.
Kuida was built around a daily routine, generating products for women with various routines, from stay-at-home to on-the-go. for instance, the facial and body exfoliant doesn't have to be rinsed. According to Navarro, men gravitate to the daily moisturizer because of its light texture, as well as the eye contour product.
The night cream was developed for a slightly older clientele, while the step product was designed for younger women or women new to the category.
Validating claims
The Kuida formulations are built around CBD's synergies with conventional cosmetic ingredients to generate antioxidant effects on the skin. Navarro says that the company's research has found that CBD has tested well against vitamin E, offering three times as much antioxidant power.
She adds that in the age of the CBD gold rush, Khiron seeks to dignify cosmetic cannabis through product validation. To that end, the company has recruited the widely respected Dr. Edwin Bendek, MD, MA, MPH, as medical director, skin care.
Being based in Colombia, Khiron has benefited a strong framework for the cannabis industry, compared to other countries, which allows the organization to pursue innovation within established regulatory guidelines.
Brand distribution
The Kuida brand launched in Colombia in October 2018 and has quickly established a growing array of distribution. (More brands may be on the horizon.) The price point is solidly masstige, says Navarro, with most products retailing at about $22.
The brand is now found at 55 points of sale in Colombia, with 300 new doors opening soon, including drug, specialty and convenience stores in the country. The brand has also received approval to commercialize and market four Kuida products in Peru.
Kuida has also secured a new joint venture for distribution from U.S.-based Dixie Brands. The brand recently showcased at Cosmoprof Worldwide in Bologna to secure interest for European distribution.
Regulatory challenges
Regulatory is the backbone of Khiron, said Navarro, and so the company has established a strong legal department to handle regulatory issues.
The shifting regulatory frameworks in the European Union and United States require a nimble organization, she added, particularly as EU states have leeway to set some of their own standards around substances such as CBD.
Up next
Kuida's team will perform more clinical trials to establish/validate claims and develop cosmeceutical solutions for acne, as well as prescription remedies for skin conditions.
This year, Kiuda will introduce five to six more SKUs and will appear at tradeshows in the United States, including Cosmoprof North America.