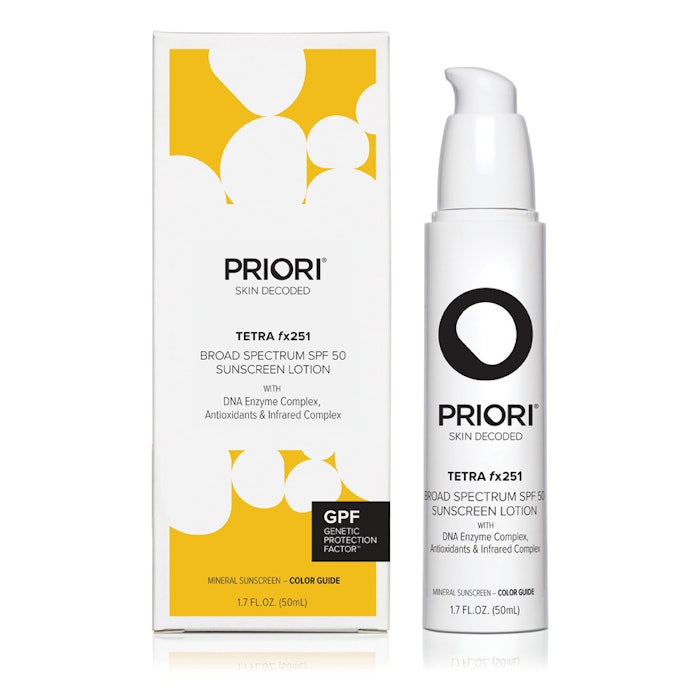 Priori Skincare, a brand specializing in adaptive skin care, has debuted its re-brand and the launch of skin care products for the clean skin care and sun care markets. 
Priori Skincare's clean, turmeric-infused line TTC (Triple Turmeric Complex) comprises formulas free of sulfates, SLS and SLES. 
The collection includes:
TTC fx320 - Illumination Treatment
TTC fx330 - Tightening Eye Serum
TTC fx340 - Skin Restore Cream
TTC fx341 - Luxuriant Cream
TTC fx360 - Natural Enzyme Peel & Mask
TTC fx310 - Naturally Enriched Cleanser
Priori Skincare's Tetra is a sun protection product created to provide four levels of protection from "the harsh effects of an ever-changing environment." Reportedly, the formula has been clinically shown to block 43% of harmful (HEV) high energy, visible blue light from everyday electronics.
Tetra's four levels of protection include:
Broad-spectrum mineral SPF 50
DNA enzyme complex
High-intensity radiation complex
Antioxidant complex
Tetra is formulated with Genetic Protection Factor (GPF) benefits and helps repair skin damage while providing full protection by adapting to each individual's environmental changes, the brand explained.