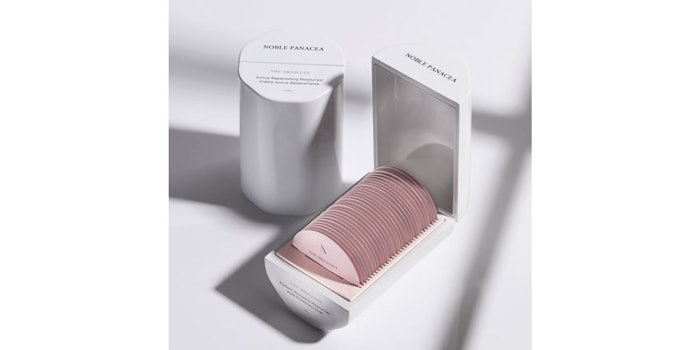 Sir Fraser Stoddart, Ph.D., won the 2016 Nobel Prize in Chemistry; interestingly, among his many accomplishments is the discovery of an organic molecular vessel technology. This is at the center of his skin care brand Noble Panacea.
According to the brand's website, the organic molecular vessel (OMV) is 10,000 times smaller than a skin cell. This symmetrical octagonal cubic molecular structure is built from biodegradable, renewable carbohydrate and salt to house and protect active ingredients on an individual molecule level to preserve ingredient freshness and potency while preventing cross-interaction.
OMV reportedly can be programmed to deliver its active ingredients with extreme precision. It may be designed for long-term release into the exact location within a skin cell with the perfect timing, control and sequence, maximizing the perpetual potency of the overall treatment.
Stoddart was quoted as saying, "The organic molecular vessel increases the efficacy of Noble Panacea's products up to tenfold*, extending its regenerative and healing properties of active ingredients."
Nobel Panacea's OMV technology reportedly aligns with the 12 Principles of Green Chemistry. Additionally, the brand's packaging was created with starch-based boxes, as well as recyclable doses, aluminum and FSC paper.
Nobel Panacea products currently include:
The Brilliant Collection for Radiance
Prime Radiance Serum ($253)

Vibrant Eye Infusion ($149)

Radiant Resilience Moisturizer ($215)

Overnight Recharge Cream ($232)
The Absolute Collection for Renewal
Intense Renewal Serum ($420)

Restoring Eye Cream ($239)

Active Replenishing Moisturizer ($355)

Rejuvenation Night Balm ($384)
*per in vitro clinical tests