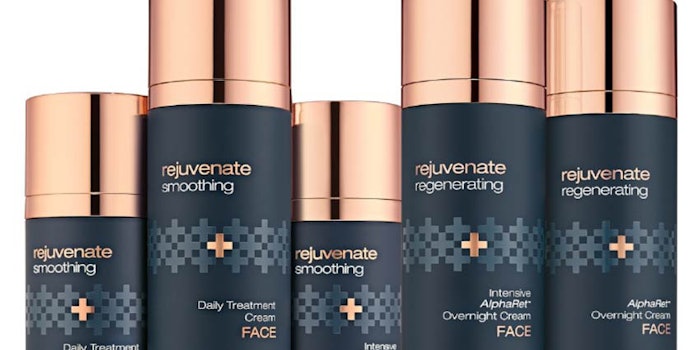 skinbetter science has debuted The Smoothing Experience and The Regenerating Experience anti-aging platforms nationwide.
The brand's transdermal delivery system reportedly "transports topical skincare actives faster and deeper to where they are most effective" using its InterFuse innovation, according to the company.
The Smoothing Collection uses InterFuse in a targeted line-filler eye treatment and full-face product.
The Regenerating Experience uses the brand's AlphaRe technology comprising alpha hydroxy acid and a retinoid, which are combined through double conjugation into a new molecule released through a unique double hydrolysis process "for intensive collagen invigoration with little to none of the irritation."
The brand claims that visible results can be seen within four weeks in some cases.
The products can be found in physicians' offices nationwide, which can be located via www.skinbetter.com.
"With the launch of skinbetter science, we are bringing world-class anti-aging technology into the offices of the professionals who can make the largest impact on skin health nationwide – aesthetic physicians," said Jonah Shacknai, executive chairman of skinbetter science. "We are committed to developing and bringing to market cutting-edge skin care products with unsurpassed effectiveness, safety and elegance and a luxury consumer experience, available exclusively through our authorized physician partners."