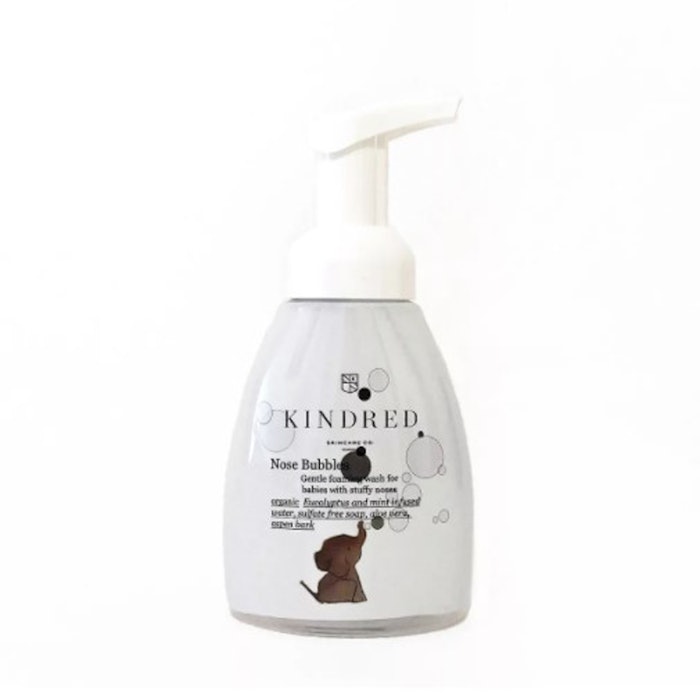 Two skin care lines, Kindred Kids—by Kindred Skincare Co.—and vedaPURE, are offering products created for infants and their mothers.
Previously: Skin Care Line by Mum & You
Products in the Kindred Kids Collection includes:
Head to Toe Baby Oil: A

chamomile-infused blend of oils that cleans and hydrates delicate skin. 

Nose Bubbles: A f

oaming wash for skin and hair, infused with lively eucalyptus and mint to soothe stuffy noses.

Sleepy Eyes: A f

oaming wash for skin and hair, infused with chamomile blossoms to relax and comfort baby before naps or bedtime.
In addition to the Kindred Kids collection, the brand has launched the ABC balm, which is meant to heal and numb diaper rashes, inner thigh chafing to cuts, burns and bug bites. 
Customers can also take advantage of virtual shopping and free skin care consultations to discuss skin issues and inquire about products that work for best for individual. 
Frances Thrasher, owner and founder of Kindred Skincare Co., said:  "Although my own children are grown now, I know all too well the importance of products that young parents can trust to be gentle yet effective. Inspired by the solutions I made for my own kids when they were babies, Kindred Kids offers the essentials: an all-purpose moisturizing oil with multiple uses, and two soaps to address common needs like clearing a stuffy nose or relaxing your little one before bedtime. An added bonus is that these products aren't just for infants; they can be enjoyed by all members of the family."
vedaPURE, is an Ayurvedic-based skincare line for babies and pregnant/nursing mothers created by pediatrician and mother of three, Dr. Natalie Geary. Geary is a licensed pediatric and family doctor based in Florida and New York, and is also the founder and owner of vedaHEALTH and vedaPURE.
The products feature100% natural ingredients and are free of chemicals, parabens, steroids, preservatives, animal and petroleum-based ingredients, and artificial dyes.
 Products in the vedaBABY collection include: 
Fresh: Shampoo and Body Wash; pH balanced shampoo and body wash gentle for baby's skin

Splash: Soothing Bath: A therapeutic bath powder.

Baby Butt: Diaper Balm: Hypoallergenic, all-natural butt balm providing quick and effective care for an irritated diaper area.
Products in the vedaMAMA collection include:
Smoothe: Body Polish: Blue green algae butter body scrub with relaxing essential oil blend.
Nurture: Nursing Cream: Nipple cream made with rose crème and essential oil blend.
Butter: Rich Body Cream: A combination of shea, hemp acai and bouquet essential oils.