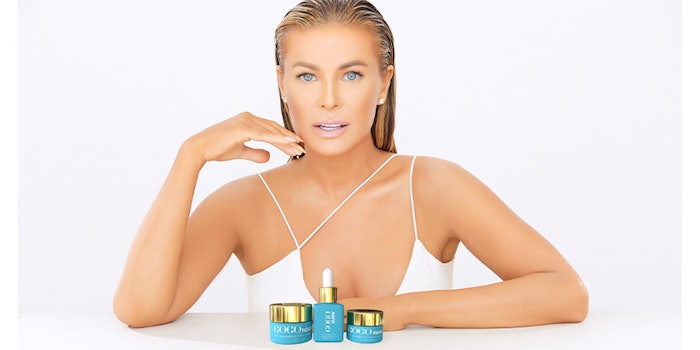 Actress, model and singer Carmen Electra is launching her own skin care brand, GoGo Skincare.
Previously: Humanrace Skincare by Pharrell Williams
Named after Electra's single "Go-Go Dancer," the skin care brand consists of Glow serum, Awaken eye cream and Nourish moisturizer, designed to be used in that order. 
Glow features key ingredients such as Sederma's OptimHyal, a skin smoothing agent and B9-Vitapol, a reformulated form of folic acid.
Awaken utilizes Superox-C to visibly reduce wrinkles and boost skin luminosity, as well as Meiview (a LipoTrue technology), which increases the formulation of collagen around the eye while treating the visibility of dark circles.
Nourish uses Sederma's Majestem, an active ingredient known to tighten, firm and lift the skin while OptimHyal (also Sederma) finishes out the routine with its smoothing and moisturizing properties.
The GoGo Skincare kit will be sold as a full-regimen for $149.95 or $99.95 for a subscription that includes special insider perks.