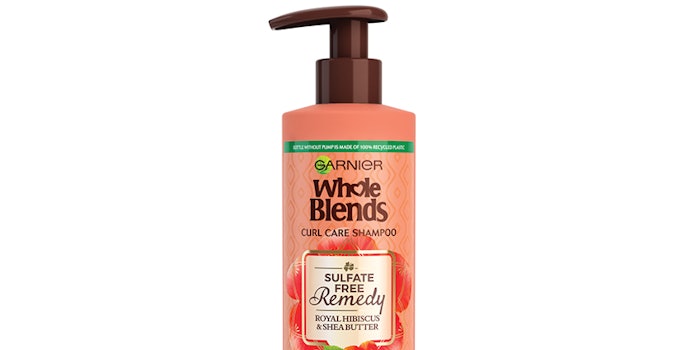 Garnier will be launching 25 products in 2021 ranging from new product shades and scents to shampoos and conditioners; collectively, they represent a major advancement on the brand's sustainable and clean credentials. 
Previously: Garnier Launches Eco-Friendly Shampoo Bars
Many of the products, aligning with Garnier's Greener Beauty mission, are free of sulfates, parabens, mineral oil, petrolatum, dyes and gluten and are vegan. In addition, the packaging features FSC-certified cardboard that supports forest management. The recyclable bottles are made with 100% PCR materials. 
Greg Hui, Garnier's senior vice president of marketing, said: "Our Greener Beauty mission is the brand's end-to-end sustainability journey to help make a positive impact on people and the planet. We are pleased to announce two new milestones in our commitment to recycled packaging; we have new hair care collections launching in 2021 with bottles made from 100% post-consumer recycled materials"
He continued, "The first launch is the new Whole Blends Sulfate-Free Haircare Collection which includes shampoos, conditioners and treatments. The second launch is under our Fructis Treat collection. In 2021 we welcome a new flavor, Plumping Treat with Watermelon Extract. By reducing our use of virgin plastic and opting for more sustainable materials, we hope to further our Greener Beauty mission by reducing our ecological footprint."
Green Labs Collection
Green Labs Pinea-C Brightening Serum Cream with Vitamin C + Pineapple
Green Labs Pinea-C Brightening Gel Wash with Vitamin C + Pineapple
Green Labs Hyalu-Melon Replumping Serum Cream with Hyaluronic Acid + Watermelon
Green Labs Hyalu-Melon Smoothing Milky Wash with Hyaluronic Acid + Watermelon
Green Labs Hyalu-Melon Replumping Serum Cream with Hyaluronic Acid + Watermelon
Green Labs Canna-B Pore Perfecting Serum Cream with Vitamin-B3 + Cannabis Sativa Seed Oil
Green Labs Canna-B Pore Perfecting 3-in-1 Clay Wash + Exfoliant + Mask with Vitamin B3 + Cannabis Sativa Seed Oil
Micellar Cleansing Eco Pads
Whole Blends Sulfate-Free Remedy
Whole Blends Sulfate-Free Remedy Shampoo Honey Treasures
Whole Blends Sulfate-Free Remedy Shampoo Royal Hibiscus & Shea Butter
Whole Blends Sulfate-Free Remedy Shampoo Coconut Oil & Cocoa Butter
Whole Blends Sulfate-Free Remedy Conditioner Royal Hibiscus & Shea Butter
Whole Blends Sulfate-Free Remedy Conditioner Coconut Oil & Cocoa Butter
Whole Blends Sulfate-Free Remedy Conditioner Honey Treasures
Whole Blends Miracle Treatments
Coconut Oil & Cocoa Butter Miracle Frizz Tamer Leave-in
Honey Treasures Miracle Nextar Repairing Leave-in
Olia Midnight Hair Color
Olia Midnight in Black Sapphire
Oila Midnight in Black Amethyst
Nutrisse Ultra Color
Ultra Color Nourishing Creme in Deep Intense Teal
Ultral Color Nourishing Cream in Deep Intense Auburn
Nutrisse Color Reviver
Color Reviver in Rich Black
Treats Hair Mask
Plumping Treat + Watermelon Extract to plump dull, flat hair
Treat Shampoo & Conditioner
Plumping Treat Shampoo & Conditioner + Watermelon Extract
Fructis Style Texturizing Invisible Dry Shampo
Sleek & Shine Anti-Frizz Serum: New packaging
All-in-1 Brightening Micellar Cleansing Water with Vitamin C