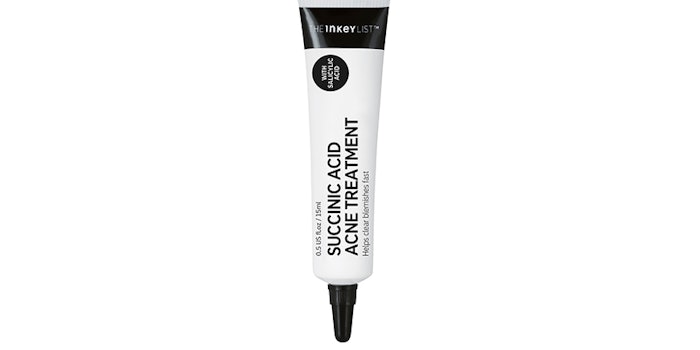 The Inkey List's Succinic Acid Acne Treatment, which is a fast-acting targeting treatment to help clear blemishes, has launched at Sephora.
Previously: cbdMD, Inc. Enters Beauty, Skin Care Market
The product features 2% succini acid to reduce inflammation, reduce oil levels and clear pores while preventing them from clogging again after use. There is also 1% salicylic acid and 2% sulfur in the treatment that helps bust blemishes and blackheads. Hyaluronic acid also helps hydrate the skin.
Mark Curry, co-founder of The Inkey List, said: "Succinic acid has been in European medical circles for a while and we predict we will start to see this ingredient more and more soon with in the beauty industry, the same way tranexamic acid appeared onto the scene. It's naturally found in amber, where its antimicrobial properties have been used for centuries in therapeutics. However recently, studies have highlighted its amazing properties e.g. skin reconditioning and antioxidant properties, that could make this an ingredient generalist, right up there with the likes of retinol and vitamin C."