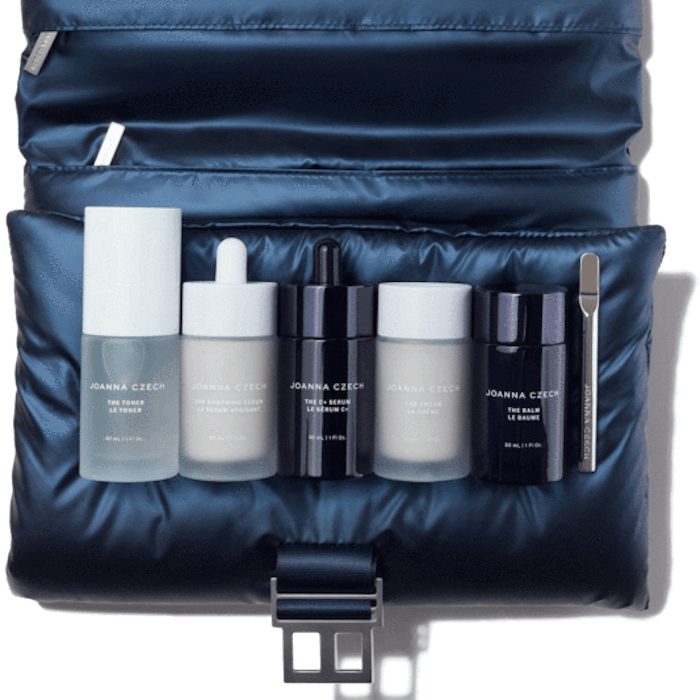 Joanna Czech has launched The Kit—a collection of seven skin care essentials including toner, vitamin C serum, soothing serum, facial cream, face mask, balm and cleansing wipes.
Related: Covergirl Launches Clean Fresh Skincare
Joanna Czech's skin care line is formulated to repair the skin barrier to contain hydration, add lipids to reduce TEWL, energize cells to encourage fibroblasts and collagen, reduce oxidative stress and balance skin's pH and normalize sebum production.
The Toner hydrates skin with a triple-hydration complex including hyaluronic acid, plant sugars and fruit extracts. It restores the skin's ecosystem with a prebiotic of chicory root and agave and mineral complex of zinc, magnesium and copper. Sea chamomile and vitamin C help balance complexion.
The C+ Serum uses vitamin C to brighten and defend against oxidative damage and hyperpigmentation. It hydrates skin with ashwagandha and babassu, hempseed and marula oils. Marine algae and a cell longevity booster containing teprenone help improve cell proliferation and fight oxidative stress.
The Soothing Serum calms skin with pepper berry extract, polysaccharides plus amino acids, and a bio-ceramide complex. It hydrates with four types of hyaluronic acid and increases collagen production with lupine seeds. Yeast polysaccharides restore skin immunity, while an optimal blend of oligopeptides and polypeptides revitalize cells.
The Cream hydrates skin with ceramides and hyaluronic acid, restores the skin barrier with lanolin and sponge gourd seed extract and strengths skin immunity with tetrapeptides and an antioxidant complex.
The Balm hydrates with ceramides and hyaluronic acid, restores complexion with reetha fruit, tara shrub, and freshwater and sea algae complex,  and tones skin by triggering cellular metabolism with mannose-6-phosphate, Chlorella vulgaris and single-cell algae.
The Face Mask nourishes skin with hyaluronic acid, coconut oil and glycerin. It soothes inflammation with sunflower seed oil and bentonite clay and protects against free radicals with vitamin E and red marine algae.
The cleansing wipes use sodium hyaluronate, zinc PCA and glycerin to hydrate skin, Centaurea cyanus flower water and Anthemis nobilis flower water to refresh skin and Echinacea purpurea extract and rosemary leaf oil to cleanse skin.
Ingredients (Cleansing Wipes): Water (Aqua), Peg-7 Glyceryl Cocoate, Propanediol, Pentylene Glycol, Peg-20 Glyceryl Triisostearate, Centaurea Cyanus Flower Water, Anthemis Nobilis Flower Water, Glycerin, Caprylhydroxamic Acid, Sodium Citrate, Rosmarinus Officinalis (Rosemary) Leaf Oil, Citric Acid, Zinc PCA, Lactic Acid, Potassium Sorbate, Sodium Benzoate, Sodium Hyaluronate, Echinacea Purpurea Extract, Xanthan Gum, Rhamnose, Glucose, Glucuronic Acid.